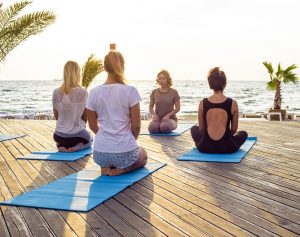 Maintain Vacation Benefits with Meditation
By John M. de Castro, Ph.D.
" If you're going to go on a vacation see if you can integrate meditation to really double up on that impact." – Elisha Goldstein
A leisure vacation can rejuvenate the individual in body and mind. It decreases mental and physical fatigue and increases happiness. But unfortunately, its effects rapidly dissipate. It doesn't take long for the positive benefits to wear off. Meditation retreats also rejuvenate the individual in body and mind, decreasing fatigue and increasing happiness. The effects of meditation appear have been generally found to be relatively longer lasting. Attending a meditation retreat or including meditation on vacation may help to sustain the effectiveness of the vacation for a longer period of time.
In today's Research News article "Is a meditation retreat the better vacation? effect of retreats and vacations on fatigue, emotional well-being, and acting with awareness." (See summary below or view the full text of the study at: https://www.ncbi.nlm.nih.gov/pmc/articles/PMC7869997/ ) Blasche and colleagues recruited adult participants in meditation retreats and also individuals who planned a vacation over the same period of time. They separated the vacation participants who did and did not include meditation in their vacation. They were measured before and after the retreat/vacation and
weeks later for acting with awareness, fatigue, emotional well-being, relaxation, control, and mastery.
They found that after the retreat/vacation all groups had significant reductions in fatigue and emotional well-being while on the retreat and vacation with meditation groups had significant increases in acting with awareness. Ten weeks later, however, only the retreat and vacation with meditation groups had maintained significant increases in acting with awareness and emotional well-being and decreases in fatigue.
These are interesting findings. But, it needs to be recognized that this was not a randomized study and the participants who chose to go on retreat or those who meditate during a vacation may be significantly different than those who do not meditate during the vacation. People who meditate may be the kinds of people who get the most out of their vacations.
Regardless, the results suggest that all types of vacations improve the physical and mental health of the participants, when meditation is not included the benefits fade over the next few weeks. But including meditation either in retreat of during a vacation significantly improves the longevity of the benefits. This further suggests that including some quiet reflective time in a vacation is important in maximizing the impact of the vacation on the well-being of the participants.
So, maintain vacation benefits with meditation.
"So the "vacation effect" brings short term good news for everyone, and the "meditation effect" brings longer-lasting good news, especially when you keep at it!" – Crystal Goh
CMCS – Center for Mindfulness and Contemplative Studies
This and other Contemplative Studies posts are also available on Google+ https://plus.google.com/106784388191201299496/posts and on Twitter @MindfulResearch
Study Summary
Blasche, G., deBloom, J., Chang, A., & Pichlhoefer, O. (2021). Is a meditation retreat the better vacation? effect of retreats and vacations on fatigue, emotional well-being, and acting with awareness. PloS one, 16(2), e0246038. https://doi.org/10.1371/journal.pone.0246038
Abstract
It is well established that leisure vacations markedly improve well-being, but that these effects are only of short duration. The present study aimed to investigate whether vacation effects would be more lasting if individuals practiced meditation during the leisure episode. Meditation is known to improve well-being durably, among others, by enhancing the mental faculty of mindfulness. In this aim, leisure vacations during which individuals practiced meditation to some extent were compared with holidays not including any formal meditation practice as well as with meditation retreats (characterized by intense meditation practice) utilizing a naturalistic observational design. Fatigue, well-being, and mindfulness were assessed ten days before, ten days after, and ten weeks after the stays in a sample of 120 individuals accustomed to meditation practices. To account for differences in the experience of these stays, recovery experiences were additionally assessed. Ten days after the stay, there were no differences except for an increase in mindfulness for those practicing meditation. Ten weeks after the stay, meditation retreats and vacations including meditation were associated with greater increases in mindfulness, lower levels of fatigue, and higher levels of well-being than an "ordinary" vacation during which meditation was not practiced. The finding suggests that the inclusion of meditation practice during vacation could help alleviate vacations' greatest pitfall, namely the rapid decline of its positive effects.
https://www.ncbi.nlm.nih.gov/pmc/articles/PMC7869997/