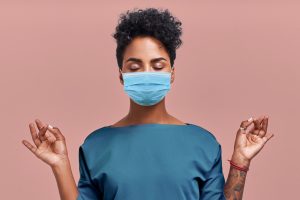 Pandemic on the Eightfold Path
By John M. de Castro, Ph.D.
"If we strive to transform our collective isolation into an opportunity for communal solitude, we might discover that it is, as it has always been, the seedbed for growth in holiness and wholeness, for communion and connection, for resistance and renewal." – Kerry Maloney
The Covid-19 Pandemic has proved challenging in many ways. Not only is it a threat to physical health, it is also a threat to mental health. It has produced isolation from normal activities and social connections. This includes spiritual activities with many church services curtailed and even the cessation of spiritual retreats. But it also produces many opportunities to practice engaging with the Buddha's Eightfold Path, the Buddha's method for the cessation of suffering. The path includes 8 components; Right View, Right Intentions, Right Actions, Right Speech, Right Livelihood, Right Effort, Right Mindfulness, and Right Concentration. During the pandemic there are numerous opportunities to practice the eightfold path. This is an opportunity to not only help cope with the pandemic but also can contribute to spiritual development.
The first component of the path is "Right View." There are a number of these Right Views."  Including the recognition that all things are impermanent, they come and they go and never stay the same. This is true of the pandemic we see infection rates spiking and then falling and eventually they will go away completely. Even with infection the vast majority of victims fall ill but then slowly recover. The disease is impermanent. But part of "Right View" is also the recognition that health too is impermanent. Illness is as much a part of life as is health. The monk, Ajahn Brahm, tells his doctor when he's ill that he "has something right" with him. The state of our physical being is constantly changing with all states of health and illness impermanent.
Not just our physical being is impermanent but so is everything else. All of the psychological, social, and economic consequences of the pandemic also come and go. Eventually, the fear and depression produced by the pandemic will lift, social life will be reestablished, and the economy will recover. Recognition of this impermanence is important as it emphasize that all this unpleasantness will pass and life will eventually return to normal. It doesn't relieve the pain, but it provides an optimism that it will eventually cease. But there is no such thing as normal. Our emotions are constantly changing, people come and go from our circle, and wealth comes and goes. It is all impermanent.
Another important component of "Right View" is the recognition that everything is interconnected. This is readily apparent during the pandemic. The disease has affected everything, from health, to the economy, to education, to supply chains, to crime, to mental health, to food availability, to travel, to jobs, to the environment, and on and on. There is hardly and aspect of life that has not been changed reflecting how they are all interconnected in the first place. A tiny microscopic virus changes the whole universe reflecting the "Right View" of the interconnectedness of all things
Another important component of "Right View" is the recognition of the presence of suffering and unsatisfactoriness in everything. The pandemic directly produces suffering but our response to it can increase or decrease that suffering. One outgrowth of pandemic with which I struggle is boredom. By taking away so many activities, the pandemic has left a vacuum. This creates a problem with boredom. Jon Kabat-Zinn has said that "when you pay attention to boredom it gets unbelievably interesting." This seemingly paradoxical statement is an amazing teaching. Paying attention to boredom reveals that it is simply wanting things to be different than they are. Such "wantings" are the source of much of unsatisfactoriness and suffering.
The antidote is to pay close attention to what is actually present in the now including the beauty and wonder of simply being alive and healthy and the awareness of all the nuances of our sensations and feelings. But it is not just what is there it is also what is not. One wonderful practice taught by the great sage Thich Nhat Hahn is to pay attention to the "non-toothache." Oral health is taken for granted except when there is a toothache. Then, our entire being becomes focused on the discomfort and the desire for it to cease. Yet when it isn't there, it isn't noticed. When we pay attention, not only to what is there but also to what is absent, we can see that there is much more right about the present moment than there is wrong. This evokes a recognition that the present moment is actually wonderful and that paying attention to all that is right in the present relieves the boredom, reinforcing the "Right View" of the presence of suffering and unsatisfactoriness in everything.
The pandemic provides a wonderful opportunity to observe unsatisfactoriness and suffering and its roots. Looking closely can reveal that it is not the pandemic alone that produces the unsatisfactoriness and suffering, but also our response to the pandemic. It reveals that we make ourselves miserable by our reactions to it. Wanting it to go away doesn't change the situation in any way except to produce unsatisfactoriness and suffering. It is sometimes referred to as the "second arrow." The first arrow is the pandemic and the suffering that it directly produces. This is out of our control. The "second arrow", however, is our response to it, which has the effect of amplifying the suffering. Trying to fight something over which we have no control produces greater suffering. If it is accepted as pain that is out of our control, we cease to fight against it, and accept it for what it is; a lousy situation produced by the world in which we live. This stops the amplification of the suffering produced by the "second arrow." Recognizing this can lead to greater understanding of how we make ourselves unhappy, and how by simply accepting things as they are can decrease the suffering. Practicing this builds the "Right View."
The pandemic provides us with an opportunity to practice "Right Intentions."  These are the intentions to reduce or prevent harm and promote greater happiness, wisdom, and well-being for all beings. During the pandemic "Right Intentions" involves doing things to reduce the horror and to increase peace, well-being, and happiness. If the pandemic is responded to with anger, impatience, selfishness, and resentment it is likely infect others and produce harm. If, on the other hand, we set the "Right Intentions" to respond to the pandemic with tolerance, generosity, equanimity, and understanding it can evoke the same in others. This way injury or harm can be minimized. It would seem obvious, but taking the time beforehand to establish "Right Intentions" may lower the suffering of ourselves and others.
Responding to the pandemic with "Right Intentions" is a practice that requires a moral compass. This tends to lead in the right direction even though at times there are stumbles.  It is often difficult or impossible to predict all of the consequences of actions. It is also very difficult avoid all harm. But forming "Right Intentions" and aspiring to create good and happiness will produce more harmony, good will, and happiness than their opposites and produce progress along the eightfold path.
During the pandemic we can practice "Right Actions." Some simple "Right Actions" are to wear a mask, social distance, get vaccinated, and encourage others to do the same. Wearing a mask and social distancing not only helps to protect ourselves but is even more protective to others making it much less likely that the virus will spread. Getting vaccinated as soon as it's available and encouraging others to get vaccinated not only protects ourselves and the people around us, but also contributes to ending the pandemic for the benefit of all humanity.
Verbal and non-verbal interactions are important during the pandemic. "Right Communications" involves communicating in such a way as to promote wisdom, understanding and well-being. They are non-violent and non-judgmental communications. To engage in "Right Communications" the communication must be evaluated beforehand to ascertain whether it true, necessary, and kind.  Only if all of these conditions are met should the communication occur.
In order to engage in "Right Communications" there needs to be deep listening. It is impossible to respond appropriately to another if you haven't listened carefully to exactly what the other said or looked carefully at their expressions or body language. We may not agree with the actions of others. But "Right Communications" demands that have listened deeply. Some people may refuse to wear a mask or call the pandemic a hoax. Responding nonjudgmentally with kindness and compassion after deep listening can go a long way toward having a productive discussion about mask wearing and the reality of the disease. Responding otherwise will simply create more harm than good. It is important that it is realized that we may not be able to change the minds or actions of others but at least with "Right Communications" we can promote understanding.
There are many ways that people can make a living during the pandemic that is directed to creating good, helping people, keeping peace, and moving society forward in a positive direction. These occupations are considered "Right Livelihood." There are rather obvious examples during the pandemic including health care workers, scientists developing vaccines, first responders, and essential workers. But many are hard to evaluate whether they are "Right Livelihood." In this case there is a need to reflect deeply on what are the effects of the occupation to ascertain whether it promotes good and doesn't create harm. It is not ours to judge the "rightness" of the livelihood of others. This is a personal matter where intention matters. The process itself of evaluating "Right Livelihood" may heighten awareness of the consequences of participating in careers. This can produce a tailoring or adjustment to the occupation to maximize the good and minimize he harm created.
During the pandemic it is helpful to exercise "Right Effort" which involves acting according to the "Middle Way." That is, not trying too hard but also not being lackadaisical.  "Right Effort" is a relaxed effort. The "Middle Way" is where effort should be targeted. Reacting to the threat of virus by becoming a hermit and isolating oneself is not "Right Effort." Similarly, not being vigilant and going to bars, restaurants, parties, and large indoor gatherings is also not "Right Effort." Taking the middle way of wearing masks, social distancing, avoiding large indoor gatherings, and getting vaccinated when available would be best for well-being and would be a right level of effort.
All of these components of the eightfold path require "Right Mindfulness". Unfortunately, mindlessness is generally the norm. But paying attention to what is being experienced in the present moment can turn simple everyday activities into a meditative practice. It creates a richly textured experience of physical and mental activities. It heightens the experience and makes it much more enjoyable. Just the simple act of wearing a mask can be practiced mindfully. Focusing on the feelings on the face from the simple act of breathing through the mask, highlighting the warmth of the breath can make wearing the mask more enjoyable. Paying close attention to how others are moving to maintain social distance can produce an appreciation of the social dance we perform with others. This can improve our lives even during the pandemic.
"Right Concentration" is the practice of focusing the mind solely on one object or a specific unchanging set of objects. Mindfulness is paying attention to whatever arises, but concentration is paying attention to one thing to the exclusion of everything else. This is usually developed during contemplative practice such as meditation. But the pandemic has given us extra unused time that can be allocated to meditation or other mindfulness practices.  One of the benefits of the pandemic is that it provides us the opportunity to deepen our practice and "Right Concentration".
Experiencing the pandemic on the eightfold path is a practice. Over time I have gotten better and better at it, but nowhere near perfect. Frequently the discursive mind takes over or my emotions get the better of me. But, by continuing the practice I've slowly progressed. I've become a better at seeing what needs to be accomplished. I am learning to be relaxed with a smile on my face even when wearing a mask and social distancing. I've learned to accept the way things are and understand their impermanence. It takes time and practice but leads to great benefits.
Can we attain enlightenment during the pandemic? Probably not! But we can practice the eightfold path and the Buddha taught that this practice leads toward it. Quiet secluded practice is wonderful and perhaps mandatory for progress in spiritual development. But for most people it this is only available during a very limited window of time. The strength of practicing the components of the eightfold path in the real world of our everyday life, even during the pandemic, is that it can greatly enhance its impact. Keep in mind the teaching that actions that lead to greater harmony, understanding, and happiness should be practiced, while those that lead to unsatisfactoriness and unhappiness should be let go.  Without doubt, by practicing the eightfold path during the pandemic can lead toward deeper spirituality.
"Mindfulness cultivates agility and flexibility in attention, allowing us to more easily tune in to pleasant experiences that are always present even during a pandemic: spring blossoms, blue skies, laughter and love." – Trinh Mai
CMCS – Center for Mindfulness and Contemplative Studies
This and other Contemplative Studies posts are also available on Google+ https://plus.google.com/106784388191201299496/posts and on Twitter @MindfulResearch