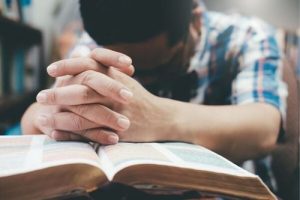 Spirituality is Associated with Reduced Emotional Distress in Lung Cancer Survivors
By John M. de Castro, Ph.D.
"However you define spirituality, studies show that it can play an important role in coping with the recovery and healing process from cancer treatment and its after effects." – LungCancer.org
Receiving a diagnosis of cancer has a huge impact on most people. Feelings of depression, anxiety, and fear are very common and are normal responses to this life-changing and potentially life-ending experience. These feeling can result from changes in body image, changes to family and work roles, feelings of grief at these losses, and physical symptoms such as pain, nausea, or fatigue. People might also fear death, suffering, pain, or all the unknown things that lie ahead. So, coping with the emotional distress and stress of a cancer diagnosis is a challenge and there are no simple treatments for these psychological sequelae of cancer diagnosis.
Religion and spirituality become much more important to people when they're diagnosed with cancer or when living with cancer. It is thought that people take comfort in the spiritual when facing mortality. Hence, spirituality may be a useful tool for the survivors of cancer to cope with their illness and the consequent emotional distress. Thus, it makes sense to study the relationships of spirituality with the mental health of cancer survivors.
In today's Research News article "Spirituality and Emotional Distress Among Lung Cancer Survivors." (See summary below or view the full text of the study at: https://www.ncbi.nlm.nih.gov/pmc/articles/PMC6859202/ ) Gudenkauf and colleagues recruited adult patients with lung cancer and had them complete questionnaires measuring spirituality, emotional distress, and quality of life. within 1 year of their diagnosis and 1 year later.
They found that the lung cancer survivors, not surprisingly, were generally high in emotional distress. But those survivors who were high in spirituality, including the meaning, peace, and faith dimensions, were high in quality of life and low in emotional distress. In addition, those survivors who were high in distress at the first measurement, if they were also high in spirituality meaning, were more likely to have low emotional distress 1 year later.
It should be kept in mind that the present study was observational and as a result causation cannot be determined. But it appears that in these lung cancer survivors, spirituality is associated with better quality of life and lower emotional distress and that spirituality tends to predict lower emotional distress a year later. Hence, spirituality appears to help survivors cope with their emotional reactions to their diagnosis. Future studies should investigate whether promoting spirituality in these survivors may improve their emotions and quality of life.
So, spirituality is associated with reduced emotional distress in lung cancer survivors.
"While having a spiritual or religious foundation can't change your diagnosis or the effectiveness of treatment, some patients find their beliefs help them find meaning and cope. "It may not impact your prognosis, but it can help improve your overall outlook during treatment," – Tiffany Meyer
CMCS – Center for Mindfulness and Contemplative Studies
This and other Contemplative Studies posts are also available on Google+ https://plus.google.com/106784388191201299496/posts and on Twitter @MindfulResearch
Study Summary
Gudenkauf, L. M., Clark, M. M., Novotny, P. J., Piderman, K. M., Ehlers, S. L., Patten, C. A., Nes, L. S., Ruddy, K. J., Sloan, J. A., & Yang, P. (2019). Spirituality and Emotional Distress Among Lung Cancer Survivors. Clinical lung cancer, 20(6), e661–e666. https://doi.org/10.1016/j.cllc.2019.06.015
Abstract
Background:
Emerging research is highlighting the importance of spirituality in cancer survivorship as well as the importance of early distress screening. The purpose of this study was to prospectively examine the relationships among spirituality, emotional distress, and sociodemographic variables during the early period of lung cancer survivorship.
Patients and Methods:
864 lung cancer survivors completed the Functional Assessment of Chronic Illness Therapy – Spiritual Well-Being (FACIT-Sp), and the Short-Form-8 (SF-8) for emotional distress within the first year following lung cancer diagnosis, and 474 of these survivors completed the survey again one year later.
Results:
At baseline, spirituality was associated with lower prevalence of emotional distress, being married, fewer years of cigarette smoking, and better ECOG performance status. Additionally, high baseline spirituality was associated with lower rates of high emotional distress at one-year follow-up.
Conclusion:
These findings suggest that spirituality may serve as a protective factor for emotional distress among lung cancer survivors. Further research is warranted to explore the role of spirituality in promoting distress management among lung cancer survivors.
https://www.ncbi.nlm.nih.gov/pmc/articles/PMC6859202/