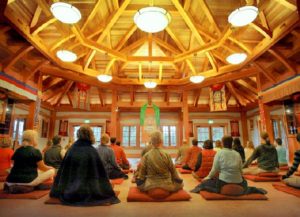 The Power of Retreat 6 – Darkness, Light, and Nothingness
By John M. de Castro, Ph.D.
"Silent retreats are a kind of crucible that reveal the workings of the mind in a unique and illuminating way." James Baraz
This essay is the 6th of a continuing series of essays about the experience of silent meditation retreat. Click on the numbers to follow the links to the prior essays, titled "The Power of Retreat 1, 2, 3, 4, and 5". This essay is written as we are about to embark on another 7-day silent retreat at one of our favorite retreat sites located in the beautiful smoky mountains in North Carolina. In a sense we'll be on vacation as everything will be taken care of for us, beds made, towels and linens provided, all meals prepared for us, and our time will be dictated by a detailed schedule of meditations, talks, question and answer periods, and reflective time. All we have to do is show up, meditate, relax, contemplate and listen. We're terribly spoiled!
That seeming ease, however, is deceptive. Retreat is actually quite difficult and challenging. It can be very tiring as it runs from 7:00 in the morning till 10:00 at night every day. It can also be physically challenging as engaging in sitting meditation repeatedly over the day is guaranteed to produce many aches and pains in the legs, back, and neck. But the real challenges are psychological, emotional, and spiritual. Retreat can be a real test.
Retreat isn't all relaxation and fun. Far from it. The darkness can descend. During silent retreat deep emotional issues can emerge and may even overwhelm the individual. There are plenty of tissues available at the site as many will spontaneously burst out in tears. Others may become overwhelmed with fear and anxiety and break out in cold sweats, and still others are sleepless and tormented. How can this be, that something so seemingly peaceful as silent retreat can be so emotionally wrenching? The secret is that the situation removes the minds ability to hide and distract.
Humans have done a tremendous job of providing distractions for the mind including books, movies, magazines, music, television, sports, amusement parks, surfing the internet, tweeting, texting, etc. Any time troubling thoughts or memories of traumatic experiences begin to emerge in everyday life, we can easily change the subject by engaging in a distraction. So, we never have to truly confront the issues. But, in silent retreat there is no escape. Difficult issues emerge and there is no place to hide. They must be confronted and experienced. For some people this may be the first time in their entire life that they've had to directly face themselves and their darkest thoughts. It's no wonder that retreat can be so wrenching.
So, why, you might ask, should someone put themselves into such a position? Simply put, you can't address problems until you recognize them. Retreat is a safe place to do so. Many other people there, have gone through similar experiences and as a result, there's a great deal of acceptance and compassion from others. It is, however, advised to not intervene but to let anyone in crisis simply work it through themselves. They'll let you know if they really need help. In the warm and accepting environment of retreat it is actually possible to work on these issues that may have been impossible to address elsewhere. This can lead to substantial personal growth. This is the benefit, that individuals can begin to resolve the very issues that may have, unbeknownst to themselves, been holding them back for their entire life. This is very powerful, and confronting the darkness begins to let the light through.
There are much more positive and pleasant sides to silent retreat. One simple one is that many modern adults are overworked, stressed, and as a result sleep deprived. The opportunity to rest and sleep is priceless. Many people fall asleep during meditations and talks early in the retreat. This is not only OK, it's desirable. If need be it is encouraged to skip sessions and take naps.
The positive benefits of retreat can only emerge when the individual is sufficiently rested to have the energy available to meditate deeply, to look inside, and to begin to remove the veil of delusion that blinds us all.
The opportunity to have repeated meditation sessions over prolonged periods of time in a quiet, accepting, and peaceful setting provides the ability to build from meditation to meditation. It allows for deep, repeated engagement into the inner realms, to begin to peel away the layers of awareness, and to begin to dissolve the delusions standing between the individual and their true nature. This progressive process can reveal the light, the positive and pleasant side of retreat. The individual begins to feel happier, more peaceful, and more mindful of themselves and their environment. They can even develop into deeply blissful states. Many people can go no further, but this is far enough. They emerge from retreat feeling peaceful, happy, insightful, having a better understanding of themselves, being better able to deal with their emotions, and with a sense of well-being. In fact, toward the end of retreat the most frequent question asked is how can this be held onto as the process of reintegration into everyday life unfolds.
Just going this far makes the retreat worthwhile, but there is a possibility for much deeper experiences and realizations. It is possible to enter the realm of nothingness. It seems like five to ten people in each retreat have some form of spiritual awakening. It is, however, not predictable who will this happen too. It sometimes occurs to long-time veterans of retreat and meditation practice, but it also often happens to complete novices on their first retreat. One has to always be open to the possibility. It is sometimes a nearly complete enlightenment, but sometimes a relatively shallow but real awakening. Again it is unpredictable. The teacher, Adyashanti, calls it falling into grace.
What is the nature of these experiences? They tend to have a common property of an experience of oneness, an experience that everything is singular, there is no distinction between subject and object, such that the sound and the listener, the sight and the seer, and the feeling and the feeler, are one and the same. These can be what are termed extrovertive awakening experiences wherein one experiences and observes the entire environment, sights, sound, smells, feelings, thoughts, etc. as simply an experience that all are one, with no distinction or separation. They can also be very deep experiences of nothingness that are termed introvertive awakenings. In these experiences everything dissolves into a void a nothingness, in which only pure awareness exists.
These are shattering experiences revealing a reality that was entirely unseen previously. People having had these experiences frequently state that death is not to be feared but rather seen as part of the fabric of existence, not an ending, but simply a change. These are frequently life changing experiences, forever altering the individual. They are never the same again. Needless to say, these are powerful spiritual experiences that many people previously believed were only open to special enlightened beings such as the Buddha. They are glimpses into our true nature and the workings of the universe.
There is no requirement that a retreat is necessary for these awakening experiences. Indeed, they occur spontaneously, quite frequently in everyday and even unlikely settings. But, retreat appears to greatly increase the probability that an awakening, a descent into the void, the nothingness, that is the basis for all existence, will happen. We have no expectations regarding what will happen on our upcoming retreat. We have enough experience to know that every retreat is different and to expect to repeat or build on an experience from a prior retreat is a fundamental error. Whatever, happens, if anything, can't be predicted. On a previous retreat I went with great expectations only to get terribly sick and missed about half of the retreat sick in bed. You never know what will happen. But, know that whatever it is, it will move you in a positive direction.
So, go on retreat and feel its power, it's power to fundamentally change you in mundane ways and sometimes in the most profound ways imaginable.
"One of the most powerful aspects of retreat in aiding the factor of determination is the collective energy of the community that is inherent to the retreat setting. When the bell rings and 150 people make their way into the meditation hall to sit, again and again, it becomes evident that this impulsion is like a powerful, gentle, loving force calling us back to remember again and again that we are loving, connected, resilient and forgiving. We, like so many others carry the responsibility of influencing the overall humanness of our totality." – Scott Francis
CMCS – Center for Mindfulness and Contemplative Studies