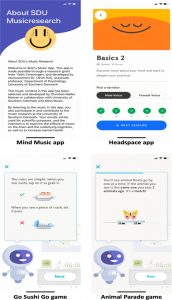 Improve Cognition at Work with Mindfulness
By John M. de Castro, Ph.D.
"mindfulness has a variety of benefits — many of which can positively impact an individual's job performance." –  Headspace
Work is very important for our health and well-being. We spend approximately 25% of our adult lives at work. Indeed, the work environment has even become an important part of our social lives, with friendships and leisure time activities often attached to the people we work with. But work-related stress is epidemic in the western workplace. Almost two thirds of workers reporting high levels of stress at work. This stress can result in impaired health and can result in burnout; producing fatigue, cynicism, and professional inefficacy. To help overcome unhappiness, stress, and burnout, mindfulness practices have been implemented in the workplace.
In today's Research News article "Mindfulness and music interventions in the workplace: assessment of sustained attention and working memory using a crowdsourcing approach." (See summary below or view the full text of the study at: https://www.ncbi.nlm.nih.gov/pmc/articles/PMC9044827/ ) Axelsen and colleagues recruited adult workers online and randomly assigned them to a wait-list control condition, or to receive 10 minutes daily for 30 days of mindfulness training with the "Headspace" smartphone app, or to listen to music with a smartphone app.  Before and after the interventions the participants completed a measure of perceived stress and also engaged in playing cognitive games on their smartphones which were designed to measure sustained attention and working memory.
They found that in comparison to baseline and the wait-list control group, both the mindfulness and music groups had significant reductions in perceived stress. Only the mindfulness group had significant increases in sustained attention and working memory. Hence, feelings of being stressed can be reduced by either mindfulness or listening to music. But mindfulness training also improves cognitive performance in workers. It is assumed but not measured that increased sustained attention in particular would produce improvements in work performance.
So, mindfulness training on smartphones can improve workers memory and attention.
"Meditating at work can reduce stress and frustration, while also boosting focus, compassion, energy, and productivity." – Headspace
CMCS – Center for Mindfulness and Contemplative Studies
This and other Contemplative Studies posts are also available on Twitter @MindfulResearch
Study Summary
Axelsen, J. L., Meline, J., Staiano, W., & Kirk, U. (2022). Mindfulness and music interventions in the workplace: assessment of sustained attention and working memory using a crowdsourcing approach. BMC psychology, 10(1), 108. https://doi.org/10.1186/s40359-022-00810-y
Abstract
Background
Occupational stress has huge financial as well as human costs. Application of crowdsourcing might be a way to strengthen the investigation of occupational mental health. Therefore, the aim of the study was to assess Danish employees' stress and cognition by relying on a crowdsourcing approach, as well as investigating the effect of a 30-day mindfulness and music intervention.
Methods
We translated well-validated neuropsychological laboratory- and task-based paradigms into an app-based platform using cognitive games measuring sustained attention and working memory and measuring stress via. Cohen's Perceived Stress Scale. A total of 623 healthy volunteers from Danish companies participated in the study and were randomized into three groups, which consisted of a 30-day intervention of either mindfulness or music, or a non-intervention control group.
Results
Participants in the mindfulness group showed a significant improvement in the coefficient of sustained attention, working memory capacity and perceived stress (p < .001). The music group showed a 38% decrease of self-perceived stress. The control group showed no difference from pre to post in the survey or cognitive outcome measures. Furthermore, there was a significant correlation between usage of the mindfulness and music app and elevated score on both the cognitive games and the perceived stress scale.
Conclusion
The study supports the nascent field of crowdsourcing by being able to replicate data collected in previous well-controlled laboratory studies from a range of experimental cognitive tasks, making it an effective alternative. It also supports mindfulness as an effective intervention in improving mental health in the workplace.