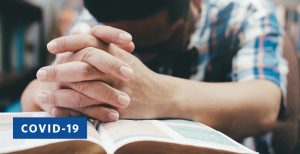 Post-Traumatic Growth and Religiosity Increase During the COVID-19 Pandemic
By John M. de Castro, Ph.D.
"Our stress lowers when we give our days ahead to a spiritual presence that will be with us ― one that never leaves. Leaning into one's faith allows room for building a stronger sense of peace . . . and discover a spiritual awakening and divine love that will overpower any real or imagined quarantine we will experience." – Shar Burgess
Modern living is stressful under the best of conditions. But with the COVID-19 pandemic the levels of stress have been markedly increased. These conditions markedly increase anxiety. This is true for everyone but especially for people with pre-existing conditions that makes them particularly vulnerable. The COVID-19 pandemic has also produced considerable economic stress, with loss of employment and steady income. For the poor this extends to high levels of food insecurity. This not only produces anxiety about the present but also for the future. It is important for people to engage in practices that can help them control their responses to the stress and their levels of anxiety. Spirituality, a sense of inner peace and harmony, and religiosity are known to help with a wide range of physical and psychological problems. So, it would make sense to investigate the relationship of spirituality and religiosity with the ability to cope with COVID-19.
In today's Research News article "Finding Meaning in Hell. The Role of Meaning, Religiosity and Spirituality in Posttraumatic Growth During the Coronavirus Crisis in Spain." (See summary below or view the full text of the study at: https://www.frontiersin.org/articles/10.3389/fpsyg.2020.567836/full?utm_source=F-AAE&utm_medium=EMLF&utm_campaign=MRK_1481182_69_Psycho_20201112_arts_A ) Prieto-Ursúa and colleagues recruited adults in Madrid, Spain during the Coronavirus pandemic and had them complete a questionnaire online that measured spirituality, religiosity, purpose in life; including general meaning, and establishment of specific goals, post-traumatic growth; including personal, interpersonal, social, and socio-political growth, and experiences with COVID-19.
They found that women had greater post-traumatic growth than men. People who knew someone affected by COVID-19 had significantly higher post-traumatic growth of all forms and religiosity and those who had experienced COVID-19 had even greater growth and religiosity. They also found that general meaning in life was associated with greater post-traumatic growth while having specific goals was not. In addition, they found that religiosity was associated with overall growth while spirituality was associated with personal growth once meaning was controlled for.
It needs to be kept in mind that these findings are correlational making conclusions regarding causation problematic. It's also the case that there is no comparison condition. Of course, having a control group without COVID-19 would be practically impossible. This.is a natural experiment, taking advantage of a current very unusual event. We can learn from it but must be careful not to form strong conclusions.
Speculatively, these results suggest that trauma is associated with higher levels of growth especially in women. Trauma appears to increase religiosity and religiosity appear to promote growth. It is possible that religion provides a refuge to help with coping with the trauma, Spirituality, on the other hand, appears to be associated with greater meaning in life and this in turn is associated with greater personal growth.
The findings suggest that trauma can promote personal, interpersonal, social, and socio-political growth. They also show that having meaning in life is important for that growth. In the face of a pandemic, rather than withdrawing, people strengthen. This attests to the resilience of the human spirit.
So, post-traumatic growth and religiosity increase during the COVID-19 pandemic.
"Sometimes when we experience grief, we feel shocked, anxious, fearful, sad, powerless, angry, or helpless. What we need to remember is that all these feelings and many others are normal. Being able to acknowledge where we are emotionally and spiritually can be empowering." – Together
CMCS – Center for Mindfulness and Contemplative Studies
This and other Contemplative Studies posts are also available on Google+ https://plus.google.com/106784388191201299496/posts and on Twitter @MindfulResearch
Study Summary
Prieto-Ursúa M and Jódar R (2020) Finding Meaning in Hell. The Role of Meaning, Religiosity and Spirituality in Posttraumatic Growth During the Coronavirus Crisis in Spain. Front. Psychol. 11:567836. doi: 10.3389/fpsyg.2020.567836
ABSTRACT
Coronavirus has blighted our world, hitting some countries harder than others. Morbidity and mortality rates make Madrid one of the worst affected places so far in the wake of the coronavirus. The aim of this study was to analyze the presence of post-traumatic growth during the coronavirus crisis and to understand the contribution of meaning, religiosity, and spirituality to such growth; 1,492 people completed the questionnaire; N = 1,091 residents in Madrid were selected for the study. We assessed the personal experience of COVID-19, the Spirituality, Religiosity, Meaning trough Purpose in Life-10 test, and Posttraumatic Growth (Community Post-Traumatic Growth Scale). Results showed significant differences for all measures of growth, with higher values in women. Sex and direct impact of COVID-19 accounted for 4.4% of the variance of growth. The different dimensions of meaning contribute differently to growth. Only religiosity was associated with total growth when meaning was included in the model. This same pattern of results is obtained in models predicting interpersonal and social growth. However, in predicting personal growth, it is spirituality that predicts this type of growth once meaning has been previously controlled for, while religiosity fails to reach a statistically significant level. Our results reflect the interest in maintaining the distinction between spirituality and religiosity, their different roles in traumatic growth and the different dimensions on which each has an effect. Finally, it confirms the importance of meaning in post-traumatic growth, especially the dimension of life goals and purposes.
https://www.frontiersin.org/articles/10.3389/fpsyg.2020.567836/full?utm_source=F-AAE&utm_medium=EMLF&utm_campaign=MRK_1481182_69_Psycho_20201112_arts_A