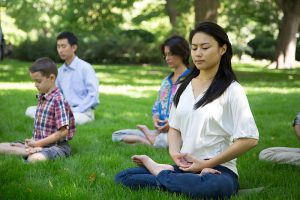 Improve Forgiveness, Character, and Satisfaction with Life with a Smartphone Mindfulness App
By John M. de Castro, Ph.D.
"mindfulness can promote forgiveness. We have known for many years that mindfulness helps people cope with stress and increases their wellbeing. These studies suggest that mindfulness can also enhance the quality of our relationships with other people by affecting how forgiving we are." – Johan Karremans
Mindfulness training has been shown through extensive research to be effective in improving physical and psychological health and particularly with reducing the physical and psychological reactions to stress and increasing resilience in the face of stress. So, mindfulness training may be particularly effective in promoting well-being even during a stressful time like the lockdown during the Covid-19 pandemic.
The vast majority of the mindfulness training techniques, however, require a trained therapist. This results in costs that many clients can't afford. In addition, the participants must be available to attend multiple sessions at particular scheduled times that may or may not be compatible with their busy schedules and at locations that may not be convenient. As an alternative, mindfulness training with smartphone apps have been developed. These have tremendous advantages in decreasing costs, making training schedules much more flexible, and eliminating the need to go repeatedly to specific locations. In addition, research has indicated that mindfulness training with smartphone apps can be effective for improving the health and well-being of the participants.
In today's Research News article "Influence on Forgiveness, Character Strengths and Satisfaction with Life of a Short Mindfulness Intervention via a Spanish Smartphone Application." (See summary below or view the full text of the study at: https://www.ncbi.nlm.nih.gov/pmc/articles/PMC7832842/ )  Pizarro-Ruiz and colleagues recruited college students during Covid-19 confinement and randomly assigned them to perform a smartphone app guided practice of either mindfulness (Aire Fresco) or mental exercises (Luminosity) once a day for 14 days. They were measured before and after training for mindfulness, positive and negative emotions, forgiveness, satisfaction with life, and 3 strengths, temperance, intellectual, and interpersonal. A strength of the study was that the control condition was highly similar to the experimental condition. This makes the results and conclusions resistant to confounding.
They found that at baseline the higher the levels of mindfulness the higher the levels of positive emotions, forgiveness, satisfaction with life, and temperance, and the lower the levels of negative emotions. In comparison to baseline and the mental exercise control group, after the interventions the mindfulness group had significantly greater decreases in negative emotions and significantly greater increases in forgiveness, intellectual and interpersonal strength and mindfulness, including the observe, describe, act with awareness, and non-judgment facets.
The findings are similar to previous findings that mindfulness training improves emotions, satisfaction with life, forgiveness and intellectual and interpersonal strength. This study, however, demonstrates that training mindfulness with a smartphone app is effective in improving the mood and mental health of college students locked down during a pandemic. Since, during a pandemic lockdown access to trained therapists is extremely limited, employing an smartphone app is one of the few available methods to receive mindfulness training. The results suggest that mindfulness smartphone apps should be recommended to help counteract the deleterious effects of a stressful and isolating situation.
So, improve forgiveness, character, and satisfaction with life with a smartphone mindfulness app.
"mindfulness may meet the defining characteristics of character strength, it is really "an attentional stance, or a way of relating to one's present-moment experience, that probably cultivates a wide range of strengths and virtues" – Karrie Shogren
CMCS – Center for Mindfulness and Contemplative Studies
This and other Contemplative Studies posts are also available on Google+ https://plus.google.com/106784388191201299496/posts and on Twitter @MindfulResearch
Study Summary
Pizarro-Ruiz, J. P., Ordóñez-Camblor, N., Del-Líbano, M., & Escolar-LLamazares, M. C. (2021). Influence on Forgiveness, Character Strengths and Satisfaction with Life of a Short Mindfulness Intervention via a Spanish Smartphone Application. International journal of environmental research and public health, 18(2), 802. https://doi.org/10.3390/ijerph18020802
Abstract
Mindfulness-based interventions (MBI) are a recognized effective psychological practice characterized by attention control, awareness, acceptance, non-reactivity, and non-judgmental thinking obtained through the practice of meditation. They have been shown to be useful in reducing stress and enhancing well-being in different contexts. In this research, the effectiveness of an MBI was evaluated on variables that can promote successful job performance such as mindfulness trait, positive and negative affect, forgiveness, personality strengths and satisfaction with life. The intervention was carried out through a smartphone application called "Aire Fresco" (Fresh Air) during 14 days in the middle of the quarantine produced by the Covid-19 pandemic. The study sample was composed of 164 Spanish people who were distributed in two groups: control group and experimental group, which were evaluated before and after the intervention. The MANCOVA performed showed an overall positive effect of the intervention on the variables evaluated. The different ANCOVAs carried out showed that the intervention was beneficial in increasing mindfulness trait, reducing negative affect or increasing life satisfaction, among others. Our study is, as far as we know, the first to demonstrate the effectiveness of a brief intervention in mindfulness conducted using a smartphone application in Spanish.
https://www.ncbi.nlm.nih.gov/pmc/articles/PMC7832842/