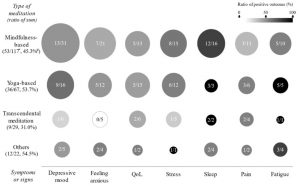 Meditation is an Effective Treatment for a Variety of Medical Conditions
By John M. de Castro, Ph.D.
"Mindfulness is not a cure-all. . . . There have been thousands of studies showing that there are psychological and physical benefits to mindfulness meditation, but the intention . . . is not to cure the disease or fully treat the symptoms, but to treat the whole person — and that includes their mental and emotional well-being — so they can live in greater health and joy." – Men's Health
Over the last several decades, research and anecdotal experiences have accumulated an impressive evidential case that meditation has positive benefits for the individual's mental, physical, and spiritual life. Meditation appears to be beneficial both for healthy people and for people suffering from a myriad of mental and physical illnesses. It appears to be beneficial across ages, from children to the elderly. And it appears to be beneficial across genders, personalities, race, and ethnicity. The breadth and depth of benefits is unprecedented. There is no other treatment or practice that has been shown to come anyway near the range of mindfulness' positive benefits.
Over the last few decades, a vast amount of research has been published on the benefits of meditation on the mental and physical health of the practitioners. So, it makes sense to step back and summarize what has been learned.
In today's Research News article "Systematic Review for the Medical Applications of Meditation in Randomized Controlled Trials." (See summary below or view the full text of the study at: https://www.ncbi.nlm.nih.gov/pmc/articles/PMC8834867/ ) Kim and colleagues review and summarize the 104 published randomized controlled trials on the benefits of meditation practices on mental and physical well-being.
They report that the published research found that different studies report varying results but the most common significant benefits of meditation practice were improvements in fatigue, sleep quality, quality of life, stress, PTSD symptoms, blood pressure, intraocular pressure, and depression. In general yoga-based practices produced slightly better results than mindfulness based techniques,
Hence, meditation practices have been found to help improve mental and physical well-being.
"meditation can improve mental health and reduce symptoms associated with chronic conditions." – Ashley Welch
CMCS – Center for Mindfulness and Contemplative Studies
This and other Contemplative Studies posts are also available on Twitter @MindfulResearch
Study Summary
Kim, D. Y., Hong, S. H., Jang, S. H., Park, S. H., Noh, J. H., Seok, J. M., Jo, H. J., Son, C. G., & Lee, E. J. (2022). Systematic Review for the Medical Applications of Meditation in Randomized Controlled Trials. International journal of environmental research and public health, 19(3), 1244. https://doi.org/10.3390/ijerph19031244
Abstract
Background: Meditation has been increasingly adapted for healthy populations and participants with diseases. Its beneficial effects are still challenging to determine due to the heterogeneity and methodological obstacles regarding medical applications. This study aimed to integrate the features of therapeutic meditation in randomized controlled trials (RCTs). Methods: We conducted a systematic review of RCTs with meditation for populations with diseases using the PubMed database through June 2021. We analyzed the characteristics of the diseases/disorders, participants, measurements, and their overall benefits. Results: Among a total of 4855 references, 104 RCTs were determined and mainly applied mindfulness-based (51 RCTs), yoga-based (32 RCTs), and transcendental meditation (14 RCTs) to 10,139 patient-participants. These RCTs were conducted for participants with a total of 45 kinds of disorders; the most frequent being cancer, followed by musculoskeletal and connective tissue diseases and affective mood disorder. Seven symptoms or signs were frequently assessed: depressive mood, feeling anxious, quality of life, stress, sleep, pain, and fatigue. The RCTs showed a higher ratio of positive outcomes for sleep (73.9%) and fatigue (68.4%). Conclusions: This systematic review produced the comprehensive features of RCTs for therapeutic meditation. These results will help physicians and researchers further study clinical adaptations in the future as reference data.
https://www.ncbi.nlm.nih.gov/pmc/articles/PMC8834867/