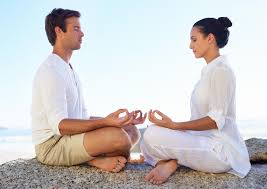 Improve Romantic Relationship Well-Being with Brief Mindfulness or Relaxation Training.
By John M. de Castro, Ph.D.
"When you are mindful of the love in your life you open yourself up to the opportunity for love to grow. And not just romantic love, but self-love, and loving friendships as well." – Mindful
Relationships can be difficult as two individuals can and do frequently disagree or misunderstand one another. These conflicts can produce strong emotions and it is important to be able to regulate these emotions in order to keep them from interfering with rational solutions to the conflict. Mindfulness may be helpful in romantic relationships, as it has been shown to improve the emotion regulation and decrease anger and anxiety. It may be a prerequisite for deep listening and consequently to resolving conflict. Indeed, mindfulness has been shown to improve relationships. So, mindfulness may be a key to successful relationships.
One of the effects of mindfulness training is an increase in the ability to relax. It is possible that it is relaxation that is responsible for improvements in romantic relationships. In today's Research News article "Comparing the effects of a mindfulness versus relaxation intervention on romantic relationship wellbeing." (See summary below or view the full text of the study at: https://www.ncbi.nlm.nih.gov/pmc/articles/PMC7730385/ ) Karremans and colleagues recruited adult couples involved in a romantic relationship of at least 1 year in duration and living together. One member of each couple was randomly assigned to a 2-week program of either breath focused mindfulness training or progressive muscle relaxation training. The programs consisted of daily 10-minute audio guided practices. Before and after the interventions and one month later the participant and their partner completed measures of relationship satisfaction, relationship distress, perceived connectedness, partner acceptance, relationship excitement, and adherence to the training programs.
They found that after mindfulness training for both the participant and their partner there were significant increases in relationship satisfaction, perceived connectedness, and partner acceptance and decreases in relationship distress. These effects were still present at the 1-month follow-up. These findings did not significantly differ between the mindfulness and relaxation groups.
Because both groups had significant improvements in their relationship well-being it is possible that the results were produced by participant expectancy (placebo) effects rather than the interventions. But if this potential contaminant is disregarded, the results tend to suggest that both mindfulness and relaxation trainings improve romantic relationships. Previous research has also shown that mindfulness training improves relationships.
Relationships can be difficult but are fundamental to the well-being of the individuals. So, improving the relationships may have widespread implications for the individuals' psychological health and well-being. The training procedures in the present study suggests that these benefits can be produced by a brief audio-guided mindfulness training program. This is important as it allows for more widespread and economical distribution of the treatment; improving relationships.
So, improve romantic relationship well-being with brief mindfulness or relaxation training.
"if you want to build more secure attachment or be more successful in love, try learning mindfulness along with your partner! " – Melanie Greenberg
CMCS – Center for Mindfulness and Contemplative Studies
This and other Contemplative Studies posts are also available on Google+ https://plus.google.com/106784388191201299496/posts and on Twitter @MindfulResearch
Study Summary
Karremans, J. C., Kappen, G., Schellekens, M., & Schoebi, D. (2020). Comparing the effects of a mindfulness versus relaxation intervention on romantic relationship wellbeing. Scientific reports, 10(1), 21696. https://doi.org/10.1038/s41598-020-78919-6
Abstract
There is increasing scientific interest in the potential association between mindfulness and romantic relationship wellbeing. To date, however, experimental studies using active control groups and testing dyadic effects (i.e. examining both actor and partner effects) are lacking. In the current study, romantically involved individuals engaged for 2 weeks daily in either guided mindfulness exercises, or guided relaxation exercises. Participants, and their partners, completed measures of relationship wellbeing at pre- and post-intervention, and at 1-month follow up. The mindfulness intervention significantly promoted relationship wellbeing, for both participants (i.e. actor effects) and their partners (i.e. partner effects). However, these findings did not significantly differ from changes in relationship wellbeing in the relaxation condition. Theoretical implications of these findings for understanding the association between mindfulness and romantic relationship wellbeing are discussed. Moreover, the findings are discussed in light of recent debates about the relative lack of proper control groups in mindfulness research.
https://www.ncbi.nlm.nih.gov/pmc/articles/PMC7730385/