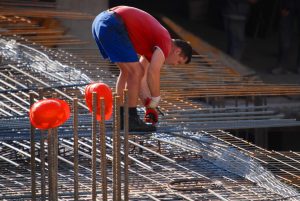 Mindfulness is Associated with Positive Personality Characteristics and Greater Safety Behavior
By John M. de Castro, Ph.D.
"By making mindfulness an accessible practice, and giving workers the tools they need to keep it up, safety professionals can significantly change lives – and not just in the workplace." – American Association of Safety Professionals
Working in construction is dangerous. In the U.S. an average of 2 construction workers die each day. In fact, while only 6% of workers are in the construction industry, 20% of workplace fatalities are construction related. Injury rates in construction are 71% higher than injury rates across all industries on average. The top causes of construction related fatalities are falls, being struck-by an object, electrocution, and being caught between objects.
A loss of attention and concentration can lead to many construction-related injuries. Mindfulness on the other hand is related to improved attention, reduced numbers of falls, reduced mind wandering, and a reduction in impulsivity. So, mindfulness may be related to workplace safety. Trait mindfulness of workers, then is likely to be related to construction safety.
In today's Research News article "Examining the Relationship between Mindfulness, Personality, and National Culture for Construction Safety." (See summary below or view the full text of the study at: https://www.ncbi.nlm.nih.gov/pmc/articles/PMC8125938/ ) Soloman and Esmaeili recruited construction workers and civil engineering students and had them complete measures of mindfulness, personality characteristics: including extraversion, agreeableness, conscientiousness, neuroticism, and openness, and national culture including: power distance, individualism vs. collectivism, uncertainty avoidance, and masculinity vs. femininity.
They found that the higher the levels of mindfulness the higher the levels of the personality traits of conscientiousness and agreeableness and the national cultural variable of uncertainty avoidance. They also found that the higher the levels of mindfulness the lower the levels of the personality trait of neuroticism.
These results are correlative, so causation can not be determined, But previous manipulative research has established the mindfulness causes increases in conscientiousness and agreeableness and decreases in neuroticism. This suggests that mindfulness is associated with and can improve positive personality traits. A new finding here is that mindfulness is also associated with uncertainty avoidance. From the perspective of the construction worker this would suggest that mindful workers pay more attention to their situation and don't take risks but work to make sure they understand the situation they're in. This should greatly improve safety. In addition, they are more conscientious, and this too would predict greater attention to safety.
The results are interesting and should be followed up with controlled manipulative studies. Nevertheless, the results suggest that mindfulness should improve worker safety and that certain personality types should be earmarked for attention to their safety. Neurotic, less conscientious, and low mindfulness workers may need to be identified and exposed to greater training including training in mindfulness.
So, mindfulness is associated with positive personality characteristics and greater safety behavior.
"there are great opportunities for low-dose mindfulness to positively impact workplace safety, potentially saving individuals from harm and organizations from costly accidents." – Connell Nolan
CMCS – Center for Mindfulness and Contemplative Studies
This and other Contemplative Studies posts are also available on Google+ https://plus.google.com/106784388191201299496/posts and on Twitter @MindfulResearch
Study Summary
Solomon, T., & Esmaeili, B. (2021). Examining the Relationship between Mindfulness, Personality, and National Culture for Construction Safety. International journal of environmental research and public health, 18(9), 4998. https://doi.org/10.3390/ijerph18094998
Abstract
The construction industry still leads the world as one of the sectors with the most work-related injuries and worker fatalities. Considering that one of the barriers to improving construction safety is its stressful working environment, which increases risk of inattentiveness among construction workers, safety managers seek practices to measure and enhance worker focus and reduce stress, such as mindfulness. Considering the important role of mindfulness in curbing frequency and severity of incidents, researchers are interested in understanding the relationship between mindfulness and other common, more static human characteristics. As a result, this study examines the relationship between mindfulness and such variables as personality and national culture in the context of construction safety. Collecting data from 155 participants, this study used elastic net regression to examine the influence of independent (i.e., personality and national culture) variables on the dependent (i.e., mindfulness) variable. To validate the results of the regression, 10-fold cross-validation was conducted. The results reveal that certain personality traits (e.g., conscientiousness, neuroticism, and agreeableness) and national cultural dimensions (e.g., uncertainty avoidance, individualism, and collectivism) can be used as predictors of mindfulness for individuals. Since mindfulness has shown to increase safety and work performance, safety managers can utilize these variables to identify at-risk workers so that additional safety training can be provided to enhance work performance and improve safety outcomes. The results of this study will inform future work into translating personal and mindfulness characteristics into factors that predict specific elements of unsafe human behaviors.
https://www.ncbi.nlm.nih.gov/pmc/articles/PMC8125938/