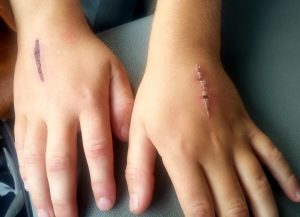 Reduce Self-Harm in Patients with Borderline Personality Disorder with Mindfulness
By John M. de Castro, Ph.D.
"Dialectical Behavior Therapy group skills training was associated with a reduction in non-suicidal self-injury in patients with Borderline Personality Disorder." – Gary Rothbard
Self-injury is a disturbing phenomenon occurring worldwide, especially in developed countries, such as the U.S. and those in western Europe. Approximately two million cases are reported annually in the U.S. Each year, 1 in 5 females and 1 in 7 males engage in self-injury usually starting in the teen years. Frequently, untreated depression and other mental health challenges create an environment of despair that leads people to cope with these challenges in unhealthy ways. Nearly 50 percent of those who engage in self-injury have been sexually abused.
Borderline Personality Disorder (BPD) is a very serious mental illness that is estimated to affect 1.6% of the U.S. population. It involves unstable moods, behavior, and relationships, problems with regulating emotions and thoughts, impulsive and reckless behavior, and unstable relationships. About ¾ of BPD patients engage in self-injurious behaviors.
One of the few treatments that appears to be effective for Borderline Personality Disorder (BPD) is Dialectical Behavior Therapy (DBT). It is targeted at changing the problem behaviors characteristic of BPD including self-injury. Behavior change is accomplished through focusing on changing the thoughts and emotions that precede problem behaviors, as well as by solving the problems faced by individuals that contribute to problematic thoughts, feelings and behaviors. In DBT five core skills are practiced; mindfulness, distress tolerance, emotion regulation, the middle path, and interpersonal effectiveness. DBT reduces self-injurious behaviors in BPD patients.
In today's Research News article "Cessation of Deliberate Self-Harm Behavior in Patients With Borderline Personality Traits Treated With Outpatient Dialectical Behavior Therapy." (See summary below or view the full text of the study at: https://www.ncbi.nlm.nih.gov/pmc/articles/PMC7952764/ ) Westad and colleagues recruited adults with subthreshold Borderline Personality Disorder (BPD) and provided them with 1 hour individual therapy and 2.5 hours of group skills training per week for 8 weeks of Dialectical Behavior Therapy (DBT). Prior to treatment they were assessed for personality and clinical symptoms. Before and after treatment they were measured for self-harm and suicidal behaviors, depression, hopelessness, personality disorders, quality of life, general health, and psychological, social, and occupational functioning.
They found that over the first year following therapy 94% of the patients ceased self-harm behaviors in an average of 16 weeks. Compared to baseline, following treatment the patients had significant increases in quality of life and functioning and significant decreases in depression, hopelessness, and personality disorders. A comparison of patients who reduced self-harm behaviors quickly to those who took longer for the reduction did not reveal any significant differences.
In the present study there wasn't a control condition. So, alternative confounding interpretations are present. But the findings replicate previous controlled work that Dialectical Behavior Therapy (DBT) produces significant improvement in Borderline Personality Disorder and reductions in self-harm behaviors. So, the results of the present study are likely to due to DBT alone. The findings expand knowledge in that they demonstrate the effectiveness of DBT for patients who are subthreshold for BPD.
Dialectical Behavior Therapy (DBT) is one of very few treatments that are effective for Borderline Personality Disorder (BPD). But DBT is a complex therapy that includes mindfulness and other significant components. So, it is unclear which components or combination of components are necessary and sufficient for the clinical benefits.
So, reduce self-harm in patients with borderline personality disorder with mindfulness.
"DBT might provide an effective treatment for severe self-harm in institutional settings." – Gail Skillington
CMCS – Center for Mindfulness and Contemplative Studies
This and other Contemplative Studies posts are a also available on Google+ https://plus.google.com/106784388191201299496/posts and on Twitter @MindfulResearch
Study Summary
Yngvill Ane Stokke Westad, Kristen Hagen, Egil Jonsbu, Stian Solem. Cessation of Deliberate Self-Harm Behavior in Patients With Borderline Personality Traits Treated With Outpatient Dialectical Behavior Therapy, Front Psychol. 2021; 12: 578230. Published online 2021 Feb 26. doi: 0.3389/fpsyg.2021.578230
Abstract
The first aim of the study was to identify when deliberate self-harm (DSH) behavior ceased in patients with borderline symptoms undergoing dialectical behavioral treatment (DBT). The second aim was to compare patients who ceased their self-harm behavior early or late in the course of treatment, with regard to demographics, comorbidity, and symptom severity. The study used a naturalistic design and included 75 treatment completers at an outpatient DBT clinic. Of these 75 patients, 46 presented with self-harming behavior at pre-treatment. These 46 participants where split into two groups, based on median amount of time before ceasing self-harm behavior, termed early (up to 8 weeks) and late (8+ weeks) responders. Treatment duration varied from 16 to 160 weeks. Patients were assessed pre- and post-treatment using measures of depression, hopelessness, personality traits, quality of life, and global assessment of symptoms and functioning. The majority (93.5%) ceased their self-harming within the first year, and the average number of weeks was 15.5 (SD = 17.8). Twenty-five percent of patients ceased their DSH behavior during the first week of treatment. For the remaining patients, the cessation of DSH continued gradually across a 1 year period. We found no differences between early and late responders with respect to demographics, comorbidity, symptom severity, or treatment outcome. None of the patients committed suicide. The findings indicate that self-harming behavior decreases gradually across the first year after starting DBT.
https://www.ncbi.nlm.nih.gov/pmc/articles/PMC7952764/