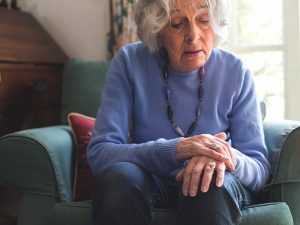 Improve the Psychological Well-Being of Patients with Parkinson's Disease with Mindfulness
By John M. de Castro, Ph.D.
"People with Parkinson's reported that stress worsened both motor and non-motor symptoms, especially tremor and anxiety. More than 38 percent of respondents found mindfulness helped manage their stress and improved motor and non-motor symptoms, including anxiety and depressed mood." – Christina Destro
Parkinson's Disease (PD) is an incurable progressive degenerative disease of the central nervous system. The condition is caused by the death of nerve cells in the brain that produce the neurotransmitter dopamine. There are around seven million people worldwide and one million people in the U.S. living with PD and about 60,000 people are diagnosed with PD every year. PD is associated with aging as most patients are diagnosed after age 50. In fact, it has been speculated that everyone would eventually develop PD if they lived long enough.
Its physical symptoms include resting tremor, slow movements, muscle rigidity, problems with posture and balance, loss of automatic movements, and slurring of speech. PD itself is not fatal but is often associated with related complications which can reduce life expectancy, such as falls, choking, and cardiovascular problems. PD also has psychological effects, especially cognitive decline, anxiety, and depression. Balance is a particular problem as it effects mobility and increases the likelihood of falls, restricting activity and reducing quality of life.
There are no cures for Parkinson's Disease (PD) or even treatments to slow its progression. There are only treatments that can produce symptomatic relief. So, there is a need to discover new and different treatments. Mindfulness training has been found to improve the psychological symptoms and the quality of life with PD patients.  Mindfulness-Based Cognitive Therapy (MBCT) involves mindfulness training, containing sitting, walking and body scan meditations, and cognitive therapy that attempts to teach patients to distinguish between thoughts, emotions, physical sensations, and behaviors, and to recognize irrational thinking styles and how they affect behavior. So, there is a need to further investigate the effectiveness of mindfulness training in the treatment of Parkinson's Disease (PD).
In today's Research News article "). Online Mindfulness-Based Cognitive Therapy for People with Parkinson's Disease and Their Caregivers: a Pilot Study." (See summary below or view the full text of the study at: https://www.ncbi.nlm.nih.gov/pmc/articles/PMC9059916/ ) Seritan and colleagues recruited patients with Parkinson's Disease who also had symptoms of anxiety and depression and their caregivers and provided them with 8 weekly 2.5 hour online sessions of Mindfulness-Based Cognitive Therapy (MBCT) along with home practice. They were measured before and after treatment for mindfulness, anxiety, depression, and caregiver burden.
They found that after Mindfulness-Based Cognitive Therapy (MBCT) training there were significant reductions in anxiety and depression and significant increases in mindfulness regardless of whether the patients were high in anxiety or high in depression before treatment. Hence, online mindfulness training improves the psychological well-being of patients with Parkinson's Disease.
"like regular physical activity, mindfulness meditation can serve as the cornerstone for self-care that people with PD can use to manage their symptoms." – Emily Delzell
CMCS – Center for Mindfulness and Contemplative Studies
This and other Contemplative Studies posts are also available on Twitter @MindfulResearch
Study Summary
Seritan, A. L., Iosif, A. M., Prakash, P., Wang, S. S., & Eisendrath, S. (2022). Online Mindfulness-Based Cognitive Therapy for People with Parkinson's Disease and Their Caregivers: a Pilot Study. Journal of technology in behavioral science, 1–15. Advance online publication. https://doi.org/10.1007/s41347-022-00261-7
Abstract
Anxiety and depression are common non-motor symptoms of Parkinson's disease (PD). Caregivers of people with PD may experience severe caregiver burden. This study explored the feasibility and potential benefits of an online mindfulness-based cognitive therapy (MBCT) intervention for improving anxiety and depressive symptoms in people with PD and their caregivers (ClinicalTrials.gov NCT04469049, 7/8/2020). People with PD or parkinsonism and anxiety and/or depressive symptoms and caregivers of people with PD participated in one of three online MBCT groups. Demographic variables, pre- and post-MBCT behavioral measures (GAD-7, PHQ-9, Five Facet Mindfulness Questionnaire — FFMQ-15, Caregiver Self-Assessment Questionnaire — CSAQ), and satisfaction surveys were collected. Descriptive statistics were used to summarize data. Pre- and post-MBCT behavioral scores were compared using mixed-effect models. Fifty-six potential participants were assessed for eligibility. Twenty-eight entered MBCT groups; all but one completed the intervention. The overall sample analyzed (22 people with PD, 4 caregivers) showed significant GAD-7 and PHQ-9 score reductions and FFMQ-15 total and observing and non-reactivity subscale score increases (all p's < 0.05). Participants with PD and anxiety symptoms (n = 14) had a significant GAD-7 score reduction; those with PD and depressive symptoms (n = 12) had a significant PHQ-9 score reduction (both p's < 0.05). Participants with PD also had a significant FFMQ-15 observing subscale score increase (p < 0.05). The caregiver sample was too small to be analyzed separately. Online MBCT is feasible (as measured by high attendance, completion rate, and participant satisfaction) and may be effective in improving anxiety and depressive symptoms in people with PD.
https://www.ncbi.nlm.nih.gov/pmc/articles/PMC9059916/