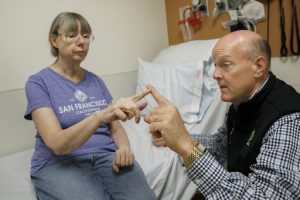 Mindfulness is Associated with Lower Stress and Improved Parkinson's Disease Symptoms
By John M. de Castro, Ph.D.
"By training your mind to be present, you can feel the benefits in your everyday life. It can be particularly helpful when facing challenges that Parkinson's brings." – Parkinson's UK
Parkinson's Disease (PD) is an incurable progressive degenerative disease of the central nervous system. The condition is caused by the death of nerve cells in the brain that produce the neurotransmitter dopamine. There are around seven million people worldwide and one million people in the U.S. living with PD and about 60,000 people are diagnosed with PD every year. PD is associated with aging as the vast majority of patients are diagnosed after age 50. In fact, it has been speculated that everyone would eventually develop PD if they lived long enough.
Its physical symptoms include resting tremor, slow movements, muscle rigidity, problems with posture and balance, loss of automatic movements, and slurring of speech. PD itself is not fatal but is often associated with related complications which can reduce life expectancy, such as falls, choking, and cardiovascular problems. PD also has psychological effects, especially cognitive decline, anxiety, and depression. Balance is a particular problem as it effects mobility and increases the likelihood of falls, restricting activity and reducing quality of life.
There are no cures for Parkinson's Disease (PD) or even treatments to slow its progression. There are only treatments that can produce symptomatic relief. So, there is a need to discover new and different treatments. Mindfulness training has been found to improve the psychological symptoms and the quality of life with PD patients.  If mindfulness is indeed a help to PD patients, then the relationship between mindfulness and PD symptoms should be present in everyday, real world, patients.
In today's Research News article "Stress and mindfulness in Parkinson's disease – a survey in 5000 patients." (See summary below or view the full text of the study at: https://www.ncbi.nlm.nih.gov/pmc/articles/PMC7813889/ ) van der Heide and colleagues sent online surveys to Parkinson's Disease (PD) patients and normal control participants. The surveys contained measures of mindfulness, self-compassion, perceived stress, rumination, Parkinson's anxiety, and additional questions about PD symptoms, stress, and other factors associated with the disease.
They found that the Parkinson's Disease (PD) patients in comparison to controls had significantly lower levels of mindfulness and significantly higher levels stress, and depression. They also found that the higher the levels of stress that the PD patients reported the lower the levels of mindfulness, self-compassion and quality of life and the higher the levels of rumination and disease severity. When the patients were asked what strategies, they used to reduce stress they reported that they used exercise and mindfulness most often. The patients reported that mindfulness improved all of their symptoms, including tremor, gait, slowness of movement, dyskinesia, anxiety, depression, and sleeping problems. In addition, the more the patients used mindfulness, the better their symptoms.
These are interesting but correlational findings, so causation cannot be determined. But previous studies have shown the mindfulness training reduces stress and improves the symptoms of Parkinson's Disease (PD). So, the present associations are probably due to causal connections between mindfulness, stress, and PD symptoms. It appears that stress exacerbates PD symptoms and mindfulness reduces stress and PD symptoms. This further suggests that mindfulness practices should be taught to PD patients. This potentially would improve their well-being and reduce their suffering.
So, mindfulness is associated with lower stress and improved Parkinson's Disease symptoms.
"well-structured mindfulness programs have been proven to be quite effective in areas that directly affect Parkinson's, such as reducing stress levels, combating depression, and refining body image." – Matt Zepelin
CMCS – Center for Mindfulness and Contemplative Studies
This and other Contemplative Studies posts are also available on Google+ https://plus.google.com/106784388191201299496/posts and on Twitter @MindfulResearch
Study Summary
van der Heide, A., Speckens, A., Meinders, M. J., Rosenthal, L. S., Bloem, B. R., & Helmich, R. C. (2021). Stress and mindfulness in Parkinson's disease – a survey in 5000 patients. NPJ Parkinson's disease, 7(1), 7. https://doi.org/10.1038/s41531-020-00152-9
Abstract
Many Parkinson's disease (PD) patients notice that motor symptoms worsen during stress, and experience stress-related neuropsychiatric symptoms such as anxiety and depression. Here we investigated which personal and disease characteristics are associated with perceived stress in PD, which PD symptoms are sensitive to stress, and we assessed self-reported benefits of stress-reducing strategies such as mindfulness. We sent an online survey to the Fox Insight cohort (n = 28,385 PD patients, n = 11,413 healthy controls). The survey included specific questions about the influence of stress on PD symptoms, use of stress-reducing strategies, and several validated scales measuring perceived stress, anxiety, dispositional mindfulness, rumination, and self-compassion. We received completed surveys from 5000 PD patients and 1292 controls. Patients perceived more stress than controls. Among patients, stress was correlated with increased rumination (R = 0.65), lower quality of life (R = −0.56), lower self-compassion (R = −0.65), and lower dispositional mindfulness (R = −0.48). Furthermore, patients indicated that stress significantly worsened both motor symptoms – especially tremor – and non-motor symptoms. Physical exercise was most frequently used to reduce stress (83.1%). Mindfulness was practiced by 38.7% of PD respondents, who noticed improvement in both motor and non-motor symptoms. Among non-users, 43.4% were interested in gaining mindfulness skills. We conclude that PD patients experience greater levels of stress than controls, and that stress worsens both motor and non-motor symptoms. Mindfulness may improve PD symptom severity, with the strongest effects on anxiety and depressed mood. These findings justify further controlled studies to establish the merits of mindfulness and other stress-alleviating interventions.