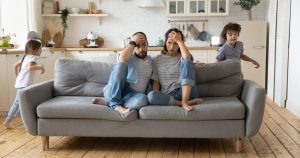 Improve Parent Well-Being and Child Behavior with Mindfulness
By John M. de Castro, Ph.D.
"Mindful parenting means that you bring your conscious attention to what's happening, instead of getting hijacked by your emotions." – Jill Ceder
Raising children, parenting, is very rewarding. But it can also be challenging. Children test parents frequently. They test the boundaries of their freedom and the depth of parental love. They demand attention and seem to especially when parental attention is needed elsewhere. They don't always conform to parental dictates or aspirations for their behavior. The challenges of parenting require that the parents be able to deal with stress, to regulate their own emotions, and to be sensitive and attentive their child. These skills are exactly those that are developed in mindfulness training. It improves the psychological and physiological responses to stress. It improves emotion regulation. It improves the ability to maintain attention and focus in the face of high levels of distraction.
Mindful parenting involves the parents having emotional awareness of themselves and compassion for the child and having the skills to pay full attention to the child in the present moment, to accept parenting non-judgmentally and be emotionally non-reactive to the child. Mindful parenting has been shown to have positive benefits for both the parents and the children. The research has been accumulating. So, it's important to summarize what has been learned.
In today's Research News article "Mindful Parent Training for Parents of Children Aged 3-12 Years with Behavioral Problems: a Scoping Review." (See summary below or view the full text of the study at: https://www.ncbi.nlm.nih.gov/pmc/articles/PMC8741537/ ) Donovan and colleagues review and summarize the published research findings of the effects of mindful parenting training on the parents and their children. They identified 16 published studies.
They report that in general mindful parenting programs produce small but significant improvements in the parenting style and parent's levels of mindfulness and perceived stress and improvements in their children's externalizing behavior. Hence, mindful parenting training improves family life including the parent's well being and the children's problem behaviors.
"Parenting kids with special needs can be even more stressful, and it can cause anxiety, depression and marital problems. A mindfulness practice can help alleviate stress and prevent these problems. And it can make you a better parent." – Juliann Garey
CMCS – Center for Mindfulness and Contemplative Studies
This and other Contemplative Studies posts are also available on Twitter @MindfulResearch
Study Summary
Donovan, M. O., Pickard, J. A., Herbert, J. S., & Barkus, E. (2022). Mindful Parent Training for Parents of Children Aged 3-12 Years with Behavioral Problems: a Scoping Review. Mindfulness, 1–20. Advance online publication. https://doi.org/10.1007/s12671-021-01799-y
Abstract
Objectives
While mindfulness-based parenting programs (MPPs) are increasingly popular for reducing child behavior problems, the evidence for the advantages of MPP over existing behavioral parent training is unclear. Existing systematic reviews have largely excluded the breadth of MPP protocols, including those that integrate behavioral skills components. Therefore, a scoping review was conducted to map the nature and extent of research on MPPs for parents of children aged 3 to 12 years with behavioral problems.
Methods
PRISMA-ScR guidelines were used to conduct an encompassing peer literature review of cross-disciplinary databases. Studies were included if they reported mindfulness interventions for parents of children aged between 3 and 12 years with externalizing behavior problems and had an outcome measure of child behavioral problems that could be represented as an effect size. Randomized controlled trials as well as quasi-experimental, pre-post studies and unpublished dissertations were included.
Results
Sixteen studies met the inclusion criteria (N = 1362). The majority of MPPs delivered mindfulness adapted to parenting based on the Bögels' protocol within clinical settings. There was a dearth of fully integrated mindfulness and behavioral programs. MPPs generally produced pre-to-post-intervention improvements with small effect sizes across child behavior and parent style, stress, and mindfulness measures. Examining longer follow-up periods compared to pre-intervention, effects reached a moderate size across most outcome measures.
Conclusions
MPPs continue to show promise in improving child behavior and parental mindfulness, well-being, and style. Further research is needed to determine how to best leverage the advantages of mindfulness in augmenting the well-established effectiveness of behavioral programs.
https://www.ncbi.nlm.nih.gov/pmc/articles/PMC8741537/