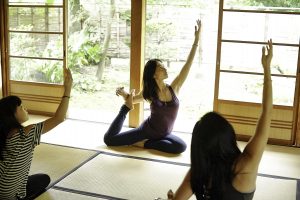 Meditation and Yogic Breathing Techniques Improve Respiration and Psychological Well-Being
By John M. de Castro, Ph.D.
"Yoga, meditation and other relaxation techniques all depend on focusing on the breath. There are many benefits of meditation and proper breathing is an important part of learning how to calm the mind and body." – Home Care Assistance
Breathing is essential for life and generally occurs automatically. It's easy to take for granted as it's been there our entire lives. Nevertheless, we become more aware of it when it varies with circumstances, such as when we exercise and also in emotional states, especially fear and anxiety. But we rarely notice it during everyday ongoing life. Yet, its characteristics are associated with our state of well-being. Slow deep breathing is characteristic of a healthy relaxed state. Breathing exercises are common in yoga and meditation practices and have been found to have a number of beneficial effects.
Modern medicine has also developed respiratory therapies for the treatment of patients with cardiovascular and pulmonary diseases. Many of these techniques are similar to those practiced in meditation and yoga. In today's Research News article "Analogy between classical Yoga/Zen breathing and modern clinical respiratory therapy." (See summary below or view the full text of the study at: https://www.ncbi.nlm.nih.gov/pmc/articles/PMC7429199/) Tobe and Saito examine the similarities of meditation and yoga breathing exercises and respiratory therapies and their relative effects.
Respiratory therapy has been shown to be essential in the treatment of respiratory diseases. But, breathing techniques are not new. They've been practiced for over 3000 years. Yoga incorporates a number of different techniques. Even the Buddha emphasized breathing techniques during meditation and these were greatly elaborated on in Zen meditation. There are considerable similarities with respiratory therapy and meditation and yogic breathing techniques. They all emphasize deep inhalation, slow exhalation with some resistance, low respiratory frequency, and even counting of breaths.
Tobe and Saito note that research has shown that meditation and yogic breathing techniques, like respiratory therapy, have considerable positive effects on respiration including improved "vital capacity, timed vital capacity, maximum voluntary ventilation, breath-hold time, maximal inspiratory and expiratory pressures and oxygen saturation." They also increase the psychological well-being of practitioners including reducing panic attacks, depression, and headaches, relieving pain, and improving sleep.
Tobe and Saito conclude that meditation and yogic breathing techniques are effective in modern clinical practice improving respiratory function and psychological well-being, and relieving chronic pain. Indeed, research on meditation and yogic breathing techniques suggest that they improve physiological and respiratory function and are effective for the treatment of a number of diseases and psychological problems.
So, meditation and yogic breathing techniques improve respiration and psychological well-being.
"By inducing stress resilience, breath work enables us to rapidly and compassionately relieve many forms of suffering." – Richard Brown
CMCS – Center for Mindfulness and Contemplative Studies
This and other Contemplative Studies posts are also available on Google+ https://plus.google.com/106784388191201299496/posts and on Twitter @MindfulResearch
Study Summary
Tobe, M., & Saito, S. (2020). Analogy between classical Yoga/Zen breathing and modern clinical respiratory therapy. Journal of anesthesia, 1–6. Advance online publication. https://doi.org/10.1007/s00540-020-02840-5
Abstract
Anesthesiologists and intensivists are modern-day professionals who provide appropriate respiratory care, vital for patient survival. Recently, anesthesiologists have increasingly focused their attention on the type of spontaneous breathing made by non-intubated patients with pulmonary disease cared for in an intensive care unit, and also patients with chronic pain receiving cognitive behavioral therapy. Prior to our modern understanding of respiratory physiology, Zen meditators recognized that breathing has a significant impact on a person's mental state and general physical well-being. Examples of this knowledge regarding respiration include the beneficial effects of deep inhalation and slow exhalation on anxiety and general wellness. The classical literature has noted many suggestions for breathing and its psycho-physical effects. In the present review, we examine the effect of classical breathing methods and find an analogy between typical Yoga/Zen breathing and modern clinical respiratory therapy. Evidence is increasing about historical breathing and related meditation techniques that may be effective in modern clinical practice, especially in the field of anesthesiology, such as in improving respiratory function and reducing chronic pain. Clarification of the detailed mechanisms involved is anticipated.
https://www.ncbi.nlm.nih.gov/pmc/articles/PMC7429199/