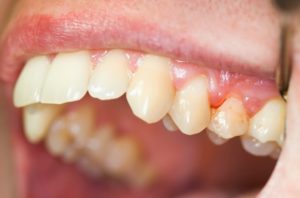 Improve Periodontal Disease with Yoga
By John M. de Castro, Ph.D.
"By stimulating saliva production through yoga practice, we can aid our bodies in reducing the growth of bacteria in our mouth and mitigating the spread of toxins through our bloodstream and in our digestive system. . . By reducing stress, improving posture, and stimulating saliva production, we can help prevent a number of dental health issues, from plaque buildup to enamel erosion and tooth decay. Using yoga practice for dental health combined with good oral hygiene practices . . . is an effective way to promote healthy teeth and gums." – Carefree Dental 
If you asked most people what's one of the most common health problems that people have, probably the last thing that they would come up with us oral health. Yet, about half of all American adults, around 65 million, have mild, moderate or severe periodontitis, the more advanced form of periodontal disease. In adults 65 and older, prevalence rates increase to over 70 percent. Periodontitis means "inflammation around the tooth" – it is a serious gum infection that damages the soft tissue and bone that supports the tooth. If it is not treated periodontitis will eventually lead to tooth loss, and increases the risk of stroke, heart attack and other health problems.
Treatment for periodontitis is straightforward including professional plaque removal and general at home oral hygiene. If severe, surgical procedures are called for. But, like many infections, periodontitis is exacerbated by stress. So, practices like mindfulness and yoga training, that reduce stress, may well help with periodontitis. In addition, mindfulness practices have been found to reduce the inflammatory response which would in turn reduce the inflammation of the gums.  So, it would make sense to investigate the effects of yoga practice on periodontal disease.
In today's Research News article "Impact of yoga on periodontal disease and stress management." See summary below or view the full text of the study at: http://www.ijoy.org.in/article.asp?issn=0973-6131;year=2017;volume=10;issue=3;spage=121;epage=127;aulast=Sudhanshu, Sudhanshu and colleagues recruited adult patients with periodontal disease and randomly assigned them to either receive treatment as usual or to receive treatment as usual plus 3 months of yoga practice. The yoga intervention was practiced for 1 hour per day for 6 days per week and consisted of postures, breathing exercises, meditation, and relaxation. Before, during (every month), and after treatment the patients were measured for perceived stress and periodontal health, including measures of plaque, pocket depth, clinical attachment loss, and bleeding.
They found that after treatment the yoga practice group, in comparison to baseline and the treatment as usual group, had significant improvements in plaque, pocket depth, clinical attachment loss, bleeding, and perceived stress. They also found that for the treatment as usual group the greater the stress, the greater the plaque index and pocket depth, indicating a strong positive relationship between periodontal disease and stress. On the other hand, for the yoga group, who had reduced stress, the relationships between periodontal disease and stress were greatly weakened.
These results are very significant. This suggests that the yoga treatment produced a reduction of stress which, in turn, produced a reduction of the symptoms of periodontal disease. In a previous study, yoga practitioners were found to have less and less severe periodontal disease. This study is particularly significant as it demonstrates in a randomized controlled trial that yoga practice causes the improvement in gum health.
So, improve periodontal disease with yoga.
"A healthier mouth typically is not the first thing that comes to people's minds when they think about the benefits of doing yoga. However, yoga is very effective for alleviating stress, which can cause dental problems. It can also help prevent TMJ disorder by improving posture. Furthermore, yoga can help reduce inflammation, which is another problem that can affect oral health." – Bohle Family
CMCS – Center for Mindfulness and Contemplative Studies
This and other Contemplative Studies posts are also available on Google+ https://plus.google.com/106784388191201299496/posts and on Twitter @MindfulResearch
Study Summary
Sudhanshu A, Sharma U, Vadiraja H S, Rana RK, Singhal R. Impact of yoga on periodontal disease and stress management. Int J Yoga 2017;10:121-7
Abstract
Background: Yoga is considered to be one of the most important, effective, and valuable tools available for man to overcome various physical and psychological problems. Stress contributes significantly to the pathogenesis of periodontal diseases; hence, it becomes important to reduce the level of stress for prevention and management of diseases. Aims and Objectives: The present study was aimed: (1) To understand and analyze the possibilities of employing yogic practices in the treatment of periodontal disease along with conventional dental therapy, (2) to understand the effect of stress on periodontal treatment outcome, (3) to evaluate the efficacy of yoga in the management of periodontal disease with reference to stress. Materials and Methods: An outpatient department-based parallel group randomized study was performed with standard treatment for periodontal disease yoga therapy as Group II and only standard treatment as Group I. Periodontal health status was recorded using indices of modified plaque index (PI), bleeding on probing (BOP), probing depth, and clinical attachment loss (CAL). The Cohen's perceived stress questionnaire was also used to determine stress severity. The yogic intervention consists of lectures and practical sessions on asanas, pranayama, kriyas, and meditation. Results: Repeated measure analysis of variance revealed a significant difference (P < 0.001) in all the outcome variables with respect to time in both groups. It was observed that mean PI score reduced by 1.35 in Group II as compared to 0.54 in Group I, mean probing pocket depth reduced by 1.60 in Group II as compared to only 0.68 in Group I, and mean CAL score reduced by 1.60 in Group II as compared to 0.68 in Group I. Similarly, Cohen's perceived stress scale score also reduced by 18.76 points in Group II as compared to only 2.58 points in Group I, BOP also shows better improvement in Group II with a reduction of 0.68 as compared to reduction of only 0.08 in Group I. The results obtained ascertained the role of yoga in stress reduction in periodontal disease. Conclusion: Although yoga does not play a direct role in improving periodontal disease, it accelerates the treatment outcomes by combating the stress which is a major factor affecting the treatment of periodontal disease.
http://www.ijoy.org.in/article.asp?issn=0973-6131;year=2017;volume=10;issue=3;spage=121;epage=127;aulast=Sudhanshu