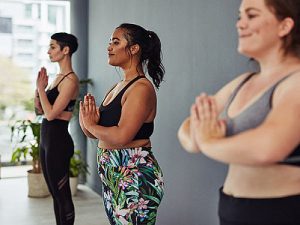 Improve Weight Loss with Yoga Practice
By John M. de Castro, Ph.D.
"Yoga may be a promising way to help with behavioral change, weight loss, and maintenance by burning calories, heightening mindfulness, and reducing stress." – Emily Cronkleton
Overweight and obesity is epidemic in the modern world. Despite copious research and a myriad of dietary and exercise programs, there still is no safe and effective weight loss method. Mindfulness is known to be associated with lower risk for obesity, alter eating behavior and improve health in obesity. This suggests that mindfulness training may be an effective treatment for overweight alone or in combination with other therapies. Yoga is both an exercise and a mindfulness practice that has been shown to have a myriad of physical and psychological benefits. These include significant loss in weight and body mass index (BMI), resting metabolism, and body fat.
In today's Research News article "A preliminary investigation of yoga as an intervention approach for improving long-term weight loss: A randomized trial." (See summary below or view the full text of the study at: https://www.ncbi.nlm.nih.gov/pmc/articles/PMC8815874/ ) Unick and colleagues recruited overweight and obese adult women and had them complete a 12-week behavioral weight loss program including reduced caloric intake and increased exercise and weekly 1-hour group eating behavior therapy meetings. They then randomly assigned them to receive 12 weeks of twice weekly 1-hour classes of either yoga or culinary and nutrition classes. The women were measured before treatment, after the weight loss treatment (3 months), and after yoga or control treatment (6 months) for body size, physical activity, mindfulness perceived stress, distress tolerance, positive and negative emotions, and self-compassion.
The women lost on average 6.4 kg of weight over the behavioral weight loss treatment. They found that among the women with high weight loss (>5% body weight) after the 3-month yoga or control period those that practiced yoga had a significantly greater average weight loss, 9.0 kg, compared to controls, 6.7 kg and had significantly greater increases in mindfulness, distress tolerance, and self-compassion and significantly greater decreases in negative emotions and perceived stress.
The findings show that for overweight and obese women who had significant weight losses, as a result of a behavioral weight reduction program, those that practiced yoga during the succeeding 3 months lost more weight than controls. This suggests that practicing yoga after weight loss treatment produces greater further reductions in weight and improved psychological well-being.
So, yoga assists in long-term weight loss after a dietary program and improves psychological well-being.
"Yoga, if done right, becomes a lifestyle change, which in turn can help increase physical activity and decrease emotional eating. And it can help you manage stress, which can also help with weight maintenance." – Judi Barr
CMCS – Center for Mindfulness and Contemplative Studies
This and other Contemplative Studies posts are also available on Twitter @MindfulResearch
Study Summary
Unick, J. L., Dunsiger, S. I., Bock, B. C., Sherman, S. A., Braun, T. D., & Wing, R. R. (2022). A preliminary investigation of yoga as an intervention approach for improving long-term weight loss: A randomized trial. PloS one, 17(2), e0263405. https://doi.org/10.1371/journal.pone.0263405
Abstract
Objective
Yoga targets psychological processes which may be important for long-term weight loss (WL). This study is the first to examine the feasibility, acceptability, and preliminary efficacy of yoga within a weight management program following WL treatment.
Methods
60 women with overweight or obesity (34.3±3.9 kg/m2, 48.1±10.1 years) were randomized to receive a 12-week yoga intervention (2x/week; YOGA) or a structurally equivalent control (cooking/nutrition classes; CON), following a 3-month behavioral WL program. Feasibility (attendance, adherence, retention) and acceptability (program satisfaction ratings) were assessed. Treatment groups were compared on weight change, mindfulness, distress tolerance, stress, affect, and self-compassion at 6 months. Initial WL (3-mo WL) was evaluated as a potential moderator.
Results
Attendance, retention, and program satisfaction ratings of yoga were high. Treatment groups did not differ on WL or psychological constructs (with exception of one mindfulness subscale) at 6 months. However, among those with high initial WL (≥5%), YOGA lost significantly more weight (-9.0kg vs. -6.7kg) at 6 months and resulted in greater distress tolerance, mindfulness, and self-compassion and lower negative affect, compared to CON.
Conclusions
Study findings provide preliminary support for yoga as a potential strategy for improving long-term WL among those losing ≥5% in standard behavioral treatment.
https://www.ncbi.nlm.nih.gov/pmc/articles/PMC8815874/