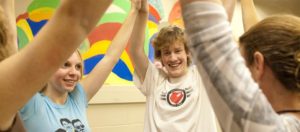 Improve Children's Absorption of Micronutrients with Yoga
By John M. de Castro, Ph.D.
"Aside from the physical benefits of yoga, yoga teaches teens techniques for coping with the unique issues they're faced with everyday—insecurity about their changing bodies, the enormous pressure to fit in, stressful schedules, and uncertainty about their beliefs and their futures." – Erica Rodefer
Yoga practice has been shown to have a large number of beneficial effects on the psychological, emotional, and physical health of the individual and is helpful in the treatment of mental and physical illness. The acceptance of yoga practice has spread from the home and yoga studios to its application with children in schools. Studies of these school programs have found that yoga practice produces a wide variety of positive psychosocial and physical benefits. Teachers also note improvements in their students following yoga practice. In addition, school records, academic tests, and physiological measures have shown that yoga practice produces improvements in student grades and academic performance.
In developing countries nutritional deficiencies are common. Many children, even those who receive sufficient calories from food are often lacking in micronutrients (vitamins and minerals). This lack can impair growth and school performance. So, it would be helpful for the health and well-being of children in developing countries, if a safe and effective method could be developed to promote the absorption of the micronutrients in their food. In today's Research News article "Effect of yoga practices on micronutrient absorption in urban residential school children." See summary below or view the full text of the study at: https://www.ncbi.nlm.nih.gov/pmc/articles/PMC5509603/, Verma and colleagues examine if yoga practice can improve micronutrient absorption in school age children in India.
They recruited 11 to 15-year old boy and girl students from an urban residential school in India and randomly assigned them to yoga practice or a no practice control condition. Both groups continued with an active schedule of extracurricular activities including sports and dance. Yoga practice was conducted 6 days per week for 1-hour per day for 12 weeks and consisted of chanting, postures, and breathing exercises. The students were measured before and after the training for height and weight and blood samples were collected and serum Iron (Fe), Zinc (Zn), Magnesium (Mg), and Copper (Cu) were measured.
They found that in comparison to baseline and the control group, the children who practiced yoga had significant increases in serum Iron, Zinc, Magnesium, and Copper. It is assumed that since the body cannot produce these micronutrients that the increases must have occurred due to increased absorption of the micronutrients from the food. But, intake of food was not measured and it is possible that the higher serum levels were due to greater food intake in the yoga group. There is, however, evidence that yoga practice can improve digestion. So, it is likely that increased absorption from improved digestion as a result of yoga practice was responsible. If this is true then yoga practice may be a safe and effective means of improving the nutritional status of children in developing countries.
So, improve children's absorption of micronutrients with Yoga.
"Mindfulness has been shown to help students have better relationships and more positive behaviors and help them perform better at school. A recent study found it can help students improve their memory. Mindfulness has also been shown to improve teens' physical health and their mental health." – Kelly Wallace
CMCS – Center for Mindfulness and Contemplative Studies
This and other Contemplative Studies posts are also available on Google+ https://plus.google.com/106784388191201299496/posts and on Twitter @MindfulResearch
Study Summary
Verma, A., Shete, S., Kulkarni, D., & Bhogal, R. S. (2017). Effect of yoga practices on micronutrient absorption in urban residential school children. Journal of Physical Therapy Science, 29(7), 1254–1258. http://doi.org/10.1589/jpts.29.1254
Abstract
[Purpose] This study was conducted with a view to find out the effect of yoga practices on micronutrient absorption in urban residential school children. [Subjects and Methods] The study population comprised 66 urban school children aged 11–15 years staying in a residential school in Pune City, Maharashtra, India. A stratified random sampling method was used to divide the students into experimental and control groups. There were 33 students in experimental group and 33 students in control group. Both experimental and control groups were assessed for the status of zinc, copper, iron and magnesium at the baseline and at the end of 12 weeks of yoga training. The study participants of experimental group underwent yoga training for 12 weeks, for one hour in the morning for six days a week. The control group did not undergo any yoga training during this time period. [Results] The experimental group participants showed significant improvement in micronutrient absorption as compared to control group. [Conclusion] The findings of this study indicate that yoga practices could improve micronutrient absorption in urban residential school children.