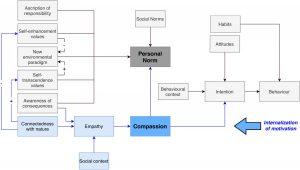 Meditation Experience is Associated with Increased Concern for and Impact on the Environment
By John M. de Castro, Ph.D.
"Mindfulness . . . promotes environmental sustainability. It helps individuals disengage from automatic thoughts and become more open to behavioral change and freedom to make different choices. Examples of mindful behaviors include bringing a reusable bag to the grocery store, taking shorter showers, refilling personal water bottles instead of using a disposable bottle and using your purchasing power as a consumer to support companies with more sustainable practices." – Menchi Liu
The ability of humans to manipulate and control the environment has developed to the point that human activity is now threatening to destroy that environment. This can be seen in the rapid extinction of once thriving species, the loss of forestation, the historic rise in atmospheric carbon dioxide levels, sea level rise, and climate change. It has been argued that we may have crossed a tipping point where the environmental damage is irreversible. But, if we haven't, there is a pressing need to address the very activities that are producing the damage. We need to begin acting more responsibly toward our environment to reverse and heal the damage,
This will require actions by humans. This will require positive ecological behaviors. Ecological behavior is defined "as behaviors that protect/avoid harm to the environment and span all areas of life such as nutrition, mobility and transportation, energy and water consumption, waste avoidance, and consumerism." In other words, humans need to change their behaviors toward more sustainable patterns.
Mindfulness promotes awareness of the internal and external environments. As such, it promotes sensitivity to these environments and to the impact of our actions on ourselves and the environment. In fact, mindfulness has been shown to be associated with the individual's feelings of connectedness to nature. It is thus possible that mindfulness can stimulate ecological behavior and be a positive force for reversing the damage to our precious environment.
In today's Research News article "Practice Matters: Pro-environmental Motivations and Diet-Related Impact Vary With Meditation Experience." (See summary below or view the full text of the study at: https://www.frontiersin.org/articles/10.3389/fpsyg.2020.584353/full?utm_source=F-AAE&utm_medium=EMLF&utm_campaign=MRK_1757290_a0P58000000G0YfEAK_Psycho_20211021_arts_A ) Thiermann and colleagues recruited adult participants online who had varied diets and had them complete a questionnaire measuring their mindfulness practices, mindfulness, motivation, happiness, connection to the natural world, and animal protein consumption.
They separated the participants into 3 groups depending upon the amount of meditation they practiced, no practice, novice meditators, and advanced meditators. They found that the advanced meditations in comparison to the two other groups had significantly higher levels of mindfulness, happiness, connection to the natural world, integrated motivation, intention to reduce the intake of animal proteins, and concerns about the environment as a reason for reduced animal protein, and lower levels of introjected motivation. They also modelled the impact of each participants' diets on greenhouse gas emissions, water use, and land use and found that the advanced meditators had significantly lower environmental impacts.
This study compared existing groups and as such causation cannot be determined as people who choose to meditate may be very different types of people than those who do not. Nevertheless, it is clear that meditators, particularly experienced meditators, have better psychological well-being, greater environmental consciousness, and lower impact on the environment. This does not establish meditation as a solution to the degradation of the environment. Future research needs to examine the effects of meditation training on environmentally impactful behaviors to determine if meditation can cause better ecological behaviors..
So, meditation experience is associated with increased concern for and impact on the environment.
"A sense of awareness, empathy, and connection with our surroundings, as well as an ability to create innovative solutions, are necessary and vital for solving any global issues facing our world today." – Art of Living
CMCS – Center for Mindfulness and Contemplative Studies
This and other Contemplative Studies posts are also available on Google+ https://plus.google.com/106784388191201299496/posts and on Twitter @MindfulResearch
Study Summary
Thiermann UB, Sheate WR and Vercammen A (2020) Practice Matters: Pro-environmental Motivations and Diet-Related Impact Vary With Meditation Experience. Front. Psychol. 11:584353. doi: 10.3389/fpsyg.2020.584353
Mindfulness has emerged as a potential motivator for sustainable lifestyles, yet few studies provide insight into the relationship between mindfulness practice levels and individual engagement in pro-environmental behaviors. We also lack information about the significance of meditators' behavioral differences in terms of their measurable environmental impact and the motivational processes underlying these differences in pro-environmental performance. We classified 300 individuals in three groups with varying meditation experience and compared their pro-environmental motivations and levels of animal protein consumption. Exceeding prior attempts to compare high-impact behaviors of mindfulness practitioners and non-practitioners, we created the most detailed classification of practice engagement by assessing frequency, experience and type of meditation practice. This nuanced view on mindfulness practice reveals that advanced meditators, who reported high levels of connectedness with nature (CWN), subjective happiness and dispositional mindfulness showed significantly more concern for the environment. They also demonstrated the lowest levels of greenhouse gas emissions, land occupation and water use related to their animal-protein consumption. This study is the first to follow a self-determination theory perspective to deepen our understanding of the motivational differences between meditator groups. We revealed that advanced meditators reported significantly more integrated motivation toward the environment than non-meditators. We also provided preliminary evidence for a new theoretical framework suggesting that experiential strategies such as mindfulness practices could strengthen the relational pathway of pro-environmental behaviors. Using sequential mediation analysis, we confirmed that the negative effect of mindful compassion practice on greenhouse gas emissions from animal-protein consumption is partially mediated by CWN and integrated motivation toward the environment. While our study does not support assumptions of causality, it shows that much can be learned by studying the motivations of advanced meditators for maintaining high levels of pro-environmental behavior.
https://www.frontiersin.org/articles/10.3389/fpsyg.2020.584353/full?utm_source=F-AAE&utm_medium=EMLF&utm_campaign=MRK_1757290_a0P58000000G0YfEAK_Psycho_20211021_arts_A