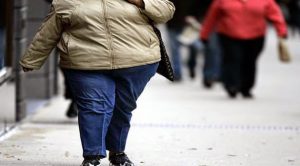 Reduce Body Weight and Improve Health in the Obese with Mindfulness
By John M. de Castro, Ph.D.
"Mindfulness practice helps individuals develop skills for self-regulation by improving awareness of emotional and sensory cues, which are also important in altering one's relationship with food." – Sunil Daniel
Obesity has become an epidemic in the industrialized world. In the U.S. the incidence of obesity, defined as a Body Mass Index (BMI) of 30 or above has more than doubled over the last 35 years to currently around 35% of the population, while two thirds of the population are considered overweight or obese (BMI > 25). Obesity has been found to shorten life expectancy by eight years and extreme obesity by 14 years. This occurs because obesity is associated with cardiovascular problems such as coronary heart disease and hypertension, stroke, metabolic syndrome, diabetes, cancer, arthritis, and others.
Obviously, there is a need for effective treatments to obese individuals. But, despite copious research and a myriad of dietary and exercise programs, there still is no safe and effective treatment. Mindfulness is known to be associated with lower risk for obesity, alter eating behavior and improve health in obesity. Mindfulness-Based Cognitive Therapy (MBCT)  involves mindfulness training, containing sitting, walking and body scan meditations, and cognitive therapy That is designed to alter how the patient relates to the thought processes that often underlie and exacerbate psychological symptoms. This suggests that MBCT may be an effective treatment for overeating and obesity alone or in combination with other therapies.
In today's Research News article "Effectiveness of mindfulness based cognitive therapy on weight loss, improvement of hypertension and attentional bias to eating cues in overweight people." (See summary below or view the full text of the study at: https://www.ncbi.nlm.nih.gov/pmc/articles/PMC7031128/), Alamout and colleagues recruited women who were adult (aged 30-50) and overweight (BMI of 25-30) and randomly assigned them to receive either no treatment or a diet providing 800 Kcal less than their normal intake, or the diet plus once a week for 2 hours for 8 weeks Mindfulness-Based Cognitive Therapy (MBCT) along with daily home practice. They were measured before and after treatment and 4 weeks later for body size and blood pressure. Attention bias was measured by asking participants to respond as quickly as they can to words and pictures that were food related or neutral.
They found that after the intervention there was a significant reduction in body weight and body mass index in the diet groups in comparison to the no treatment control. But, the groups that received diet plus Mindfulness-Based Cognitive Therapy (MBCT) had significantly greater reductions that were maintained 4 weeks after treatment. Attentional bias toward food cues and both systolic and diastolic blood pressure were significantly reduced in the diet plus MBCT group only and these reductions were maintained 4 weeks after treatment.
These findings are interesting and potentially significant. Weight loss is difficult to attain and even more difficult to maintain after the cessation of treatment. The findings suggest that the addition of mindfulness training to diet therapy greatly enhances the benefits. It has been previously demonstrated that mindfulness training reduces blood pressure. The reductions in blood pressure observed in the present study suggest that the mindfulness training reduces the responses to stress. It has been shown that stress can promote food intake. So, the reduction in stress responding may make it easier to maintain the diet.
The combination of diet and mindfulness training appears to alter how overweight women respond to food related cues. This may, in part, be responsible for the increased effectiveness of diet plus mindfulness training. It may make it easier for the women to refrain from responding to food cues and thereby be better able to stay on the diet. In other words, it makes them less responsive to temptation.
So, reduce body weight and improve health in the obese with mindfulness.
"Adults with overweight or obesity who participated in mindfulness-based intervention experienced at least 3% weight loss that persisted through follow-up, with a reduction in disordered eating behaviors." – Kimberly Carriere
CMCS – Center for Mindfulness and Contemplative Studies
This and other Contemplative Studies posts are also available on Google+ https://plus.google.com/106784388191201299496/posts and on Twitter @MindfulResearch
Study Summary
Alamout, M. M., Rahmanian, M., Aghamohammadi, V., Mohammadi, E., & Nasiri, K. (2019). Effectiveness of mindfulness based cognitive therapy on weight loss, improvement of hypertension and attentional bias to eating cues in overweight people. International journal of nursing sciences, 7(1), 35–40. https://doi.org/10.1016/j.ijnss.2019.12.010
Abstract
Objectives
Prevalence rates of overweight and obesity are dramatically ever-increasing across the world. Therefore, this study was to evaluate the effect of mindfulness-based cognitive therapy (MBCT) on weight loss, hypertension, and attentional bias towards food cues in a group of women affected with this condition.
Methods
A total of 45 participants were selected out of women referring to the Nutrition and Diet Therapy Clinic affiliated to Shahid Beheshti University of Medical Sciences, Iran, and then randomized into three groups of 15. The first experimental group was subjected to an energy-restricted diet therapy together with MBCT during 8 sessions, the second group took the diet therapy alone, and the third group received no intervention. Body mass index (BMI), hypertension, and attentional bias towards food cues were correspondingly evaluated before, at the end, and four weeks after the completion of the interventions.
Results
The results of this study revealed that MBCT, along with diet therapy, had been significantly more effective in weight loss, decrease in BMI, lower systolic blood pressure (SBP), and attentional bias towards food cues compared with the diet therapy alone (P ≤ 0.01). MBCT had no significant impact on the decline in diastolic blood pressure (DBP) in participants in the follow-up phase.
Conclusion
This study demonstrated that MBCT along with the conventional diet therapy was more effective in weight loss, decrease in BMI, hypertension control, as well as attentional bias towards food cues than the diet therapy alone.
https://www.ncbi.nlm.nih.gov/pmc/articles/PMC7031128/