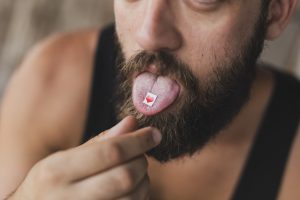 Improved Psychological Well-Being and Cognition is Reported by Adult who Engage in Microdosing of Psychedelic Substances
By John M. de Castro, Ph.D.
"After a 40-year moratorium, the psychedelic renaissance has begun: rigorous scientific methods can now be used to investigate psychedelics as potential medicines and for "the betterment of well people". – Thomas Anderson
Psychedelic substances such as peyote, mescaline, LSD, Bufotoxin, ayahuasca and psilocybin 
have been used almost since the beginning of recorded history to alter consciousness and produce spiritually meaningful experiences. More recently hallucinogenic drugs such as MDMA (Ecstasy) and Ketamine have been similarly used. People find the experiences produced by these substances extremely pleasant. eye opening, and even transformative. They often report that the experiences changed them forever. Psychedelics and hallucinogens have also been found to be clinically useful as they markedly improve mood, increase energy and enthusiasm and greatly improve clinical depression.
Recently doses of psychedelic substances that are small enough that they do not produce psychedelic effects (microdoses) have been employed repeatedly in real world settings. They have been reported to produce reductions in the symptoms of depression and anxiety, improve cognitive function, and promote social interaction. But there is little systematic research on the effects of repeated psychedelic microdosing.
In today's Research News article "Psychedelic Microdosing: Prevalence and Subjective Effects." (See summary below or view the full text of the study at: https://www.ncbi.nlm.nih.gov/pmc/articles/PMC7282936/ ) Cameron and colleagues recruited adult volunteers to complete an anonymous online survey of "Recreational Drug and Alcohol Use". The survey requested information regarding familiarity with psychedelic microdosing. personal practices, drugs used, and any changes observed in depression, anxiety, memory, sociability, focus/attention, and physical health.
They found that of the 2347 respondents the majority (59%) were familiar with psychedelic microdosing but only 13 % ever practiced it and only 4% were currently practicing. LSD and Psilocybin were the most common drugs used in microdosing. Males, veterans, and less educated participants were significantly more likely to practice psychedelic microdosing.
In comparison to participants who did not microdose, those that did reported significantly greater reductions in depression anxiety and greater improvements in memory, attention, and sociability. Males again reported the greatest improvements. The majority of the participants who stopped microdosing attributed it to difficulty in obtaining the drugs and their legal riskiness.
These results were produced by an anonymous survey and there was no way to ascertain the veracity of the responses. In addition, there were no comparison to other spontaneously used drugs to determine demand characteristics or placebo effects. Hence, the results are from a self-selected sample, have strong expectancy effect, and with no objective verification of the responses. So, these results must be viewed as preliminary. Nevertheless, the findings suggest that psychedelic microdosing is viewed by those engaging in it as beneficial for their psychological well-being and cognitive ability. These are interesting results that suggest that further investigation in warranted to determine if this practicemay be useful in improving well-being.
So, improved psychological well-being and cognition is reported by adult who engage in microdosing of psychedelic substances.
"We have an epidemic of mental health problems, with existing treatments that don't work for everyone. We need to follow the lead of patients who are taking these initiatives to improve their wellbeing and reduce suffering." – Zach Walsh
CMCS – Center for Mindfulness and Contemplative Studies
This and other Contemplative Studies posts are available on Twitter @MindfulResearch
Study Summary
Cameron, L. P., Nazarian, A., & Olson, D. E. (2020). Psychedelic Microdosing: Prevalence and Subjective Effects. Journal of psychoactive drugs, 52(2), 113–122. https://doi.org/10.1080/02791072.2020.1718250
Abstract
Anecdotal reports suggest that the administration of sub-hallucinogenic doses of psychedelic compounds on a chronic, intermittent schedule—a practice known as psychedelic microdosing—is becoming increasingly popular among young adults due to its purported ability to reduce symptoms of depression and anxiety while improving cognitive function and promoting social interaction. Using an anonymous online survey, we collected data from 2347 people to 1) assess the prevalence of psychedelic microdosing and characterize the demographics of microdosers, 2) determine whether microdosers associate the practice with changes in mood, cognitive function, social interaction, or physiology, and 3) investigate frequent motives for discontinuing the practice. Fifty-nine percent of respondents (NT = 2183) reported familiarity with the concept of psychedelic microdosing, with 17% (383 respondents, NT=2200) having engaged in this practice. Microdosers attributed psychedelic microdosing with improving their mood, decreasing their anxiety, and enhancing their memory, attention, and sociability. The most frequently cited reasons for quitting microdosing (NT = 243) were the risks associated with taking an illegal substance (24.28%) and the difficulty of obtaining psychedelic compounds (22.63%). Overall, our findings suggest that psychedelic microdosing is relatively common and is subjectively associated with a broad spectrum of socio-affective, cognitive, and physical outcomes.