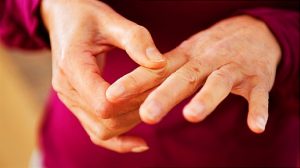 Improve the Psychological Well-Being of Lupus Patients with Mindfulness
By John M. de Castro, Ph.D.
"For someone with lupus who suffers from persistent joint or muscular pain, the struggle to find relief can be stressful and exhausting. But mindfulness meditation is not about fighting. It's all about acceptance. And once you have achieved calm, it can help you regain a much-needed sense of control when your disease brings you discomfort." – Lupus Foundation
Autoimmune diseases occur when the body's systems that are designed to ward off infection attack the individual's own tissues. Lupus is an autoimmune disease that affects a variety of organ systems including kidneys, joints, skin, blood, brain, heart and lungs. Lupus can produce fever, joint pain, stiffness and swelling, butterfly-shaped rash on the face or rashes elsewhere on the body, skin lesions that appear or worsen with sun exposure, fingers and toes that turn white or blue when exposed to cold or during stressful periods, shortness of breath, chest pain, dry eyes, headaches, confusion and memory loss. Lupus strikes between 10 to 25 people per 100,000, or about 322,000 cases in the U.S.
The symptoms of Lupus can look like a number of other diseases so it is hard to diagnose lupus. It is tipped off in many patients by the distinctive facial rash. There are no known cures for lupus and treatment is targeted at symptom relief. Drug treatments include pain relievers, corticosteroids, immunosuppressants, and even antimalarial drugs. Mindfulness practices have been shown to be effective for a wide variety of illnesses and to improve the immune system. So, it is possible that mindfulness training could improve Lupus and its symptoms.
Acceptance and Commitment Therapy (ACT) is a mindfulness-based psychotherapy technique that is employs many of the techniques of Cognitive Behavioral Therapy (CBT). ACT focuses on the individual's thoughts, feelings, and behavior and how they interact to impact their psychological and physical well-being. It then works to change thinking to alter the interaction and produce greater life satisfaction. ACT employs mindfulness practices to increase awareness and develop an attitude of acceptance and compassion in the presence of painful thoughts and feelings. ACT teaches individuals to "just notice", accept and embrace private experiences and focus on behavioral responses that produce more desirable outcomes.
In today's Research News article "Efficacy of Acceptance and Commitment Therapy in Reducing Disappointment, Psychological Distress, and Psychasthenia among Systemic Lupus Erythematosus (SLE) Patients." (See summary below or view the full text of the study at: https://www.ncbi.nlm.nih.gov/pmc/articles/PMC6702277/), Sahebari and colleagues recruited female lupus patients and were randomly assigned to receive 8 weekly sessions of Acceptance and Commitment Therapy (ACT) or treatment as usual. They were measured before and after treatment for depression, psychological distress, fatigue, disappointment, and psychasthenia.
They found that in comparison to baseline and the treatment as usual control condition, the lupus patients who received Acceptance and Commitment Therapy (ACT) had significantly lower levels of psychological distress, psychasthenia, and disappointment with large effect sizes. psychasthenia is a psychological disorder characterized by phobias, obsessions, compulsions, or excessive anxiety. Hence, ACT appears to be effective in improving the psychological state of lupus patients. It can be speculated that ACT has its benefits for lupus patients by increasing mindfulness and the patients' ability to accept their situation without judgement.
So, improve the psychological well-being of lupus patients with mindfulness.
"Improvement was observed in several areas: patients' increased ability to differentiate between themselves and the disease; increased ability to accept, rather than to actively fight the fact that one must live with the disease; and decreased behavioral avoidance. These observations speak to the significant therapeutic potential of mindfulness practice among SLE patients" – Danny Horash
CMCS – Center for Mindfulness and Contemplative Studies
This and other Contemplative Studies posts are also available on Google+ https://plus.google.com/106784388191201299496/posts and on Twitter @MindfulResearch
Study Summary
Sahebari, M., Asghari Ebrahimabad, M. J., Ahmadi Shoraketokanlo, A., Aghamohammadian Sharbaf, H., & Khodashahi, M. (2019). Efficacy of Acceptance and Commitment Therapy in Reducing Disappointment, Psychological Distress, and Psychasthenia among Systemic Lupus Erythematosus (SLE) Patients. Iranian Journal of Psychiatry, 14(2), 130–136.
Abstract
Objective: The aim of this study was to evaluate the efficacy of acceptance and commitment therapy (ACT) in the reduction of disappointment, psychological distress, and psychasthenia among patients with systemic lupus erythematosus (SLE).
Method : This quasi-experimental study was conducted on 24 females with lupus who referred to the Rheumatoid Disease Research Center (RDRC) of Ghaem hospital in Mashhad, Iran. This study had a pretest-posttest control group design. The participants were randomly assigned into 2 groups of experimental and control. The experimental group was treated with ACT. Data were collected using the Beck's Hopelessness Scale, Kessler's Psychological Distress Inventory, and Krupp's Psychasthenia Inventory.
Results: Mean age and mean duration of illness were 37.25±4.61 and 5.12±2.33 years, respectively. The mean disappointment score and psychological distress in the experimental group were lower compared to those in control group at the post experimental stage (P<0.001). Moreover, there was a significant difference between the experimental and control groups in the mean scores of psychasthenia in the posttest stage (P<0.001).
Conclusion: According to the obtained results of this study, the enhancement of psychological flexibility based on ACT positively affected disappointment, psychological distress, and psychasthenia among the lupus patients. Therefore, it can be concluded that this therapeutic approach could reduce psychasthenia in patients through clarification of the values.
https://www.ncbi.nlm.nih.gov/pmc/articles/PMC6702277/