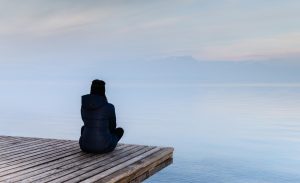 Relieve Loneliness with Meditation
By John M. de Castro, Ph.D.
"When we can rest in the middle [of meditation], we begin to have a nonthreatening relationship with loneliness, a relaxing and cooling loneliness that completely turns our usual fearful patterns upside down." – Pema Chodron
Humans are social animals. We are generally happiest when we're with family and friends. Conversely, being without close social contact makes us miserable. It's the close relationship that is so important as we can be around people all day at work and still feel deep loneliness. These contacts are frequently superficial and do not satisfy our deepest need. It is sometimes said that we live in "the age of loneliness." It is estimated that 20% of Americans suffer from persistent loneliness. This even when we are more connected than ever with the internet, text messaging, social media, etc. But these create the kinds of superficial contacts that we think should be satisfying, but are generally not. This has led to the counterintuitive findings that young adults, 18-34, have greater concerns with loneliness than the elderly.
The consequences of loneliness are dire. It has been estimated that being socially isolated increases mortality by 14%. This is twice the elevation produced by obesity. Even worse, for people over 60, loneliness increases their risk of death by 45%. When a spouse loses a marital partner there's a 30% increase in mortality in the 6-months following the death. Hence, loneliness is not only an uncomfortable and unhappy state, but it is also a threat to health and longevity. It is clear that this epidemic of loneliness needs to be addressed.
Mindfulness has been found to reduce loneliness. The research is accumulating. So, it makes sense to step back and summarize what has been learned. In today's Research News article "Saini, G. K., Haseeb, S. B., Taghi-Zada, Z., & Ng, J. Y. (2021). The effects of meditation on individuals facing loneliness: a scoping review." (See summary below or view the full text of the study at: https://www.ncbi.nlm.nih.gov/pmc/articles/PMC8140565/ ) Saini and colleagues review and summarize the published research studies on the effectiveness of meditation as a treatment for loneliness.
They identified 13 published randomized controlled trials and report that the studies were relatively small but found that meditation produced a significant reduction in loneliness. How meditation may have its effects on loneliness is not known. Meditation, though has been shown to increase emotion regulation and positive emotions and reduce negative emotions in general and these effects may generalize to loneliness. Also, meditation produces acceptance of experience as it is and this may allow the individual to accept their loneliness and not fight against it. Regardless, it is clear that meditation practice is helpful in treating loneliness.
So, relieve loneliness with meditation.
"By making us feel connected to everyone and everything, meditation cancels out the detrimental mental, emotional, and physical effects of loneliness." –  Eoc Institute
CMCS – Center for Mindfulness and Contemplative Studies
This and other Contemplative Studies posts are also available on Google+ https://plus.google.com/106784388191201299496/posts and on Twitter @MindfulResearch
Study Summary
Saini, G. K., Haseeb, S. B., Taghi-Zada, Z., & Ng, J. Y. (2021). The effects of meditation on individuals facing loneliness: a scoping review. BMC psychology, 9(1), 88. https://doi.org/10.1186/s40359-021-00585-8
Abstract
Background
Meditation is defined as a mind and body practice focused on interactions between the brain, mind, body, and behaviour, containing four key elements: a quiet location with little distractions, a comfortable posture, a focus of attention, and an open attitude. We sought to review the benefits of meditation on the alleviation of loneliness.
Methods
A scoping review was conducted based on Arksey and O'Malley's five-stage framework. Eligibility criteria included primary studies of any type that investigated the effects of meditation on loneliness. Search strategies were developed and conducted on MEDLINE, EMBASE, AMED, and CINAHL. The National Center for Complementary and Integrative Health, and American Psychological Association websites were also searched. Articles meeting the inclusion criteria were critically reviewed using a descriptive-analytical narrative method.
Results
Thirteen studies met our inclusion criteria and were published between 2012 and 2020 across 10 countries. Eleven studies reported improvements in relation to loneliness. Of the remaining two studies (15%), one mentioned the alleviation of loneliness, but only looked primarily at social closeness in lonely individuals. The other study found a correlation between loneliness and nuclear factor (NF)-κB levels, which was the measured outcome; however, the direct effects of meditation on loneliness were unclear. Three main themes emerged from our analysis, as follows: 1) positive results across all studies, 2) relatively small randomized control trials conducted over the last decade, and 3) lack of diverse demographic information.
Conclusions
While a small number of studies exist at this intersection, given all included studies indicated positive findings, the effects of meditation in alleviating loneliness are promising. Future research should be directed at understanding how meditation mitigates loneliness and how this intervention can impact practice for healthcare professionals.
https://www.ncbi.nlm.nih.gov/pmc/articles/PMC8140565/