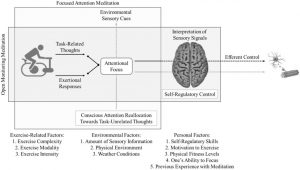 Reduce Sedentariness with Mindfulness
By John M. de Castro, Ph.D.
"mindfulness- and acceptance-based practices can help exercisers establish the consistent, high-quality exercise practices required to experience the health benefits of exercise and physical activity." – R. Shangraw
We tend to think that illness is produced by physical causes, disease, injury, viruses, bacteria, etc. But many health problems are behavioral problems such as sedentary lifestyle. Promoting exercise and reducing sedentariness has the potential to markedly improve health. Mindfulness training also has been shown to promote health and improve illness. Mindfulness and exercise, though, are not entirely independent. Research has been accumulating on the relationship between mindfulness and exercise. It makes sense, then, to summarize what has been learned.
In today's Research News article "Exploring the Use of Meditation as a Valuable Tool to Counteract Sedentariness." (See summary below or view the full text of the study at: https://www.frontiersin.org/articles/10.3389/fpsyg.2020.00299/full), Bigliassi and colleagues review and summarize the published research literature on the relationship of mindfulness with physical exercise,
They report that the published research has found that mindfulness increases physical activity in both normal, overweight and obese individuals. They also report that mindfulness increases self-compassion and it, in turn, increases the likelihood of engagement or reengagement in exercise. Mindfulness appears to facilitate exercise in active individuals by increasing sensory awareness of interoceptive and exteroceptive stimuli, making exercise more enjoyable. It can also improve mood and decrease anxiety which in turn reduces some emotional impediments to engaging in exercise. In addition, mindfulness reduces pain sensitivity which can improve engagement in high intensity exercises.
Both mindfulness and exercise are known to promote mental and physical health. The review suggests that they act synergistically with mindfulness making engaging in exercise more likely, increasing the sensory awareness of the exercise, reducing negative emotional impediments to exercise, increasing self-compassion, reducing the pain during exercise, and increasing the likelihood of reengagement in exercise after a lapse. Hence, mindfulness has beneficial effects to promote exercise, reducing sedentariness, and promoting health and well-being.
So, reduce sedentariness with Mindfulness.
"Practicing mindfulness exercises and daily physical activity has been shown repeatedly to help manage stress and depression, and promote mental balance and happiness." – Defeat Diabetes Foundation
CMCS – Center for Mindfulness and Contemplative Studies
This and other Contemplative Studies posts are also available on Google+ https://plus.google.com/106784388191201299496/posts and on Twitter @MindfulResearch
Study Summary
Bigliassi M and Bertuzzi R (2020) Exploring the Use of Meditation as a Valuable Tool to Counteract Sedentariness. Front. Psychol. 11:299. doi: 10.3389/fpsyg.2020.00299
Some forms of meditation have been recently proposed as effective tools to facilitate the handling of undesired thoughts and reappraisal of negative emotions that commonly arise during exercise-related situations. The effects of meditation-based interventions on psychological responses could also be used as a means by which to increase exercise adherence and counteract the detrimental consequences of sedentariness. In the present article, we briefly describe the effects of meditation on physical activity and related factors. We also propose a theoretical model as a means by which to further understanding of the effects of meditation on psychological, psychophysical, and psychophysiological responses during exercise. The results of very recent studies in the realms of cognitive and affective psychology are promising. The putative psychological mechanisms underlying the effects of meditation on exercise appear to be associated with the interpretation of interoceptive and exteroceptive sensory signals. This is primarily due to the fact that meditation influences the cerebral processing of physical sensations, emotions, and thoughts. In such instances, the bodily and perceptual responses that are commonly reported during exercise might be assuaged during the practice of meditation. It also appears that conscious presence and self-compassion function as an emotional backdrop against which more complex behaviors can be forged. In such instances, re-engagement to physical activity programs can be more effectively achieved through the implementation of holistic methods to treat the body and mind. The comments provided in the present paper might have very important implications for exercise adherence and the treatment of hypokinetic diseases.
https://www.frontiersin.org/articles/10.3389/fpsyg.2020.00299/full