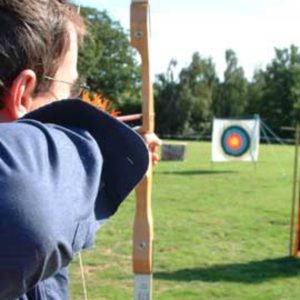 Mindfulness is Associated with Better Cognition and Shooting Performance in Archers
By John M. de Castro, Ph.D.
"Once you can direct your mind toward your senses, you can walk through the steps of your shooting process while aware of every sensation of your body." – Azurebolt
Athletic performance requires the harmony of mind and body. Excellence is in part physical and in part psychological. That is why an entire profession of sports psychology has developed. "In sport psychology, competitive athletes are taught psychological strategies to better cope with a number of demanding challenges related to psychological functioning." They use a number of techniques to enhance performance including mindfulness training. It has been shown to improve attention and concentration and emotion regulation and reduces anxiety and worry and rumination, and the physiological and psychological responses to stress. As a result, mindfulness training has been employed by athletes and even by entire teams to enhance their performance.
In today's Research News article "The Effects of Mindfulness-Based Intervention on Shooting Performance and Cognitive Functions in Archers." (See summary below or view the full text of the study at: https://www.frontiersin.org/articles/10.3389/fpsyg.2021.661961/full?utm_source=F-AAE&utm_medium=EMLF&utm_campaign=MRK_1670080_a0P58000000G0YfEAK_Psycho_20210629_arts_A ) Wu and colleagues recruited healthy adult competitive archery athletes. They were provided a 60 minute, twice per week, for 4 weeks Mindfulness-Based Peak Performance program including daily homework that was adapted from the Mindfulness-Based Stress Reduction (MBSR) program and targeted at athletes. They were measured before, after 2 weeks, and after the program for shooting performance, information processing speed, selective attention, and inhibitory control, mindfulness, mindfulness in sport, and rumination.
They found that after training there was a significant improvement in the shooting performance, information processing speed, selective attention, and inhibitory control. They also found significant growth in mindfulness and mindfulness in sport and reductions in rumination from baseline to the midpoint, to the end of training. The greater the increase in mindfulness in sport the greater the increase in shooting performance.
This study was a pre to post comparison and did not contain a control condition, so it is open to a variety of potential contaminants including placebo effects, experimenter bias, and practice effects. But better controlled previous research has shown that mindfulness training produces significant improvements in athletic performance, cognitive function, and reductions in rumination. So, the current results probably reflect the effect of mindfulness training on the archery athletes.
Stress, strong emotions, such as anxiety, and physiological and psychological activation interfere with fine motor skills like are needed in archery. Mindfulness training is known to reduce stress effects, improve the control of emotions, including anxiety, and increase physiological and psychological relaxation. These may be the mechanisms whereby mindfulness training improves archery performance, Future research should repeat the experiment with an active control condition and incorporate measurement of stress, emotion regulation, anxiety and arousal.
So, mindfulness is associated with better cognition and shooting performance in archers.
"Most great archers say that archery is 90% mental. " Rachel SNG
CMCS – Center for Mindfulness and Contemplative Studies
This and other Contemplative Studies posts are also available on Google+ https://plus.google.com/106784388191201299496/posts and on Twitter @MindfulResearch
Study Summary
Wu T-Y, Nien J-T, Kuan G, Wu C-H, Chang Y-C, Chen H-C and Chang Y-K (2021) The Effects of Mindfulness-Based Intervention on Shooting Performance and Cognitive Functions in Archers. Front. Psychol. 12:661961. doi: 10.3389/fpsyg.2021.661961
This study investigated the effects of a mindfulness-based intervention (MBI) called mindfulness-based peak performance (MBPP) on athletic performance and cognitive functions in archers, as well as the role of psychological status and the dose-response relationship of MBPP in archery performance. Twenty-three archers completed a simulated archery competition and the Stroop task prior to and after MBPP training, which consisted of eight sessions over four weeks, while the mindfulness and rumination levels of the archers were assessed at three time points, namely, before, at the mid-point of, and after the MBPP program. The results revealed that the MBPP program significantly improved the shooting performance (p = 0.002, d = 0.27), multiple cognitive functions (ps < 0.001, d = 0.51~0.71), and mindfulness levels of the archers on the post-test, compared to the pre-test (p = 0.032, ηp2 = 0.15 for general; p = 0.004, ηp2 = 0.22 for athletic). Additionally, negative ruminations level was decreased from the pre-test to the middle-test and post-test (ps < 0.001, ηp2 = 0.43). These findings provide preliminary evidence to support the view that MBPP could serve as a promising form of training for fine motor sport performance, cognitive functions, and specific psychological status, such that it warrants further study.
https://www.frontiersin.org/articles/10.3389/fpsyg.2021.661961/full?utm_source=F-AAE&utm_medium=EMLF&utm_campaign=MRK_1670080_a0P58000000G0YfEAK_Psycho_20210629_arts_A