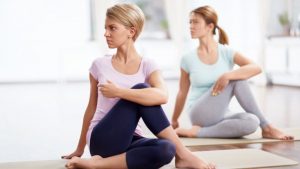 Reduce Anxiety in Women Undergoing Fertility Treatment with Yoga
By John M. de Castro, Ph.D.
"yoga is a relaxing activity. And there are some researched benefits regarding yoga, infertility, and the exercise's ability to help couples release mental stress and physical tension." – Ashley Marcin
Infertility is primarily a medical condition due to physiological problems. It is quite common. It is estimated that in the U.S. 6.7 million women, about 10% of the population of women 15-44, have an impaired ability to get pregnant or carry a baby to term and about 6% are infertile. Infertility can be more than just a medical issue. It can be an emotional crisis for many couples, especially for the women. Couples attending a fertility clinic reported that infertility was the most upsetting experience of their lives.
Women with infertility reported feeling as anxious or depressed as those diagnosed with cancer, hypertension, or recovering from a heart attack. In addition, infertility can markedly impact the couple's relationship, straining their emotional connection and interactions and the prescribed treatments can take the spontaneity and joy from lovemaking making it strained and mechanical. The stress of infertility and engaging in infertility treatments may exacerbate the problem. Since mindfulness training has been shown to reduce depression, anxiety, and stress it is reasonable to believe that mind-body training may be helpful in reducing the distress in women with fertility issues. Yoga is both a mindfulness practice and an exercise that has been studied for its benefits for women undergoing fertility treatments.
In today's Research News article "Effect of Yoga on Psychological Distress among Women Receiving Treatment for Infertility." (See summary below or view the full text of the study at: https://www.ncbi.nlm.nih.gov/pmc/articles/PMC7336944/ ) Dumbala and colleagues review and summarize the published research studies on the effectiveness of yoga practice for the relief of the psychological symptoms produced by infertility.
They identified 3 published research studies all of which found that yoga practice reduced anxiety levels in women being treated for infertility. They also report that the research found that yoga improved the quality of life and reduced depression levels in these women. It has previously been shown that yoga practice reduces anxiety and depression and improves quality of life in a wide variety of healthy and ill individuals. The present review demonstrates that these benefits also extend to women being treated for infertility. The review and the included studies did not study whether yoga increased the likelihood of conception. But improving the psychological state of these women could only be helpful.
So, reduce anxiety in women undergoing fertility treatment with yoga.
"Yoga also offers a safe space for us to work through challenge and build resilience. It allows us to sit with discomfort by challenging us to hold a pose longer than we'd like, knowing it's temporary. This is a valuable skill, not only for the fertility process, but it also helps prepare us for birth and parenthood (which combine discomfort, joy, and everything in between!)" – Kate Potvin
CMCS – Center for Mindfulness and Contemplative Studies
This and other Contemplative Studies posts are also available on Google+ https://plus.google.com/106784388191201299496/posts and on Twitter @MindfulResearch
Study Summary
Dumbala, S., Bhargav, H., Satyanarayana, V., Arasappa, R., Varambally, S., Desai, G., & Bangalore, G. N. (2020). Effect of Yoga on Psychological Distress among Women Receiving Treatment for Infertility. International journal of yoga, 13(2), 115–119. https://doi.org/10.4103/ijoy.IJOY_34_19
Abstract
Background:
Infertility among women has been associated with significant psychological distress, anxiety, and depression. yoga therapy has been found to be useful in the management of anxiety, depression and psychological distress.
Aim:
To review studies on the effectiveness of yoga in reducing psychological distress and improving clinical outcomes among women receiving treatment for infertility.
Methodology:
PubMed, ScienceDirect, and Google Scholar databases were searched for studies using the following inclusion criteria: studies published in English, those published between 2000 and 2018, published in peer-reviewed journals, and those with Yoga as an intervention. Review articles, studies without any yoga interventions for infertility, and male infertility were excluded. The keywords included for the literature search were: Yoga, Mindfulness, Relaxation technique, Stress, Distress, Anxiety, Infertility, In Vitro Fertilization (IVF), and Assisted Reproductive Technology (ART).
Results:
Three studies satisfied the selection criteria. Two studies involved Hatha yoga intervention and one study used structured yoga program. The variables assessed in these studies were: (1) anxiety, (2) depression, (3) emotional distress, and (4) fertility-related quality of life. All the studies reported an improvement in the anxiety scores after yoga intervention.
Conclusion:
Yoga therapy may be potentially useful in improving anxiety scores among women suffering from infertility. More studies are needed in this area to establish role of yoga as an adjuvant during the treatment of infertility.
https://www.ncbi.nlm.nih.gov/pmc/articles/PMC7336944/