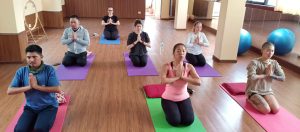 Improve Attention, Memory, and Emotions with Meditation
By John M. de Castro, Ph.D.
"meditating can change the structure and function of the brain through relaxation, which can: Reduce stress, anxiety, and depression, Increase focus and learning concentration, Improve memory and attention span, Build stronger immune system and greater physical/psychological resilience, Allow better sleep" – Columbia University
Mindfulness training has been shown to be effective in improving physical and psychological health and particularly with the physical and psychological reactions to stress. Mindfulness also decreases the individual's tendency to use tried and true solutions to problems and thereby improves cognitive flexibility. Mindfulness has also been shown to improve attention, memory, and emotions. This has led to an increasing adoption of these mindfulness techniques for the health and well-being of both healthy and ill individuals.There are, however, a large variety of meditation techniques and it is not known which types are best for which benefit.
In today's Research News article "Effects of Combining Meditation Techniques on Short-Term Memory, Attention, and Affect in Healthy College Students." (See summary below or view the full text of the study at: https://www.frontiersin.org/articles/10.3389/fpsyg.2021.607573/full?utm_source=F-AAE&utm_medium=EMLF&utm_campaign=MRK_1616048_69_Psycho_20210504_arts_A )  Pragya and colleagues recruited college students and randomly assigned them to one of three meditation groups or to a no-treatment control group. Meditation occurred in 3 25-minute sessions per week for 8 weeks and was either a sound meditation (Bee sound), color imagery (green) or the combination of the two. They were measured before and after training for short-term memory and positive and negative emotions. They also completed a continuous performance test to measure selective attention, sustained attention, and impulsivity.
They found that in comparison to baseline and the control group the combined meditation groups had significantly greater short-term memory and positive emotions and significantly lower negative emotions, inattention, and impulsivity. The two types of meditation techniques and their combination had somewhat different magnitudes of effects. Sound meditation had greater improvements of attention and reductions in negative emotions, while the color focused meditation group had greater attentiveness and short-term memory. The combined color and sound meditation group had the greatest improvements.
These results demonstrate as has been previously reported that mindfulness practices produce greater short-term memory and positive emotions and significantly lower negative emotions, inattention, and impulsivity. The contribution of the present study is to demonstrate that different meditation techniques produce similar effects but differ in the magnitudes of those effects. This could help to determine which techniques work best for people with different weaknesses. Regardless, meditation appear to improve cognitive and emotional well-being.
So, improve attention, memory, and emotions with meditation.
"A critical part of attention (and working memory capacity) is being able to ignore distraction. There has been growing evidence that meditation training (in particular mindfulness meditation) helps develop attentional control, and that this can start to happen very quickly." – About memory
CMCS – Center for Mindfulness and Contemplative Studies
This and other Contemplative Studies posts are also available on Google+ https://plus.google.com/106784388191201299496/posts and on Twitter @MindfulResearch
Study Summary
Pragya SU, Mehta ND, Abomoelak B, Uddin P, Veeramachaneni P, Mehta N, Moore S, Jean-Francois M, Garcia S, Pragya SC and Mehta DI (2021) Effects of Combining Meditation Techniques on Short-Term Memory, Attention, and Affect in Healthy College Students. Front. Psychol. 12:607573. doi: 10.3389/fpsyg.2021.607573
Meditation refers to a family of self-regulation practices that focuses on training attention and awareness to foster psycho-emotional well-being and to develop specific capacities such as calmness, clarity, and concentration. We report a prospective convenience-controlled study in which we analyzed the effect of two components of Preksha Dhyāna – buzzing bee sound meditation (Mahapran dhvani) and color meditation (leśyā dhyāna) on healthy college students. Mahapran and leśya dhyāna are two Preksha Dhyāna practices that are based on sound and green color, respectively. The study population represents a suitable target as college students experience different stress factors during the school year. This study measures the individual and combined effects of two techniques (one focusing on sound and one focusing on color), on short-term memory, attention, and affect, in novice meditators. We used a battery of cognitive, performance, and compared results with baseline and control values. We found improved cognition, especially attention, short-term memory, and affect in terms of positivity and reduced negativity. Overall, the two techniques produced variable benefits and subjects showed improved scores over baseline for short-term memory, cognitive function, and overall wellbeing. Further studies are required to understand underlying mechanisms for the observed differences between the two techniques and to elucidate mechanisms underlying the more pronounced and global benefits observed with the combined techniques. These results underscore a need to examine individual components of meditation practices in order to individualize treatment approaches for attention disorders in young adults.
https://www.frontiersin.org/articles/10.3389/fpsyg.2021.607573/full?utm_source=F-AAE&utm_medium=EMLF&utm_campaign=MRK_1616048_69_Psycho_20210504_arts_A