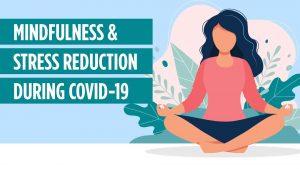 Distress Is Lower during a COVID-19 Pandemic Lockdown in Mindful People
By John M. de Castro, Ph.D.
"During the current pandemic, there is so much uncertainty concerning the future, and many threats to our security (physical, social, emotional, and financial). It is totally natural and normal to feel anxious, fearful, and frustrated. . . Mindfulness can help us acknowledge this situation, without allowing us to be carried away with strong emotions; it can, in turn, help bring ourselves back to a centered calm. Only then can we see more clearly what it is we have control over and what it is that we do not." – Michigan Medicine
Modern living is stressful under the best of conditions. But with the COVID-19 pandemic the levels of stress have been markedly increased. These conditions markedly increase anxiety. This is true for everyone but especially for healthcare workers and people caring for patients with COVID-19 and for people with pre-existing conditions that makes them particularly vulnerable. But it is also true for healthy individuals who worry about infection for themselves or loved ones.
The COVID-19 pandemic has also produced considerable economic stress, with loss of employment and steady income. For the poor this extends to high levels of food insecurity. This not only produces anxiety about the present but also for the future. It is important for people to engage in practices that can help them control their responses to the stress and their levels of anxiety. Mindfulness practices have been found routinely to reduce the psychological and physiological responses to stress, reduce anxiety levels, and improve mood.
In today's Research News article "Mindfulness, Age and Gender as Protective Factors Against Psychological Distress During COVID-19 Pandemic." (See summary below or view the full text of the study at: https://www.frontiersin.org/articles/10.3389/fpsyg.2020.01900/full?utm_source=F-AAE&utm_medium=EMLF&utm_campaign=MRK_1437459_69_Psycho_20200922_arts_A ) Conversano and colleagues solicited adult participants online during a government ordered lockdown and had them complete measures of COVID-19 experiences, mindfulness, psychological distress, and mental illness symptoms.
They found strong negative relationships between mindfulness and psychological distress. They found that the higher the levels of mindfulness the lower the levels of psychological distress including somatic symptoms, symptoms of obsessive-compulsive disorder, internalizing symptoms, depression, anxiety, hostility, phobia, paranoia, psychoticism, and sleep disturbance. They also found weak relationships with age and gender such that younger and female participants tended to have higher psychological distress.
It needs to be kept in mind that these results are correlational and as such causation cannot be determined. Mindfulness may produce reduced distress or conversely distress may produce reduced mindfulness or some third factor may produce both. Nevertheless, the results show that during a pandemic lockdown that the people who have high levels of mindfulness also have low levels of psychological distress.
So, distress is lower during a COVID-19 pandemic lockdown in mindful people.
"In many ways, COVID-19 has shown us just how connected and how much the same we really are. All of us—and some of us more than others—are vulnerable to getting sick and none of us wants to become ill. Viewed through the lens of interconnectedness, practicing mindfulness as the coronavirus spreads is not only a way to care for ourselves but a way to care for everyone around us." – Kelly Baron
CMCS – Center for Mindfulness and Contemplative Studies
This and other Contemplative Studies posts are also available on Google+ https://plus.google.com/106784388191201299496/posts and on Twitter @MindfulResearch
Study Summary
Conversano C, Di Giuseppe M, Miccoli M, Ciacchini R, Gemignani A and Orrù G (2020) Mindfulness, Age and Gender as Protective Factors Against Psychological Distress During COVID-19 Pandemic. Front. Psychol. 11:1900. doi: 10.3389/fpsyg.2020.01900
Objective: Mindfulness disposition is associated with various psychological factors and prevents emotional distress in chronic diseases. In the present study, we analyzed the key role of mindfulness dispositions in protecting the individual against psychological distress consequent to COVID-19 social distancing and quarantining.
Methods: An online survey was launched on March 13, 2020, with 6,412 responses by April 6, 2020. Socio-demographic information, exposure to the pandemic, and quarantining were assessed together with psychological distress and mindfulness disposition. Multivariate linear regression analysis was performed to study the influence of predictive factors on psychological distress and quality of life in Italian responders during the early days of lockdown. Pearson correlations were calculated to study the relationship between mindfulness and psychiatric symptoms.
Results: Multivariate linear regression run on socio-demographics, COVID-19-related variables, and mindfulness disposition as moderators of overall psychological distress showed that mindfulness was the best predictor of psychological distress (β = −0.504; p < 0.0001). High negative correlations were found between mindfulness disposition and the overall Global Severity Index (r = −0.637; p < 0.0001), while moderate to high associations were found between mindfulness and all SCL-90 sub-scales.
Discussion: Findings showed that high dispositional mindfulness enhances well-being and helps in dealing with stressful situations such as the COVID-19 pandemic. Mindfulness-based mental training could represent an effective intervention to stem post-traumatic psychopathological beginnings and prevent the onset of chronic mental disorders.
https://www.frontiersin.org/articles/10.3389/fpsyg.2020.01900/full?utm_source=F-AAE&utm_medium=EMLF&utm_campaign=MRK_1437459_69_Psycho_20200922_arts_A