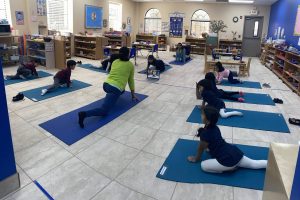 Improve Health and Healthy Behaviors with Yoga and Pilates
By John M. de Castro, Ph.D.
"Multiple studies have confirmed the many mental and physical benefits of yoga. Incorporating it into your routine can help enhance your health, increase strength and flexibility and reduce symptoms of stress, depression and anxiety." – Rachael Link
We tend to think that illness is produced by physical causes, disease, injury, viruses, bacteria, etc. But many health problems are behavioral problems or have their origins in maladaptive behavior. This is evident in car accident injuries that are frequently due to behaviors, such as texting while driving, driving too fast or aggressively, or driving drunk. Other problematic behaviors are cigarette smoking, alcoholism, drug use, or unprotected sex. Problems can also be produced by lack of appropriate behavior such as sedentary lifestyle, not eating a healthy diet, not getting sufficient sleep or rest, or failing to take medications according to the physician's orders. Additionally, behavioral issues can be subtle contributors to disease such as denying a problem and failing to see a physician timely or not washing hands. In fact, many modern health issues, costing the individual or society billions of dollars each year, and reducing longevity, are largely preventable. Hence, promoting healthy behaviors and eliminating unhealthy ones has the potential to markedly improve health.
Mindfulness training has been shown to promote health, healthy behaviors, and improve illness. It is well established that if patterns and habits of healthy behaviors can be promoted, ill health can be prevented. There is, however, little research on the effects of yoga and Pilates on health and healthy behaviors.
In today's Research News article "The Impacts of Pilates and Yoga on Health-Promoting Behaviors and Subjective Health Status." (See summary below or view the full text of the study at: https://www.ncbi.nlm.nih.gov/pmc/articles/PMC8038747/ )  Lim and colleagues recruited adults aged 30-49 years who did not have experience with yoga or Pilates and randomly assigned them to receive either no treatment or a 50 minute, 3 times per week for 8 weeks program of either yoga or Pilates. They were measured before and after training for health behaviors and health status.
They found that in comparison to baseline and the no-treatment control group both the yoga and Pilates groups had significant improvements in health status and health related behaviors including eating healthy, avoiding a sedentary lifestyle, being responsible for their own health, maintaining healthy social relationships, managing stress, and emphasizing spiritual growth. But in all cases Pilates was significantly superior to yoga.
Both Pilates and yoga are exercises. So, the results demonstrate that engaging in exercises results in improvements in health and health behaviors. Further they demonstrate that Pilates produce superior results. "Pilates focuses more on core control and posture development. In contrast, yoga focuses more on static stretching and flexibility." These differences in the programs may be responsible for Pilates superior effects on health behaviors.
The results, however do not show that yoga and Pilates are superior to other exercises such as aerobic training. Hence, it is not clear whether components specific to yoga and Pilates are important for health or if any exercise would produce comparable results.In addition, the control condition was no treatment. This leaves open the possibility that the participants expectation about the effectiveness of exercise were responsible for the results rather than the exercises themselves. It remains for future studies to address these issues.
Nevertheless, promoting health related behaviors are important for the health and well-being of the individual. Both yoga and Pilates were effective in doing this. So, participation in these exercises should be encouraged.
So, improve health and healthy behaviors with yoga and Pilates.
"The benefits of various yoga techniques have been professed to improve body flexibility, performance, stress reduction, attainment of inner peace, and self-realization." – Manoj Sharma
CMCS – Center for Mindfulness and Contemplative Studies
This and other Contemplative Studies posts are also available on Google+ https://plus.google.com/106784388191201299496/posts and on Twitter @MindfulResearch
Study Summary
Lim, E. J., & Hyun, E. J. (2021). The Impacts of Pilates and Yoga on Health-Promoting Behaviors and Subjective Health Status. International journal of environmental research and public health, 18(7), 3802. https://doi.org/10.3390/ijerph18073802
Abstract
This study investigates whether Pilates and yoga lead people to adopt generally health-promoting lifestyle elements and feel better about their physical and mental fitness. To this end, we designed an 8 week exercise program of Pilates and yoga reviewed by veteran practitioners and conducted an experimental study through which we collected the data from 90 volunteered adult subjects between ages 30 and 49 (mean age = 35.47), equally represented by women and men without previous experience with Pilates or yoga. In the 8 week long experiment, we assigned the subjects to three groups, where subjects in the two exercise groups regularly took part in either Pilates or yoga classes, and the control group participated in neither exercise classes. All participants completed two surveys, the Health-Promoting Lifestyle Profile (HPLP II) and the Health Self-Rating Scale (HSRS), before and after their assigned program. In our analysis of pre- and post-treatment differences across the three groups, we ran ANOVA, ANCOVA, and Sheffé test, implemented using SPSS PASW Statistics 18.00. Our results indicate that Pilates and yoga groups exhibited a higher engagement in health-promoting behaviors than the control group after the program. Subjective health status, measured with HSRS, also improved significantly among Pilates and yoga participants compared to those in the control group after the program. The supplementary analysis finds no significant gender-based difference in these impacts. Overall, our results confirm that Pilates and yoga help recruit health-promoting behaviors in participants and engender positive beliefs about their subjective health status, thereby setting a positive reinforcement cycle in motion. By providing clear evidence that the promotion of Pilates or yoga can serve as an effective intervention strategy that helps individuals change behaviors adverse to their health, this study offers practical implications for healthcare professionals and public health officials alike.
https://www.ncbi.nlm.nih.gov/pmc/articles/PMC8038747/