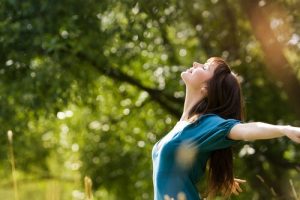 Spirituality is Related to Healthy Behaviors and Psychological Well-Being
By John M. de Castro, Ph.D.
"Positive beliefs, comfort, and strength gained from religion, meditation, and prayer can contribute to well being. It may even promote healing. Improving your spiritual health may not cure an illness, but it may help you feel better. It also may prevent some health problems and help you cope better with illness, stress, or death." – Robert Rich Jr.
Religion and spirituality have been promulgated as solutions to the challenges of life both in a transcendent sense and in a practical sense. What evidence is there that these claims are in fact true? The transcendent claims are untestable with the scientific method. But the practical claims are amenable to scientific analysis. There have been a number of studies of the influence of religiosity and spirituality on the physical and psychological well-being of practitioners mostly showing positive benefits, with spirituality encouraging personal growth and mental health. But there is still a need to investigate the relationships of spirituality with health-related behaviors and psychological well-being.
In today's Research News article "The Relationship Between Spirituality, Health-Related Behavior, and Psychological Well-Being." (See summary below or view the full text of the study at: https://www.ncbi.nlm.nih.gov/pmc/articles/PMC7457021/ ) Bożek and colleagues recruited college students and had them complete measures of psychological well-being, spirituality, and health-related behaviors. The data were then subjected to a path analysis.
The analysis revealed that both spirituality and health-related behaviors were significantly positively directly related to psychological well-being, such that the higher the levels of each the higher the levels of well-being. But, in addition, spirituality indirectly affected psychological well-being by being positively related to health behaviors which, in turn, were positively related to well-being. They also found that these relationships were stronger in students who studied the psychosocial dimension of health and the human mind and spirit.
This study was correlational and as such causation cannot be determined. This is inevitable as it is nearly impossible to directly manipulate spirituality. But the results demonstrate that being high in spirituality is associated with psychological well-being in college students. In addition, spirituality is also clearly associated with engaging in behaviors that promote good health and these behaviors appear to also be associated with higher levels of psychological well-being. All of this suggests that spiritual students have better health and are happier.
So, spirituality is related to healthy behaviors and psychological well-being.
"Many of the behaviors associated with wellness are key components of a healthy spiritual life. Examples include volunteerism, social responsibility, optimism, contributing to society, connectedness with others, feeling of belonging/being part of a group, and love of self/reason to care for self." – Lauren Artess
CMCS – Center for Mindfulness and Contemplative Studies
This and other Contemplative Studies posts are also available on Google+ https://plus.google.com/106784388191201299496/posts and on Twitter @MindfulResearch
Study Summary
Bożek, A., Nowak, P. F., & Blukacz, M. (2020). The Relationship Between Spirituality, Health-Related Behavior, and Psychological Well-Being. Frontiers in psychology, 11, 1997. https://doi.org/10.3389/fpsyg.2020.01997
Abstract
Studies suggest a positive association of spirituality and health behaviors with well-being (especially subjective well-being), but still the precise character of such relationships between all these constructs remains unknown. The present study aims to explore the relations between spirituality, health-related behaviors, and psychological well-being in the context of acquired education. A questionnaire survey was conducted among 595 students from six different universities, whose study programs either focused on the human body or the human mind and spirit. Path analysis and linear regression were used to model the relationship between the examined constructs. The results show that both spirituality and health-related behaviors are positively related to psychological well-being, and that the relationship with spirituality is also mediated by health-related behaviors. Only spirituality is associated with the type of acquired education, especially in the group of students whose studies focus on the human mind and spirit. Moreover, spirituality in this group seems to display a stronger relationship with psychological well-being. These findings may contribute to the better understanding of some significant determinants of psychological well-being. They carry important implications for the faculty members responsible for curriculum preparation to account for teaching contents related to the conduct of a healthy lifestyle and to spiritual development.
https://www.ncbi.nlm.nih.gov/pmc/articles/PMC7457021/