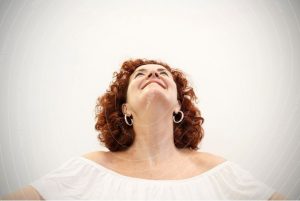 Mindful People are Resilient, Unstressed, Happy People
By John M. de Castro, Ph.D.
"practicing mindfulness may make us happier only if we learn to tolerate, make space for, and accept whatever experiences arise, rather than judging them, letting them define us, or running away from them." – Melanie Greenberg
"Meditation leads to concentration, concentration leads to understanding, and understanding leads to happiness" – This wonderful quote from the modern day sage Thich Nhat Hahn is a beautiful pithy description of the benefits of mindfulness practice. Mindfulness allows us to view our experience and not judge it, not put labels on it, not make assumptions about it, not relate it to past experiences, and not project it into the future. Rather mindfulness lets us experience everything around and within us exactly as it is arising and falling away from moment to moment. There is a need to investigate the mechanisms by which mindfulness increases happiness.
In today's Research News article "Resilience and Stress as Mediators in the Relationship of Mindfulness and Happiness." (See summary below or view the full text of the study at: https://www.ncbi.nlm.nih.gov/pmc/articles/PMC8850270/ ) Bajaj and colleagues had students from an Indian University complete measure of mindfulness, stress, resilience, and happiness.
They found that the higher the students levels of mindfulness, the greater their happiness and resilience and the lower their levels of stress. Mindfulness was associated with higher levels of happiness directly and also indirectly by being associated with higher levels of resilience which in turn were associated with higher happiness and also with lower levels of stress that were also in turn associated with greater happiness.
Hence, mindful students are happier, more resilient, and less stressed students all of which contribute to their happiness. Be mindful and be happy.
"we're happiest when we are mindful of the moment, and we're least happy when the mind is wandering." – Melli O'Brian
CMCS – Center for Mindfulness and Contemplative Studies
This and other Contemplative Studies posts are also available on Twitter @MindfulResearch
Study Summary
Bajaj, B., Khoury, B., & Sengupta, S. (2022). Resilience and Stress as Mediators in the Relationship of Mindfulness and Happiness. Frontiers in psychology, 13, 771263. https://doi.org/10.3389/fpsyg.2022.771263
Abstract
The aim of the present study was to examine the mediation effects of resilience and stress, two perceived opposite constructs, in the relationship between mindfulness and happiness. Mindful Attention Awareness Scale, Connor–Davidson Resilience Scale, Subjective Happiness Scale, Depression Anxiety Stress Scales short version-21 were administered to 523 undergraduate university students in India. Structural Equation Modeling with bootstrapping was applied to test the mediating effects of resilience and stress. Results showed that resilience and stress partially mediated the mindfulness-happiness relationship. In addition, resilience partially mediated the relationship of mindfulness to stress. Findings suggest that mindfulness may play an influential role in enhancing happiness through the mediating effects of resilience and stress.
https://www.ncbi.nlm.nih.gov/pmc/articles/PMC8850270/