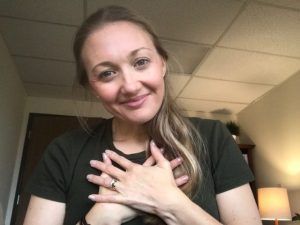 Improve Treatment Resistant Obsessive-Compulsive Disorder with Compassion-Focused Therapy
By John M. de Castro, Ph.D.
"A big part of learning to live with OCD is to incorporate self-compassion. Instead of avoiding your anxiety, self-compassion invites you to look at it with understanding and gentle curiosity. This approach allows you to see your pain exactly how it is without self-judgment or self-criticism." – Nancy Larsen
Obsessive-Compulsive Disorder (OCD) sufferers have repetitive anxiety producing intrusive thoughts (obsessions) that result in repetitive behaviors to reduce the anxiety (compulsions). In a typical example of OCD, the individual is concerned about germs and is unable to control the anxiety that these thoughts produce. Their solution is to engage in ritualized behaviors, such as repetitive cleaning or hand washing that for a short time relieves the anxiety. The obsessions and compulsions can become so frequent that they become a dominant theme in their lives. Hence OCD drastically reduces the quality of life and happiness of the sufferer and those around them. About 2% of the population, 3.3 million people in the U.S., are affected at some time in their life.
Fortunately, Obsessive-Compulsive Disorder (OCD) can be treated and many respond to Cognitive Behavioral Therapy (CBT). But some do not. Mindfulness training has been shown to be effective in treating OCD. One understudied meditation technique is Compassion -Focused Therapy. It is designed to develop kindness and compassion to oneself and others. On the face of it learning self-compassion would seem to be useful in dealing with OCD. But there is little empirical evidence.
In today's Research News article "Compassion-Focused Group Therapy for Treatment-Resistant OCD: Initial Evaluation Using a Multiple Baseline Design." (See summary below or view the full text of the study at: https://www.ncbi.nlm.nih.gov/pmc/articles/PMC7835278/ ) Petrocchi and colleagues recruited patients with Obsessive-Compulsive Disorder (OCD) who had received 6-months of Cognitive Behavioral Therapy (CBT) and still have significant residual OCD symptoms. They received 8 weekly 2-hour sessions of Compassion-Focused Therapy after varying periods of baseline (Multiple Baseline Research Design). The treatment consisted of training in meditation and visualization practices during sessions and at home. It is designed to replace self-criticism with self-compassion. Before and after training and 1 month later they were measured for OCD symptom severity, OCD symptom presence and distress, depression, fear of guilt, self-criticizing, self-attacking, self-reassuring, and self-compassion.
They found that the patients all had large improvements in Obsessive-Compulsive Disorder (OCD) symptoms that were maintained at the 1-month follow-up. They also found significant improvements in fear of guilt, self-criticism, and self-reassurance. In additions, there were less reliable improvements in depression and common humanity. Hence, Compassion-Focused Therapy improved the symptom of OCD in patients who didn't respond to Cognitive Behavioral Therapy (CBT).
These are important preliminary findings that must be followed up with a large randomized controlled trial. But these results suggest that Compassion-Focused Therapy may be effective in treating Obsessive-Compulsive Disorder (OCD) symptoms in patients who do not respond to the gold standard treatment of Cognitive Behavioral Therapy (CBT). The results may suggest that CBT should incorporate Compassion-Focused training when being employed to treat OCD. This should be explored in future studies.
So, improve treatment resistant obsessive-compulsive disorder with compassion-focused therapy.
"people with OCD may feel better if they remind themselves that it is normal to worry, and that it is not their fault if their OCD symptoms get worse." –  Jessica Caporuscio
CMCS – Center for Mindfulness and Contemplative Studies
This and other Contemplative Studies posts are also available on Google+ https://plus.google.com/106784388191201299496/posts and on Twitter @MindfulResearch
Study Summary
Petrocchi, N., Cosentino, T., Pellegrini, V., Femia, G., D'Innocenzo, A., & Mancini, F. (2021). Compassion-Focused Group Therapy for Treatment-Resistant OCD: Initial Evaluation Using a Multiple Baseline Design. Frontiers in psychology, 11, 594277. https://doi.org/10.3389/fpsyg.2020.594277
Abstract
Obsessive–compulsive disorder (OCD) is a debilitating mental health disorder that can easily become a treatment-resistant condition. Although effective therapies exist, only about half of the patients seem to benefit from them when we consider treatment refusal, dropout rates, and residual symptoms. Thus, providing effective augmentation to standard therapies could improve existing treatments. Group compassion-focused interventions have shown promise for reducing depression, anxiety, and avoidance related to various clinical problems, but this approach has never been evaluated for OCD individuals. However, cultivating compassion for self and others seems crucial for OCD patients, given the accumulating research suggesting that fear of guilt, along with isolation and self-criticism, can strongly contribute to the development and maintenance of OCD. The primary aim of this pilot study was to evaluate the acceptability, tolerability, and effectiveness of an 8-week group compassion-focused intervention for reducing OCD symptoms, depression, fear of guilt and self-criticism, and increasing common humanity and compassionate self-reassuring skills in treatment-resistant OCD patients. Using a multiple baseline experimental design, the intervention was evaluated in a sample of OCD patients (N = 8) who had completed at least 6 months of CBT treatment for OCD, but who continued to suffer from significant symptoms. Participants were randomized to different baseline assessment lengths; they then received 8 weekly, 120-min group sessions of compassion-focused therapy for OCD (CFT-OCD), and then were tested again at post-treatment and at 1 month follow up. Despite the adverse external circumstances (post-treatment and follow-up data collection were carried out, respectively, at the beginning and in the middle of the Italian lockdown due to the COVID-19 pandemic), by the end of treatment, all participants demonstrated reliable decreases in OCD symptoms, and these improvements were maintained at 4-week follow-up for seven of eight participants. The intervention was also associated with improvements in fear of guilt, self-criticism, and self-reassurance, but less consistent improvements in depression and common humanity. Participants reported high levels of acceptability of and satisfaction with the intervention. Results suggest that the intervention may be beneficial as either a stand-alone treatment or as an augmentation to other treatments.
https://www.ncbi.nlm.nih.gov/pmc/articles/PMC7835278/