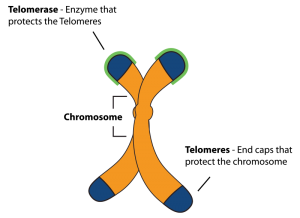 Meditation Increases a Biological Marker that Protects Against Age-Related Decline
By John M. de Castro, Ph.D.
"meditation may have salutary effects on telomere length by reducing cognitive stress and stress arousal and increasing positive states of mind and hormonal factors that may promote telomere maintenance." – Elissa Epel
One of the most exciting findings in molecular biology in recent years was the discovery of the telomere. This is a component of the DNA molecule that is attached to the ends of the strands. Recent genetic research has suggested that the telomere and its regulation is the biological mechanism that produces aging. As we age the tail of the DNA molecule called the telomere shortens. When it gets very short cells have a more and more difficult time reproducing and become more likely to produce defective cells. On a cellular basis, this is what produces aging. As we get older the new cells produced are more and more likely to be defective. The shortening of the telomere occurs each time the cell is replaced. So, slowly as we age it gets shorter and shorter.
Fortunately, there is a mechanism to protect the telomere. There is an enzyme in the body called telomerase that helps to prevent shortening of the telomere. It also promotes cell survival and enhances stress-resistance.  Research suggests that processes that increase telomerase activity tend to slow the aging process by protecting the telomere.  One activity that seems to increase telomerase activity and protect telomere length is mindfulness practice. Hence, engaging in mindfulness practices may protect the telomere and thereby slow the aging process.
In today's Research News article "Impact of Meditation-Based Lifestyle Practices on Mindfulness, Wellbeing, and Plasma Telomerase Levels: A Case-Control Study." (See summary below or view the full text of the study at: https://www.frontiersin.org/articles/10.3389/fpsyg.2022.846085/full?utm_source=F-AAE&utm_medium=EMLF&utm_campaign=MRK_1827462_a0P58000000G0YfEAK_Psycho_20220308_arts_A&utm_source=sfmc&utm_medium=email&utm_campaign=Article+Alerts+V4.1-Frontiers&utm_term=%%%3d++++++REDIRECTTO(+++++CONCAT(%27http%3a%2f%2fjournal.frontiersin.org%2farticle%2f%27%2c+TreatAsContent(field(%40article%2c+%27DOI__c%27))%2c+%27%2ffull%3futm_source%3dF-AAE%26utm_medium%3dEMLF%26utm_campaign%3dMRK_%27%2c+TreatAsContent(JobID)%2c+%27_%27%2c+TreatAsContent(%40FieldId)%2c+%27_%27%2c+TreatAsContent(Substring(Replace(Field(%40field%2c+%27Name%27)%2c+%27+%27%2c+%27%27)%2c+0%2c+6))%2c ) Dasanayaka  and colleagues examine the telomerase activity in long-term meditators in comparison to matched control participants.
They report that the long-term meditators have significantly higher levels of telomerase in their bloodstream, mindfulness, and quality of life. They also found that the higher the levels of mindfulness the higher the levels of telomerase.
These findings support the contention that meditation can help protect against the physical and mental deterioration that occurs with aging by increasing the levels of telomerase thereby protecting the telomere.
"Meditation also helps to protect our telomeres, the protective caps at the end of our chromosomes. Telomeres are longest when we're young and naturally shorten as we age. Shorter telomeres are associated with stress and higher risk for many diseases including cancer, and depend on the telomerase enzyme to enable them to rebuild and repair." – Paula Watkins
CMCS – Center for Mindfulness and Contemplative Studies
This and other Contemplative Studies posts are also available on Twitter @MindfulResearch
Study Summary
Dasanayaka NN, Sirisena ND and Samaranayake N (2022) Impact of Meditation-Based Lifestyle Practices on Mindfulness, Wellbeing, and Plasma Telomerase Levels: A Case-Control Study. Front. Psychol. 13:846085. doi: 10.3389/fpsyg.2022.846085
Meditation involves psychophysical training which can result in a range of benefits including creating a calm mind and increasing self-awareness, relaxation, and tranquility. Increasing evidence, mostly based on short-term focused interventions, suggests that meditation-based activities may also have favorable effects on physical wellbeing including cellular aging. Hence, the aim of this study was to investigate if continued practice of meditation benefited quality of life, state of mindfulness, and plasma telomerase level in healthy adults. 30 long-term and skilled meditators were recruited from meditation centers in different parts of the island following a two-tier screening process of 70 eligible participants and 30 age- and gender-matched healthy non-meditators were recruited from the community. Mindfulness level and the quality of life were measured using the Five Facet Mindfulness Questionnaire (FFMQ) and Quality of Life Questionnaire, respectively, while the levels of plasma telomerase enzyme were measured using Enzyme-Linked Immunosorbent Assay. Skilled meditators had a better mindfulness level (p < 0.001) and quality of life (QOL; p < 0.001) than those in the comparison group. Similarly, higher plasma telomerase levels were observed in skilled meditators compared to non-meditators (p = 0.002). Trait mindfulness level and plasma telomerase level showed a significant relationship with the duration of meditation practice (p = 0.046 and p = 0.011, respectively). Regression analysis indicated that trait mindfulness level (p < 0.001) significantly predicts the plasma telomerase level. The findings of this comparative study add to the evidence on sustained benefits of meditation on wellbeing and healthy aging and supports incorporating meditation-based activities into lifestyle practices.
https://www.frontiersin.org/articles/10.3389/fpsyg.2022.846085/full?utm_source=F-AAE&utm_medium=EMLF&utm_campaign=MRK_1827462_a0P58000000G0YfEAK_Psycho_20220308_arts_A&utm_source=sfmc&utm_medium=email&utm_campaign=Article+Alerts+V4.1-Frontiers&utm_term=%%%3d++++++REDIRECTTO(+++++CONCAT(%27http%3a%2f%2fjournal.frontiersin.org%2farticle%2f%27%2c+TreatAsContent(field(%40article%2c+%27DOI__c%27))%2c+%27%2ffull%3futm_source%3dF-AAE%26utm_medium%3dEMLF%26utm_campaign%3dMRK_%27%2c+TreatAsContent(JobID)%2c+%27_%27%2c+TreatAsContent(%40FieldId)%2c+%27_%27%2c+TreatAsContent(Substring(Replace(Field(%40field%2c+%27Name%27)%2c+%27+%27%2c+%27%27)%2c+0%2c+6))%2c