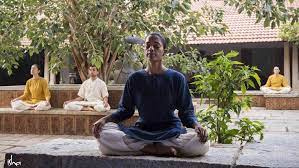 Improve Physical and Mental Health with an Isha Yoga Retreat
By John M. de Castro, Ph.D.
"As we have physical science to create external wellbeing there is a whole inner dimension of science to create inner wellbeing. I call it Inner Engineering." – Sadhguru
Retreat can be a powerful experience. But it can be quite difficult and challenging. It can be very tiring and physically challenging as engaging in sitting meditation repeatedly over the day is guaranteed to produce many aches and pains in the legs, back, and neck. But the real challenges are psychological, emotional, and spiritual. Retreat can be a real test. The darkness can descend. Deep emotional issues can emerge and may even overwhelm the individual. With all these difficulties, why would anyone want to put themselves through such an ordeal and go on a meditation retreat? People go because they find that retreat produces many profound and sometimes life altering benefits.
In today's Research News article "Isha Yoga Practices and Participation in Samyama Program are Associated with Reduced HbA1C and Systemic Inflammation, Improved Lipid Profile, and Short-Term and Sustained Improvement in Mental Health: A Prospective Observational Study of Meditators." (See summary below or view the full text of the study at: https://www.frontiersin.org/articles/10.3389/fpsyg.2021.659667/full?utm_source=F-AAE&utm_medium=EMLF&utm_campaign=MRK_1645362_69_Psycho_20210525_arts_A )   Sadhasivam and colleagues recruited adult participants in a scheduled 8-day Isha yoga retreat and their spouses as controls. Retreat participants had to engage in 2 months of preparatory practices including a vegan diet daily practice of hata yoga, kriya yoga, and Shoonya meditation. In the retreat there was intensive practice. They were measured before, after, and 3-4 months later for depression, anxiety, mindfulness, joy, vitality, and resilience, diet, yoga practice, dietary restrictions, and overall health/well-being. They also had blood drawn and assayed for hemoglobin A1c (HbA1c), hemoglobin (Hb), lipid profile [cholesterol, high density lipoprotein (HDL), low density lipoprotein (LDL), and triglycerides (TG)], and C-reactive protein (CRP).
They found that after the retreat and sustained 3-4 months later were significant decreased in anxiety and depression and significant increases in mindfulness, joy, vitality, resilience, blood triglycerides, and body weight. These changes did not occur in the control group. Previous research has similarly demonstrated that yoga and meditation decreases anxiety, depression, blood triglycerides and increases joy, vitality, resilience, and body weight.
The study did not have a comparable control group and as a result there are a number of possible alternative explanations for the results including participant expectancy effects. To sign up for and engage in an intensive retreat, there was likely a strong belief that the retreat would be beneficial producing a strong expectancy (placebo) effect. Future research should include a comparison to a different kind of retreat or, as has been used in other studies, a comparison to the effects of a comparable duration vacation.
The results are interesting in that the participants had considerable practice during the 2-month preparatory phase. So, the effects of the practices would be expected to be present before the retreat began. So, the improvements observed were due to participation in a 4-day intensive retreat rather than the practices themselves. The retreat involves residential living in a group and withdrawal from daily life. This has social effects and vacation-like effects of removal of life stressors. These could be responsible for the observed benefits. This supports the need for future better controlled research.
So, improve physical and mental health with an Isha yoga retreat.
"An intense 4-day guided Isha meditation retreat significantly decreased depression and anxiety while improving happiness, mindfulness, and psychological well-being." – Senthilkumar Sadhasivam
CMCS – Center for Mindfulness and Contemplative Studies
This and other Contemplative Studies posts are also available on Google+ https://plus.google.com/106784388191201299496/posts and on Twitter @MindfulResearch
Study Summary
Sadhasivam S, Alankar S, Maturi R, Williams A, Vishnubhotla RV, Hariri S, Mudigonda M, Pawale D, Dubbireddi S, Packiasabapathy S, Castelluccio P, Ram C, Renschler J, Chang T and Subramaniam B (2021) Isha Yoga Practices and Participation in Samyama Program are Associated with Reduced HbA1C and Systemic Inflammation, Improved Lipid Profile, and Short-Term and Sustained Improvement in Mental Health: A Prospective Observational Study of Meditators. Front. Psychol. 12:659667. doi: 10.3389/fpsyg.2021.659667
Background: Meditation is gaining recognition as a tool to impact health and well-being. Samyama is an 8-day intensive residential meditation experience conducted by Isha Foundation requiring several months of extensive preparation and vegan diet. The health effects of Samyama have not been previously studied. The objective was to assess physical and emotional well-being before and after Samyama participation by evaluating psychological surveys and objective health biomarkers.
Methods: This was an observational study of 632 adults before and after the Isha Samyama retreat. All participants were invited to complete surveys. Controls included household significant others. Surveys were completed at baseline (T1), just before Samyama (T2), immediately after Samyama (T3), and 3 months later (T4) to assess anxiety, depression, mindfulness, joy, vitality, and resilience through validated psychometric scales. Voluntary blood sampling for biomarker analysis was done to assess hemoglobin (Hb), HbA1c, lipid profile, and C-reactive protein (CRP). Primary outcomes were changes in psychometric scores, body weight, and blood biomarkers.
Results: Depression and anxiety scores decreased from T1 to T3, with the effect most pronounced in participants with baseline depression or anxiety. Scores at T4 remained below baseline for those with pre-existing depression or anxiety. Vitality, resilience, joy, and mindfulness increased from T1 to T3 (sustained at T4). Body weight decreased by 3% from T1 to T3. Triglycerides (TG) were lower from T2 to T3. Participants had lower HbA1c and HDL at T2, and lower CRP at all timepoints compared with controls.
Conclusions: Participation in the Isha Samyama program led to multiple benefits. The 2-month preparation reduced anxiety, and participants maintained lower anxiety levels at 3 months post-retreat. Physical health improved over the course of the program as evidenced by weight loss and improved HbA1C and lipid profile. Practices associated with the Samyama preparation phase and the retreat may serve as an effective way to improve physical and mental health. Future studies may examine their use as an alternative therapy in patients with depression and/or anxiety.
https://www.frontiersin.org/articles/10.3389/fpsyg.2021.659667/full?utm_source=F-AAE&utm_medium=EMLF&utm_campaign=MRK_1645362_69_Psycho_20210525_arts_A