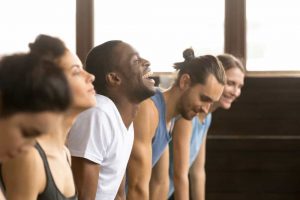 Improve Health in Unhealthy People with Yoga
By John M. de Castro, Ph.D.
"Incorporating [yoga] into your routine can help enhance your health, increase strength and flexibility and reduce symptoms of stress, depression and anxiety. Finding the time to practice yoga just a few times per week may be enough to make a noticeable difference when it comes to your health." – Rachel Link
Yoga practice has been shown to have a myriad of benefits for psychological and physical health, social, and spiritual well-being. It is both an exercise and a mind-body practice which stresses both mental attention to present moment movements, breath control, and flexibility, range of motion, and balance. But beginning yoga practice has risks and adverse events are known to occur. These can be particularly problematic for people who are not in the best of health. So, it is important to examine the risks and benefits of beginning yoga practice for people in a variety of health conditions.
In today's Research News article "Health-related benefits and adverse events associated with yoga classes among participants that are healthy, in poor health, or with chronic diseases." (See summary below or view the full text of the study at: https://www.ncbi.nlm.nih.gov/pmc/articles/PMC8499562/ ) Oka and colleagues recruited first time participants in 3-month, once a week for 60-90 minutes yoga classes. They were separated into 3 groups: healthy, poor health (some somatic or psychological complaints but no medication), and chronic disease (on medication). Before and after the class they completed measures of mood, perceived stress, quality of life, subjective symptoms, satisfaction with the yoga class, and adverse events defined as "undesirable symptoms or responses that occurred during a yoga class".
They found that from the beginning to the end of both the first and last yoga class there was a significant reduction in fatigue and tension-anxiety and increase in vigor in all groups. Over the 3-months of practice there was a significant reduction in perceived stress, subjective symptoms, and increase in health-related quality of life in the poor health and chronic disease groups. Perceived stress in the unhealthy groups reached the level of the healthy group at the end of training. Relatively mild adverse events were reported in all groups but more so in the unhealthy groups. But the symptoms were mild and did not stop participation inn the class in which they occurred.
Previous research with varied groups has shown that yoga training results in reduced fatigue and tension-anxiety and increased vigor. So, these findings were not surprising in the present study. The interesting findings here was that participants in ill health benefited more than healthy participants in reduced perceived stress and subjective symptoms and increased health-related quality of life. This suggests that yoga practice is particularly beneficial for individuals who have current somatic symptoms or who have chronic diseases.
Yoga practice appears to be beneficial for the psychological and physical well-being of everyone but is particularly beneficial for those who have current or chronic health issues. Although adverse symptoms produced by participation in yoga classes are common and occur more frequently in people with health problems. they tend to be mild, not stopping participation in the classes in which they occurred. So, for everyone the benefits of yoga practice appear to outweigh the costs.
So, improve health in unhealthy people with yoga.
"there's also a growing body of science showing that a regular yoga practice may benefit people with a host of chronic health conditions, including asthma, heart disease, and MS." – Wyatt Meyers
CMCS – Center for Mindfulness and Contemplative Studies
This and other Contemplative Studies posts are also available on Google+ https://plus.google.com/106784388191201299496/posts and on Twitter @MindfulResearch
Study Summary
Oka, T., & Lkhagvasuren, B. (2021). Health-related benefits and adverse events associated with yoga classes among participants that are healthy, in poor health, or with chronic diseases.
BioPsychoSocial medicine, 15(1), 17. https://doi.org/10.1186/s13030-021-00216-z
Abstract
Background
Our previous study demonstrated that 42% of yoga class participants in Japan had chronic diseases requiring medication. This raises the question as to whether those with chronic diseases would benefit from practicing yoga or if they are at higher risk for specific adverse events compared to healthy individuals receiving the same instruction.
Methods
To address these questions, 328 adults who started practicing yoga for the first time were asked to complete the Profile of Mood States (POMS), Perceived Stress Scale (PSS), and Medical Outcomes Study Short Form 8, standard version (SF-8™) and to record any adverse events on the first day of the yoga class and again three months later. The participants consisted of three groups: a healthy (H) group (n = 70), a poor health (PH) group (n = 117), and a chronic disease (CD) group (n = 141). The degree of subjective symptoms was also compared between the pre- and post-intervention period in the PH and CD groups.
Results
Typically, yoga classes were held once a week for 60–90 min. The programs included asanas, pranayamas, meditation, isometric yoga, and sukshma vyayama. In the PH and CD groups, the POMS tension-anxiety and fatigue scores decreased and the vigor score increased significantly after the first class. Furthermore, PSS scores decreased and the SF-8™ scores increased significantly three months later. The degree of subjective symptoms such as easy fatigability, shoulder stiffness, and insomnia also decreased over three months. Individuals in these groups experienced more frequent adverse events than those in the H group. The PH and CD groups also experienced a greater variety of symptoms, including psychological ones, not reported by the H group. Adverse events were not so serious that participants stopped practicing yoga during the class. About 60% of all participants were highly satisfied with participating in yoga classes.
Conclusions
If yoga classes are conducted with attention to possible adverse events, yoga practice in a yoga studio may have beneficial effects for people with functional somatic symptoms and chronic diseases, as well as healthy participants. These benefits include reductions in perceived stress and uncomfortable symptoms as well as improved mood and quality of life.
https://www.ncbi.nlm.nih.gov/pmc/articles/PMC8499562/