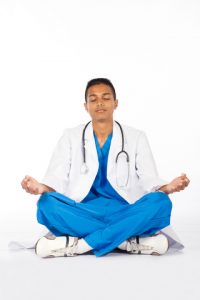 Further Improve Health Care Professionals' Mental Health with Supplemental Mindfulness Training
By John M. de Castro, Ph.D.
"The therapeutic applications of mindfulness are considerable and its impact on clinical practice itself appears to be profound. Indeed, several commentators characterize mindfulness as inciting nothing short of a revolution in the way we conduct our mental lives both within the clinic and without." – Matias P. Raski
Stress is epidemic in the western workplace with almost two thirds of workers reporting high levels of stress at work. In high stress occupations, like healthcare, burnout is all too prevalent. Burnout is the fatigue, cynicism, emotional exhaustion, sleep disruption, and professional inefficacy that comes with work-related stress. It is estimated that over 45% of healthcare workers experience burnout. It not only affects the healthcare providers personally, but also the patients, as it produces a loss of empathy and compassion. Burnout, in fact, it is a threat to the entire healthcare system.
Preventing the negative psychological consequences of stress in healthcare professionals has to be a priority. Contemplative practices have been shown to reduce the psychological and physiological responses to stress and improve well-being. Indeed, mindfulness has been shown to be helpful in treating and preventing burnout, increasing resilience, and improving sleep. Once mindfulness has been established it is not known if additional mindfulness training will produce greater benefits.
In today's Research News article "The Interpersonal Mindfulness Program for Health Care Professionals: a Feasibility Study." (See summary below or view the full text of the study at: https://www.ncbi.nlm.nih.gov/pmc/articles/PMC7447696/ ) Bartels-Velthui and colleagues recruited health care professionals who had already received mindfulness training with either Mindfulness-Based Stress Reduction (MBSR) or Mindfulness-Based Cognitive Therapy (MBCT).  The participants in the training group were further treated with an Interpersonal Mindfulness Course. This course was designed for participants who had already received mindfulness training to deepen mindful presence, empathy and compassion with other people. The course met for 9-weekly, 2.5-hour sessions combined with 45 to 60 minutes of daily home practice. All participants were measured before and after training for the feasibility and acceptability of the program, mindfulness, self-compassion, empathy, stress, and quality of life.
They found that the program was feasible as all participants completed the program and acceptable as 88% report the program to be highly relevant and would recommend it to others. They found that compared to baseline and the control group the participants who received the additional mindfulness training had significant improvements in self-compassion, empathy and compassion fatigue.
These are very interesting findings in that health care professionals who had already received mindfulness training had further increases in self-compassion, empathy and compassion fatigue when provided a program designed to improve mindfulness with other people. It is well known that mindfulness training improves self-compassion, empathy and compassion fatigue. These findings, though, suggests that these improvements can be strengthened with further training. In addition, the improvements were in characteristics that would tend to reduce health care professional burnout. The fact that the program emphasized being mindful of other people suggests that the health care workers would be have more empathy and understanding in treating their patients.
So, further improve health care professionals' mental health with supplemental mindfulness training.
"mindfulness can result in decreased burnout and improved well-being. Mindfulness is a useful way of cultivating self-kindness and compassion, including by bringing increased awareness to and acceptance of those things that are beyond our control." – Kate Fitzpatrick
CMCS – Center for Mindfulness and Contemplative Studies
This and other Contemplative Studies posts are also available on Google+ https://plus.google.com/106784388191201299496/posts and on Twitter @MindfulResearch
Study Summary
Bartels-Velthuis, A. A., van den Brink, E., Koster, F., & Hoenders, H. (2020). The Interpersonal Mindfulness Program for Health Care Professionals: a Feasibility Study. Mindfulness, 1–10. Advance online publication. https://doi.org/10.1007/s12671-020-01477-5
Abstract
Objectives
There are a number of mindfulness-based programs (MBPs) that have demonstrated effectiveness for patients and health care professionals. The Interpersonal Mindfulness Program (IMP) is a relatively new MBP, developed to teach those with prior mindfulness training to deepen their mindful presence, empathy and compassion in the interpersonal domain. The aim of the present study was to examine the feasibility of using the IMP with mental health care workers and assessing its effects on levels of mindfulness, self-compassion, empathy, stress and professional quality of life when compared with the control group participants.
Methods
The IMP training consisted of nine weekly 2.5-h sessions and daily home practice (45–60 min). Twenty-five participants (mean age, 51.4 years) with mindfulness experience participated in the training. Twenty-two individuals in the control group (mean age, 47.5 years) were recruited from those who had followed a mindfulness training before. Feasibility of the IMP was assessed in the training participants in six domains. All study participants completed self-report questionnaires before and after the training.
Results
The IMP training was considered highly acceptable and very useful. The training had a significant positive effect on self-compassion, empathy and compassion fatigue, but no effect on mindfulness, stress and compassion satisfaction. Five participants reported some mild adverse reactions.
Conclusions
The IMP training appears feasible for health care professionals and seems to induce some positive effects. A few mild adverse effects were reported. Further research on the effectiveness and possible mechanisms of change of the IMP training in larger samples is needed.
https://www.ncbi.nlm.nih.gov/pmc/articles/PMC7447696/