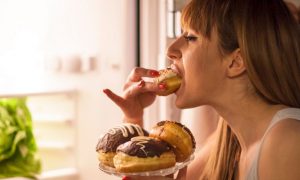 Mindful Eating is Related to Less Binge Eating and Fewer Mood Disorders
By John M. de Castro, Ph.D.
"Paying attention to what you are eating is the most effective way to attain a positive relationship with food and therefore find your ideal healthy weight." – UT Counseling
Around 30 million people in the United States of all ages and genders suffer from an eating disorder; either anorexia nervosa, bulimia, or binge eating disorder. 95% of those who have eating disorders are between the ages of 12 and 26. So, college age students are particularly vulnerable. Eating disorders are not just troubling psychological problems, they can be deadly, having the highest mortality rate of any mental illness. Binge eating disorder involves eating a large amount of food within a short time-period while experiencing a sense of loss of control over eating.
Eating disorders can be difficult to treat because eating is necessary and cannot be simply stopped as in smoking cessation or abstaining from drugs or alcohol. One must learn to eat appropriately not stop. So, it is important to find methods that can help prevent and treat eating disorders. Contemplative practices, mindfulness, and mindful eating have shown promise for treating eating disorders.
Mindful eating involves paying attention to eating while it is occurring, including attention to the sight, smell, flavors, and textures of food, to the process of chewing and may help reduce intake by affecting the individual's response to non-homeostatic cues for eating. Indeed, high levels of mindfulness are associated with lower levels of obesity and mindful eating has been shown to improve eating behaviors. Hence, mindful eating may counter binge eating. So, it is important to investigate the relationship of mindful eating to mood and binge eating.
In today's Research News article "Mindfulness in Eating Is Inversely Related to Binge Eating and Mood Disturbances in University Students in Health-Related Disciplines." (See summary below or view the full text of the study at: https://www.ncbi.nlm.nih.gov/pmc/articles/PMC7071141/ ) Giannopoulou and colleagues recruited college students and had them complete online measures of mood, mindful eating, and binge eating. They then compared students with binge eating to non-binge eaters and the data were subjected to regression analysis.
They found that 41% of the students met the criterion for binge eating. In comparison to non-binge eating students, the binge eaters had significantly higher levels of tension, depression, anger, fatigue, and confusion and significantly lower levels of vigor and mindful eating. Similarly, female students had significantly higher levels of tension, depression, anger, fatigue, and confusion and significantly lower levels of vigor and mindful eating. In addition, the higher the level of mindful eating the higher the mood scores and the lower the binge eating score.
It should be noted that these results are correlational. So, conclusions about causation cannot be made directly. But prior research has demonstrated that training in mindfulness produces reductions in binge eating and improvements in mood. Including decreases in, depression, anger, and fatigue. So, the present results probably result from causal connections.
The results then suggest that binge eating is associated with negative mood states. College students are particularly vulnerable to negative moods and binge eating. The results also suggest that mindful eating may be an antidote to negative moods and binge eating. This suggests that training in mindful eating might work to lessen or prevent these problems so rampant in college students.
So, mindful eating is related to less binge eating and fewer mood disorders.
"Practicing mindfulness can help you recognize when you're no longer hungry, which can improve your eating behaviors and reduce the incidence of binge eating." – Rachel Link
CMCS – Center for Mindfulness and Contemplative Studies
This and other Contemplative Studies posts are also available on Google+ https://plus.google.com/106784388191201299496/posts and on Twitter @MindfulResearch
Study Summary
Giannopoulou, I., Kotopoulea-Nikolaidi, M., Daskou, S., Martyn, K., & Patel, A. (2020). Mindfulness in Eating Is Inversely Related to Binge Eating and Mood Disturbances in University Students in Health-Related Disciplines. Nutrients, 12(2), 396. https://doi.org/10.3390/nu12020396
Abstract
The purpose of the study was to investigate the relationship between mindful eating, disordered eating and mood in university students in health-related disciplines. A total of 221 university students participated in the study; 102 students studied sport and exercise science (SS), 54 students pharmacy sciences (PS), and 65 students health sciences (HS). Participants completed the Binge Eating Scale (BES), the Mindful Eating Questionnaire (MEQ), and the Profile of Mood State questionnaire (POMS). 41% of the students were classified as binge eaters and 57% were above the POMS threshold of depression. Binge eaters were found to have significantly lower MEQ score and significantly higher total mood disturbance scores (TMD) compared to non-binge eaters (p < 0.01). Students with a high depression score exhibited no differences in the MEQ score but a significantly higher BES score compared to non-depressed students (p < 0.01). Gender differences were found in the MEQ with females exhibiting significantly higher scores in the MEQ score and in all MEQ subscales compared to males, with the exception of the emotional subscale that females were noted to have a lower score compared to males (p < 0.01). The MEQ score was inversely related to the BES score (r = −0.30, p < 0.01) and TMD (r = −0.21, p < 0.05). The MEQ score was a significant negative predictor of the variance of the binge eating behavior of the students (B = −3.17, p < 0.001). In conclusion, mindfulness in eating is inversely related to the binge eating behavior and mood state of university students studying health-related subjects and is a significant negative predictor of disordered eating behavior in this high risk population.
https://www.ncbi.nlm.nih.gov/pmc/articles/PMC7071141/