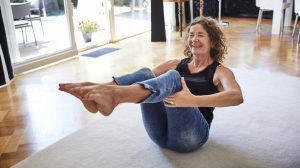 Yoga Practitioners Cope Better with the Stress and Psychological Distress During Covid-19 Pandemic
By John M. de Castro, Ph.D.
"As the lockdown cannot last forever and workplaces will have to be functional soon, there is an increased possibility of recurrent infection. Therefore, Yoga can provide the necessary tool for risk reduction, amelioration of stress and anxiety and strengthening of the immune function." – Kanupriya Sharma 
Mindfulness training and yoga practices have been shown to improve health and well-being in healthy individuals. They have also been found to be effective for a large array of medical and psychiatric conditions, either stand-alone or in combination with more traditional therapies. The COVID-19 pandemic has challenged the mental and physical health of the population. It has created intense stress both for frontline workers but also for people simply isolating at home. Mindfulness is known to decrease the psychological and physical responses to stress and yoga practice also produces similar improvements. So, yoga practice may be helpful in coping with the mental and physical challenges resulting from the lockdown during the COVID-19 pandemic.
In today's Research News article "Yoga Practice Is Beneficial for Maintaining Healthy Lifestyle and Endurance Under Restrictions and Stress Imposed by Lockdown During COVID-19 Pandemic." (See summary below or view the full text of the study at: https://www.ncbi.nlm.nih.gov/pmc/articles/PMC8257944/ ) Nagarathna and colleagues recruited adult (>18 years of age) participants in India online during the Covid-19 lockdown and had them complete a questionnaire measuring demographics, Covid-19 exposure, physical health, mental health, coping strategies, lifestyle, and physical activities.
They defined a yoga group as those participants who practiced yoga before and during the Covid-19 lockdown and the non-yoga group as those who did not. They report that the yoga group had a significantly greater proportion of females and students, were younger, were less likely to use alcohol, tobacco, or other substances and eat junk food, more likely to be vegetarian, were disciplined in their diet, and had greater sleep quality, physical strength and endurance, and energy, have lower levels of anxiety and fear, but did not differ in Covid-19 exposure. In addition, the yoga group indicated more adaptive coping strategies.
This study was a comparison between groups defined by whether they were yoga practitioners or not. Any observed differences could well be due to the types of people attracted to yoga practice versus those who are not. It cannot be concluded that the practice of yoga was responsible for the differences. But prior research has demonstrated in controlled trials that the practice of yoga produces many physical and psychological benefits. So, the differences observed here may well be due to causal effects of yoga practice. Regardless of causation, the results clearly show that during the Covid-19 lockdown, yoga practitioners have greater physical and mental well-being and have healthier lifestyles.
So, yoga practitioners cope better with the stress and psychological distress during Covid-19 pandemic.
"Yoga can be a powerful tool to deal with the lockdown's uncertainty and isolation, as well as to maintain physical well-being." – United Nations
CMCS – Center for Mindfulness and Contemplative Studies
This and other Contemplative Studies posts are also available on Google+ https://plus.google.com/106784388191201299496/posts and on Twitter @MindfulResearch
Study Summary
Nagarathna, R., Anand, A., Rain, M., Srivastava, V., Sivapuram, M. S., Kulkarni, R., Ilavarasu, J., Sharma, M., Singh, A., & Nagendra, H. R. (2021). Yoga Practice Is Beneficial for Maintaining Healthy Lifestyle and Endurance Under Restrictions and Stress Imposed by Lockdown During COVID-19 Pandemic. Frontiers in psychiatry, 12, 613762. https://doi.org/10.3389/fpsyt.2021.613762
Abstract
Uncertainty about Coronavirus disease 2019 (COVID-19) and resulting lockdown caused widespread panic, stress, and anxiety. Yoga is a known practice that reduces stress and anxiety and may enhance immunity. This study aimed to (1) investigate that including Yoga in daily routine is beneficial for physical and mental health, and (2) to evaluate lifestyle of Yoga practitioners that may be instrumental in coping with stress associated with lockdown. This is a pan-India cross-sectional survey study, which was conducted during the lockdown. A self-rated scale, COVID Health Assessment Scale (CHAS), was designed by 11 experts in 3 Delphi rounds (Content valid ratio = 0.85) to evaluate the physical health, mental health, lifestyle, and coping skills of the individuals. The survey was made available digitally using Google forms and collected 23,760 CHAS responses. There were 23,290 valid responses (98%). After the study's inclusion and exclusion criteria of yogic practices, the respondents were categorized into the Yoga (n = 9,840) and Non-Yoga (n = 3,377) groups, who actively practiced Yoga during the lockdown in India. The statistical analyses were performed running logistic and multinomial regression and calculating odds ratio estimation using R software version 4.0.0. The non-Yoga group was more likely to use substances and unhealthy food and less likely to have good quality sleep. Yoga practitioners reported good physical ability and endurance. Yoga group also showed less anxiety, stress, fear, and having better coping strategies than the non-Yoga group. The Yoga group displayed striking and superior ability to cope with stress and anxiety associated with lockdown and COVID-19. In the Yoga group, participants performing meditation reportedly had relatively better mental health. Yoga may lead to risk reduction of COVID-19 by decreasing stress and improving immunity if specific yoga protocols are implemented through a global public health initiative.
https://www.ncbi.nlm.nih.gov/pmc/articles/PMC8257944/