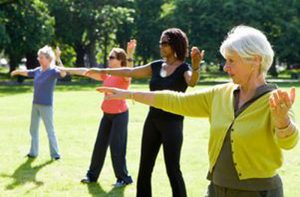 Reduce Fatigue and Improve Sleep in Cancer Survivors with Tai Chi
By John M. de Castro, Ph.D.
"tai chi may help to increase strength, balance, flexibility, heart and lung function, feelings of well-being" – BreastCancer.org
Receiving a diagnosis of cancer has a huge impact on most people. Feelings of depression, anxiety, and fear are very common and are normal responses to this life-changing and potentially life-ending experience. But cancer diagnosis is not necessarily a death sentence. Over half of the people diagnosed with cancer are still alive 10 years later and this number is rapidly increasing. But surviving cancer carries with it a number of problems. Anxiety, depression, fatigue, and insomnia are common symptoms in the aftermath of surviving breast cancer. These symptoms markedly reduce the quality of life of the patients.
Mindfulness training has been shown to help with cancer recovery and help to alleviate many of the residual physical and psychological symptoms, including stress,  sleep disturbance, and anxiety and depression. Tai Chi or Qigong practice has been shown to improve quality of life, reduce fatigue, and lower blood pressure and cortisol levels. They are very gentle and safe practices. The research on the effectiveness of Tai Chi training for cancer patients is accumulating. So, it makes sense to take a step back and summarize what has been learned.
In today's Research News article "Tai Chi for cancer survivors: A systematic review toward consensus-based guidelines." (See summary below or view the full text of the study at: https://www.ncbi.nlm.nih.gov/pmc/articles/PMC8559497/ ) Yang and colleagues review, summarize, and perform a meta-analysis of the published randomized controlled clinical trials of the effectiveness of Tai Chi training for the well-being of cancer survivors. They identified 26 published studies.
They report that the published research found that 8 to 12 weeks of Tai Chi practice produce significant decreases in fatigue and increases in sleep quality in cancer patients. The published studies were generally of low methodological quality and small number of patients. So, there is a need for future studies employing high quality methodologies with large groups. Nevertheless, it is reasonable to conclude that Tai Chi practice is beneficial for cancer survivors reducing fatigue and improving sleep.
So, reduce fatigue and improve sleep in cancer survivors with Tai Chi.
"participation in Tai Chi had a positive influence on quality of life and psychological health for cancer survivors." – Catherine Stifter
CMCS – Center for Mindfulness and Contemplative Studies
This and other Contemplative Studies posts are available on Twitter @MindfulResearch
Study Summary
Yang, L., Winters-Stone, K., Rana, B., Cao, C., Carlson, L. E., Courneya, K. S., Friedenreich, C. M., & Schmitz, K. H. (2021). Tai Chi for cancer survivors: A systematic review toward consensus-based guidelines. Cancer medicine, 10(21), 7447–7456. https://doi.org/10.1002/cam4.4273
Abstract
To manage acute, long‐term, and late effects of cancer, current guidelines recommend moderate‐to‐vigorous intensity aerobic and resistance exercise. Unfortunately, not all cancer survivors are able or willing to perform higher intensity exercise during difficult cancer treatments or because of other existing health conditions. Tai Chi is an equipment‐free, multicomponent mind–body exercise performed at light‐to‐moderate intensity that may provide a more feasible alternative to traditional exercise programs for some cancer survivors. This systematic review evaluated the therapeutic efficacy of Tai Chi across the cancer care continuum. We searched MEDLINE/PubMed, Embase, SCOPUS, and CINAHL databases for interventional studies from inception to 18 September 2020. Controlled trials of the effects of Tai Chi training on patient‐reported and objectively measured outcomes in cancer survivors were included. Study quality was determined by the RoB 2 tool, and effect estimates were evaluated using the Best Evidence Synthesis approach. Twenty‐six reports from 14 trials (one non‐randomized controlled trial) conducted during (n = 5) and after treatment (after surgery: n = 2; after other treatments: n = 7) were included. Low‐level evidence emerged to support the benefits of 40–60 min of thrice‐weekly supervised Tai Chi for 8–12 weeks to improve fatigue and sleep quality in cancer survivors. These findings need to be confirmed in larger trials and tested for scaling‐up potential. Insufficient evidence was available to evaluate the effects of Tai Chi on other cancer‐related outcomes. Future research should examine whether Tai Chi training can improve a broader range of cancer outcomes including during the pre‐treatment and end of life phases.
https://www.ncbi.nlm.nih.gov/pmc/articles/PMC8559497/