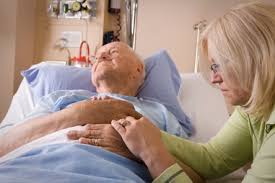 Spirituality is Associated with Better Decision Making and Well-Being at End of Life
By John M. de Castro, Ph.D.
"spirituality is an important component of quality of life and may be a key factor in how people cope with illness, experience healing, and achieve a sense of coherence." – Christina Puchalski
Death in inevitable, but that does not mean that it has to be difficult. Suzuki Roshi at the end of his life was in excruciating pain from cancer yet he told everyone around him "Don't worry, It's just Buddha suffering". He passed with a smile on his face. Augustus Montague Toplady, the preacher author of the hymn "Rock of Ages" dying from tuberculosis said "Oh, what delights! Who can fathom the joy of the third heaven? The sky is clear, there is no cloud; come Lord Jesus, come quickly!" These stories exemplify how spirituality can influence the quality of life at the end of life.
Spirituality becomes much more important to people when they're approaching the end of life. It is thought that people take comfort in the spiritual when facing mortality. But, spiritual concerns, such as feelings of being abandoned by god or needing forgiveness for actions in their lives might lead to anxiety and worry rather than comfort and can exacerbate the psychological burdens at the end of life. Hence, there is a need to study the relationship of spirituality to a palliative care patient's well-being at the approach of the end of life.
In today's Research News article "The influence of spirituality on decision-making in palliative care outpatients: a cross-sectional study." (See summary below or view the full text of the study at: https://www.ncbi.nlm.nih.gov/pmc/articles/PMC7035674/), Rego and colleagues recruited adult outpatients from cancer palliative care institutes who had terminal illnesses. They were asked to complete measures of decision conflict and health related quality of life including spiritual well-being and undergo a semi-structured interviews addressing "spirituality, the importance of spirituality during illness, spiritual care, the influence of illness in the sense/meaning of life and the ability to make decisions related to health."
They found that patients who indicated that spirituality was important in dealing with their illness and had a sense of meaning in their lives reported significantly higher levels of spiritual well-being, quality of life, and significantly lower levels of decisional conflict. In addition, they found that higher levels of spiritual wellbeing were associated with higher levels of physical, emotional and functional wellbeing, meaning/peace and faith, and quality of life. Also, spiritual well-being was significantly associated with lower levels of uncertainty and decisional conflict and higher levels of being informed and supported, and satisfaction with decisions. Finally, the patients indicated that spiritual care was important but there was little provided.
It should be noted that this study was correlative and as such conclusions about causation cannot be definitively made. But the results suggest that there are clear relationships between spirituality and the ability to cope with end of life issues. Spirituality was related to many components of well-being, suggesting that while approaching end of life having deeper sense of meaning is important in dealing with mortality. In addition, spirituality appears to be associated with better capacity to make decisions, suggesting that it aids in having a clear mind in dealing with the issues associated with the remainder of their lives.
It is interesting that as important spirituality appears to be for dealing with the end of life the patients reported that there was very little spiritual care available. This suggests that palliative care should include greater spiritual care. The results suggest that if there was greater spiritual care it would help ease the burden of being terminally ill and improve the quality of their remaining life.
Hence, spirituality is associated with better decision making and well-being at end of life.
"Spirituality is too important and too impactful to ignore. We must work together as palliative care advocates to ensure that patients get comprehensive, person-centered care that addresses all aspects of their quality of life." – Coalition for Compassionate Care
CMCS – Center for Mindfulness and Contemplative Studies
This and other Contemplative Studies posts are also available on Google+ https://plus.google.com/106784388191201299496/posts and on Twitter @MindfulResearch
Study Summary
Rego, F., Gonçalves, F., Moutinho, S., Castro, L., & Nunes, R. (2020). The influence of spirituality on decision-making in palliative care outpatients: a cross-sectional study. BMC palliative care, 19(1), 22. https://doi.org/10.1186/s12904-020-0525-3
Abstract
Background
Decision-making in palliative care can be complex due to the uncertain prognosis and general fear surrounding decisions. Decision-making in palliative care may be influenced by spiritual and cultural beliefs or values. Determinants of the decision-making process are not completely understood, and spirituality is essential for coping with illness. Thus, this study aims to explore the influence of spirituality on the perception of healthcare decision-making in palliative care outpatients.
Methods
A cross-sectional study was developed. A battery of tests was administered to 95 palliative outpatients, namely: sociodemographic questionnaire (SQ), Decisional Conflict Scale (DCS), Functional Assessment of Chronic Illness Therapy-Spiritual Well-Being scale (FACIT-Sp), and a semi-structured interview (SSI) to study one's perception of spirituality and autonomy in decision-making. Statistical analyses involved descriptive statistics for SQ and SSI. The Mann-Whitney test was used to compare scale scores between groups and correlations were used for all scales and subscales. The analysis of patients' definitions of spirituality was based on the interpretative phenomenological process.
Results
Spiritual wellbeing significantly correlated with greater levels of physical, emotional and functional wellbeing and a better quality of life. Greater spiritual wellbeing was associated with less decisional conflict, decreased uncertainty, a feeling of being more informed and supported and greater satisfaction with one's decision. Most patients successfully implemented their decision and identified themselves as capable of early decision-making. Patients who were able to implement their decision presented lower decisional conflict and higher levels of spiritual wellbeing and quality of life. Within the 16 themes identified, spirituality was mostly described through family. Patients who had received spiritual care displayed better scores of spiritual wellbeing, quality of life and exhibited less decisional conflict. Patients considered spirituality during illness important and believed that the need to receive spiritual support and specialised care could enable decision-making when taking into consideration ones' values and beliefs.
Conclusion
The impact of spiritual wellbeing on decision-making is evident. Spirituality is a key component of overall wellbeing and it assumes multidimensional and unique functions. Individualised care that promotes engagement in decision-making and considers patients' spiritual needs is essential for promoting patient empowerment, autonomy and dignity.
https://www.ncbi.nlm.nih.gov/pmc/articles/PMC7035674/