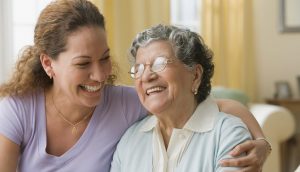 Improve Caregivers Psychological and Physiological Health with Meditation
By John M. de Castro, Ph.D.
"Feel overwhelmed with the responsibilities of caring for a loved one? One of the most effective ways to avoid burnout is engaging in a mindfulness practice like meditation." – Audrey Meinertzhagen
There is a tremendous demand for caregiving in the US. It is estimated that over 65 million (29% of the adult population) provides care to someone who is ill, disabled or aged, averaging 20 hours per week spent caring for their loved ones. This caregiving comes at a cost exacting a tremendous toll on caregivers' health and well-being. Caregiving has been associated with increased levels of depression and anxiety as well as higher use of psychoactive medications, poorer self-reported physical health, compromised immune function, and increased mortality. Mindfulness practice for caregivers has been shown to help them cope with the physical and psychological demands of caregiving.
In today's Research News article "Effects of Meditation on Mental Health and Cardiovascular Balance in Caregivers." (See summary below or view the full text of the study at: https://www.ncbi.nlm.nih.gov/pmc/articles/PMC7828286/ ) Díaz-Rodríguez and colleagues recruited caregivers for dependent family members for at least 2 years. They were assigned to either no treatment or to receive twice weekly, 2-hour, sessions of focused meditation training on the basis of availability for the training sessions. They were measured before and after training for happiness, anxiety, depression, heart rate, heart rate variability, and blood pressure.
They found that in comparison to baseline and the control group, the group that received meditation training were significant higher in happiness and heart rate variability and significantly lower in anxiety, heart rate, and blood pressure. Hence meditation training improved the mental health and cardiovascular balance of caregivers.
These are excellent results. A higher level of heart rate variability is an indicator of increased parasympathetic and reduced sympathetic nervous system activity. Hence, the relaxation promoting portion of the autonomic nervous system increases while the portion promoting activation and arousal decreases. This is further evidenced by the significant decrease in heart rate and blood pressure. This suggest that a 4-week training in meditation improves caregivers' psychological and physiological state. The effectiveness of the caregiving was not measured but based upon the improvements observed it would be expected that the quality of caregiving would also be improved. This suggests that meditation training should be recommended for caregivers.
So, improve caregivers psychological and physiological health with meditation.
"Caregiving is a tough job and the stress can seriously affect your physical and mental health. An effective and simple way to combat that is to meditate." – Daily Caring
CMCS – Center for Mindfulness and Contemplative Studies
This and other Contemplative Studies posts are also available on Google+ https://plus.google.com/106784388191201299496/posts and on Twitter @MindfulResearch
Study Summary
Díaz-Rodríguez, L., Vargas-Román, K., Sanchez-Garcia, J. C., Rodríguez-Blanque, R., Cañadas-De la Fuente, G. A., & De La Fuente-Solana, E. I. (2021). Effects of Meditation on Mental Health and Cardiovascular Balance in Caregivers. International journal of environmental research and public health, 18(2), 617. https://doi.org/10.3390/ijerph18020617
Abstract
Background: Caring for a loved one can be rewarding but is also associated with substantial caregiver burden, developing mental outcomes and affecting happiness. The aim of this study was to determine the effects of a four-week, 16-h presential meditation program on physiological and psychological parameters and vagal nerve activity in high-burden caregivers, as compared to a control group. Methods: A non-randomized repeated-measures controlled clinical trial was conducted. Results: According to the ANCOVA results, the global happiness score (F = 297.42, p < 0.001) and the scores for all subscales were significantly higher in the experimental group than in the control group at 5 weeks. Anxiety levels were also significantly reduced in the experimental group (F = 24.92, p < 0.001), systolic (F = 16.23, p < 0.001) and diastolic blood (F = 34.39, p < 0.001) pressures, and the resting heart rate (F = 17.90, p < 0.05). HRV results revealed significant between-group differences in the HRV Index (F = 8.40, p < 0.05), SDNN (F = 13.59, p < 0.05), and RMSSD (F = 10.72, p < 0.05) in the time domain, and HF (F = 4.82 p < 0.05)) in the frequency domain, which were all improved in the experimental group after the meditation program. Conclusions: Meditation can be a useful therapy to enhance the mental health and autonomic nervous system balance of informal caregivers, improving symptoms of physical and mental overload.
https://www.ncbi.nlm.nih.gov/pmc/articles/PMC7828286/