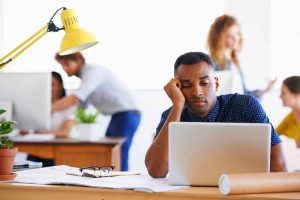 Workplace Well-Being is Associated with Spirituality
By John M. de Castro, Ph.D.
"Burnout, compassion fatigue, career exhaustion—you can rewire your brain to see these afflictions as opportunities for embarking on a new path. You don't have to stay on a dead-end street."- Pamela Milam
Work is very important for our health and well-being. We spend approximately 25% of our adult lives at work. How we spend that time is immensely important for our psychological and physical health. Indeed, the work environment has even become an important part of our social lives, with friendships and leisure time activities often attached to the people we work with. But, more than half of employees in the U.S. and nearly 2/3 worldwide are unhappy at work. This is partially due to work-related stress which is epidemic in the western workplace. Almost two thirds of workers reporting high levels of stress at work. This stress can result in impaired health and can result in burnout; producing fatigue, cynicism, and professional inefficacy.
Religion and spirituality have been promulgated as solutions to the challenges of life both in a transcendent sense and in a practical sense. There have been a number of studies of the influence of religiosity and spirituality on the physical and psychological well-being of practitioners mostly showing positive benefits, with spirituality encouraging personal growth and mental health. Perhaps, then, spirituality can be helpful in relieving stress and lowering burnout in the workplace.
In today's Research News article "Employee burnout and positive dimensions of well-being: A latent workplace spirituality profile analysis." (See summary below or view the full text of the study at: https://www.ncbi.nlm.nih.gov/pmc/articles/PMC7671502/ ) Del Corso and colleagues performed 2 studies of the association of workplace spirituality with the employee well-being. In the first study they recruited employees of 3 different Italian companies and had them complete measures of positive supervisor behavior, burnout, and workplace spirituality.
They found that the higher the levels of workplace spirituality the lower the levels of burnout. They also found that positive supervisor behavior was negatively associated with burnout indirectly by being positively associated with workplace spirituality which was in turn negatively associated with burnout. So, spirituality was higher in employees whose supervisors expressed positive supervisory behavior and burnout was lower in employees who were high in spirituality.
In the second study they again recruited employees of Italian companies and had them complete measures of workplace spirituality, work engagement, positive emotions, self-efficacy, and resilience. They found that employees who were high in workplace spirituality were significantly higher in positive emotions, resilience, self-efficacy, vigor, dedication, absorption, and work engagement.
These studies were correlational and as such caution must be exercised in reaching causal conclusions. With this in mind, the results suggest that workplace spirituality is highly associated with employee well-being and lower levels of burnout. Workplace spirituality is composed of 4 factors; engaging work, sense of community, spiritual connection, and mystical experiences. Two of these components involve a satisfying work environment while two involve dimensions of spirituality. The results suggested that all of these components were significantly involved in the association with well-being.
Spirituality has well documented associations with overall well-being of the individuals. This study demonstrates that this extends into the workplace. These results suggest, not surprisingly, that having a satisfying work environment contributes to the employees' well-being but more surprisingly being spiritual also contributes.
So, workplace well-being is associated with spirituality.
"When people operate with high-stress levels without rest, they reduce productivity and risk their health. . . practices like meditation make your mind strong balanced and flexible and able to focus at will. " – Spiritual Earth
CMCS – Center for Mindfulness and Contemplative Studies
This and other Contemplative Studies posts are also available on Google+ https://plus.google.com/106784388191201299496/posts and on Twitter @MindfulResearch
Study Summary
Dal Corso, L., De Carlo, A., Carluccio, F., Colledani, D., & Falco, A. (2020). Employee burnout and positive dimensions of well-being: A latent workplace spirituality profile analysis. PloS one, 15(11), e0242267. https://doi.org/10.1371/journal.pone.0242267
Abstract
In recent years, a new and promising construct has attracted the attention of organizational research: Workplace spirituality. To investigate the role of workplace spirituality in organizational contexts, two studies were carried out. Study 1 explored the mediation role of workplace spirituality in the relationship between positive supervisor behaviors and employee burnout. Results showed that workplace spirituality strongly contributes to reduce burnout and mediates the effect of supervisor integrity in reducing this threat. Study 2 considered the relationships of workplace spirituality with positive affectivity, resilience, self-efficacy, and work engagement. In particular, workplace spirituality profiles were investigated through latent profile analysis (LPA). Findings showed that workplace spirituality is related to higher positive affectivity, resilience, self-efficacy, and work engagement. In contrast, a workplace spirituality profile characterized by a low-intensity spiritual experience is associated with higher negative feelings. The practical implications of these findings are discussed.
https://www.ncbi.nlm.nih.gov/pmc/articles/PMC7671502/