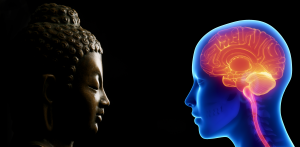 Meditation Changes the Brain Areas Underlying Executive Function and Mind Wandering
By John M. de Castro, Ph.D.
"meditation nurtures the parts of the brain that contribute to well-being. Furthermore, it seems that a regular practice deprives the stress and anxiety-related parts of the brain of their nourishment." – Mindworks
Mindfulness training has been shown to improve health and well-being. It has also been found to be effective for a large array of medical and psychiatric conditions, either stand-alone or in combination with more traditional therapies. There are a number of ways that mindfulness practices produce these benefits, including changes to the brain and physiology. The nervous system is a dynamic entity, constantly changing and adapting to the environment. It will change size, activity, and connectivity in response to experience. These changes in the brain are called neuroplasticity. Over the last decade neuroscience has been studying the effects of contemplative practices on the brain and has identified neuroplastic changes in widespread areas. In other words, mindfulness practice appears to mold and change the brain, producing psychological, physical, and spiritual benefits.
In today's Research News article "Resting State Functional Connectivity Associated With Sahaja Yoga Meditation." (See summary below or view the full text of the study at: https://www.ncbi.nlm.nih.gov/pmc/articles/PMC8007769/ )  Barrós-Loscertales and colleagues recruited healthy adult non-meditators and long-term practitioners of Sahaja Yoga Meditation. They were measured for impulsiveness and cognitive control and response inhibition with a go/no-go task in which the participants had to respond to a target stimulus and withhold responding to another stimulus and a Simon task in which they had to respond to a target stimulus pointing in the same direction as its location and withhold responding to another stimulus pointing in a different direction than its location. The participants also had their brains scanned with functional Magnetic Resonance Imaging (fMRI).
They found that the meditators had increased functional connectivity between the ventrolateral prefrontal cortex and the dorsolateral prefrontal cortex and decreased functional connectivity between the left insula and mid-cingulate cortex and between the right angular gyrus and precuneus. They also found that the meditators had significantly less response interference and the greater the amount of response interference the lower the functional connectivity between the left insula and the mid-cingulate.
The ventrolateral prefrontal cortex and the dorsolateral prefrontal cortex have been found to be involved in attention, cognitive control, and conflict resolution. The increased connectivity suggests that the meditators had higher levels of executive function. The insula, cingulate cortex, angular gyrus, and precuneus are all components of the default mode network that has been shown to be involved with mind wandering and self-referential thinking. The decreased functional connectivity between these areas suggests reductions in these processes.
It should be kept in mind that the meditation and non-meditation groups self-selected whether they meditated or not and thus may be systematically different people. So, causation cannot be determined. Nevertheless, these results suggest that the meditators had more active attention and executive control networks and less active mind-wandering networks. These results replicate previous research that demonstrated that contemplative practices like meditation produce improvements in cognition and reductions in mind wandering.  So, the connectivity differences seen in the present study appear to show the neural mechanisms underlying the differences in thought processes.
So, meditation changes the brain areas underlying executive function and mind wandering.
"It seems the longer you do meditation, the better your brain will be at self-regulation. You don't have to consume as much energy at rest and you can more easily get yourself into a more relaxed state." – Bin He
CMCS – Center for Mindfulness and Contemplative Studies
This and other Contemplative Studies posts are also available on Google+ https://plus.google.com/106784388191201299496/posts and on Twitter @MindfulResearch
Study Summary
Barrós-Loscertales, A., Hernández, S. E., Xiao, Y., González-Mora, J. L., & Rubia, K. (2021). Resting State Functional Connectivity Associated With Sahaja Yoga Meditation. Frontiers in human neuroscience, 15, 614882. https://doi.org/10.3389/fnhum.2021.614882
Abstract
Neuroscience research has shown that meditation practices have effects on brain structure and function. However, few studies have combined information on the effects on structure and function in the same sample. Long-term daily meditation practice produces repeated activity of specific brain networks over years of practice, which may induce lasting structural and functional connectivity (FC) changes within relevant circuits. The aim of our study was therefore to identify differences in FC during the resting state between 23 Sahaja Yoga Meditation experts and 23 healthy participants without meditation experience. Seed-based FC analysis was performed departing from voxels that had shown structural differences between these same participants. The contrast of connectivity maps yielded that meditators showed increased FC between the left ventrolateral prefrontal cortex and the right dorsolateral prefrontal cortex but reduced FC between the left insula and the bilateral mid-cingulate as well as between the right angular gyrus and the bilateral precuneus/cuneus cortices. It thus appears that long-term meditation practice increases direct FC between ventral and dorsal frontal regions within brain networks related to attention and cognitive control and decreases FC between regions of these networks and areas of the default mode network.
https://www.ncbi.nlm.nih.gov/pmc/articles/PMC8007769/