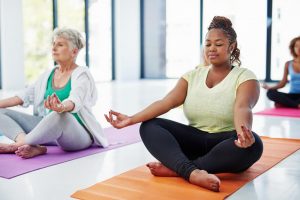 Yoga Practice Improves Glycemic Control in Type 2 Diabetes
By John M. de Castro, Ph.D.
"Yoga can do more than just relax your body in mind — especially if you're living with diabetes. Certain poses may help lower blood pressure and blood sugar levels while also improving circulation, leading many experts to recommend yoga for diabetes management." – Healthline
Diabetes is a major health issue. It is estimated that 30 million people in the United States and nearly 600 million people worldwide have diabetes and the numbers are growing. Type II Diabetes results from a resistance of tissues, especially fat tissues, to the ability of insulin to promote the uptake of glucose from the blood. As a result, blood sugar levels rise producing hyperglycemia. Diabetes is heavily associated with other diseases such as cardiovascular disease, heart attacks, stroke, blindness, kidney disease, and circulatory problems leading to amputations. As a result, diabetes doubles the risk of death of any cause compared to individuals of the same age without diabetes.
Type 2 diabetes is a common and increasingly prevalent illness that is largely preventable. One of the reasons for the increasing incidence of Type 2 Diabetes is its association with overweight and obesity which is becoming epidemic in the industrialized world. A leading cause of this is a sedentary life style. Unlike Type I Diabetes, Type II does not require insulin injections. Instead, the treatment and prevention of Type 2 Diabetes focuses on diet, exercise, and weight control. Recently, mindfulness practices have been shown to be helpful in managing diabetes. A mindfulness practice that combines mindfulness with exercise is yoga and it has been shown to be helpful in the treatment of Type II Diabetes.
In today's Research News article "Effectiveness of Yoga-based Exercise Program Compared to Usual Care, in Improving HbA1c in Individuals with Type 2 Diabetes: A Randomized Control Trial." (See summary below or view the full text of the study at: https://www.ncbi.nlm.nih.gov/pmc/articles/PMC7735507/ ) Gupta and colleagues recruited  patients over 30 years of age with Type 2 Diabetes. They were randomly assigned to receive either a 4-month program of diet and walking exercise or a Yoga-based Exercise Program. The yoga program consisted of meditation, breathing exercises, postures, and stretching. The participants had blood drawn before and after training and assayed for HbA1c, blood fats, and blood glucose.
They found that in comparison to baseline and the diet and walking group, the yoga group had a significantly greater reduction in HbA1c. Glycated hemoglobin, HbA1c, is a measure that reflect the control of blood glucose levels over a long period of time. Low HbA1c levels is a sign of good blood glucose control which is essential to the control of the effects of Type 2 Diabetes on the body. So, the results signal that yoga practice results in better glucose control in these patients than a diet and walking program. This suggests that yoga would promote better health in patients with Type 2 Diabetes.
So, yoga practice improves glycemic control in Type 2 Diabetes.
"Stress elevates blood sugar, which can lead to more diabetes complications. Yoga helps us center ourselves, and centering calms us and can help keep blood sugar levels balanced." – Janet Zappe
CMCS – Center for Mindfulness and Contemplative Studies
This and other Contemplative Studies posts are also available on Google+ https://plus.google.com/106784388191201299496/posts and on Twitter @MindfulResearch
Study Summary
Gupta, U., Gupta, Y., Jose, D., Mani, K., Jyotsna, V. P., Sharma, G., & Tandon, N. (2020). Effectiveness of Yoga-based Exercise Program Compared to Usual Care, in Improving HbA1c in Individuals with Type 2 Diabetes: A Randomized Control Trial. International journal of yoga, 13(3), 233–238. https://doi.org/10.4103/ijoy.IJOY_33_20
Abstract
Background:
This study was designed to evaluate the effectiveness of a yoga-based exercise program (YBEP) in improving glycemic control in people with type 2 diabetes mellitus.
Materials and Methods:
Patients on stable oral glucose-lowering agents for at least 3 months and HbA1c 7.5%–10% were randomized in 1:1 ratio. The primary outcome measure was the difference of change in mean HbA1c between groups.
Results:
The participants (n = 81) had mean (±standard deviation) age of 50.6 (±8.5) years and HbA1c of 8.5 ± 0.7% (68.97 ± 7.42 mmol/mol). The follow-up data were available in 96% (78/81) of participants. Of 40 participants, 25 (62.5%) attended ≥75% (≥10 out of 13) of the sessions in YBEP. On the intention to treat analysis, a favorable reduction (0.21% 95% confidence interval [−0.34, 0.75], P = 0.454) in HbA1c was seen in YBEP group as compared to usual care. The reduction in HbA1c by ≥0.5% was observed in 44.7% of participants in YBEP as compared to 37.5% in usual care arm, respectively. Those who attended ≥75% of the sessions had better HbA1c reduction of 0.3% in comparison to 0.1% reduction seen in those who attended <75% of the sessions.
Conclusions:
YBEP demonstrated a clinically relevant HbA1c reduction compared to usual care in participants who had attended at least 75% of the yoga sessions. The reduction in HbA1c by >0.5% in 44.7% in the yoga group, suggests, that it can be prescribed as an exercise to individuals who are unable to walk either due to limited joint mobility, adverse weather conditions, lack of space for walking, cultural or religious prohibitions for women for outdoor physical activity, and so on.
https://www.ncbi.nlm.nih.gov/pmc/articles/PMC7735507/