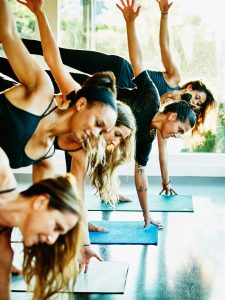 Increase Body Awareness and Emotional Regulation in College Women with Yoga
By John M. de Castro, Ph.D.
"Among the suite of tools and strategies that so many of us lean on when it comes to living peacefully (or not) with our emotions, yoga is probably one of the most affecting and effective." – Monisha Rudhran
Yoga training has been shown to improve health and well-being. It has also been found to be effective for a large array of medical and psychiatric conditions, either stand-alone or in combination with more traditional therapies. There are a wide variety of different yoga training techniques. Many varieties employ breath-focused and meditative-focused practices. Although the benefits of yoga practices in general are well studied there is little scientific research comparing breathing and meditative-focused yoga versus only yoga postures.
In today's Research News article "Can Yoga Boost Access to the Bodily and Emotional Self? Changes in Heart Rate Variability and in Affective Evaluation Before, During and After a Single Session of Yoga Exercise With and Without Instructions of Controlled Breathing and Mindful Body Awareness in Young Healthy Women." (See summary below or view the full text of the study at: https://www.frontiersin.org/articles/10.3389/fpsyg.2021.731645/full?utm_source=F-AAE&utm_medium=EMLF&utm_campaign=MRK_1790561_a0P58000000G0YfEAK_Psycho_20211214_arts_A ) Herbert recruited female college students and had them perform 30 minutes of yoga exercises. One randomly assigned group was instructed to "exercise any movement with heightened body awareness and breathing control" while the other received no further instruction. They were measured before and after the 30 minutes of yoga for cardiac activity including heart rate variability with an electrocardiogram, positive and negative emotions, interoceptive awareness, self-referential processing, empathy, affective judgement, and heartbeat counting.
They found that cardiac activity was, not surprisingly, increased by yoga, but the two groups did not differ. Also, compared to pre-yoga, after yoga the heart rate was significantly lower during the affective task. In addition, after practicing yoga the participants were significantly faster and more accurate in their affective judgements to emotional stimuli and higher levels of body awareness (heartbeat counting). Hence, there were significant effects of yoga on cardiac activity, emotion regulation, and body awareness, but there was no significant effect of the instruction to be aware of the body and breathing during yoga.
The results suggest that a single 30-minute yoga session, like any other exercise, affects cardiac activity and it improves emotional processing and body awareness regardless of body awareness instruction. These findings are not new as it has been established in previous research by other researchers studying different groups that yoga practice improves body awareness and emotion regulation. That this happens after a single 30-minute practice is new and interesting.
The lack of a control group participating in another form of exercise, however, limits the conclusions regarding the effects of yoga per se. It is possible that any form of exercise would produce similar effects. In addition, a single 30-minute session may not be sufficient to observe effect of an intention to be aware of the body and breathing. More practice may be necessary. Alternatively, participating in yoga may heighten body and breathing awareness regardless of whether there was an explicit instruction. Nevertheless, short-term exercise appears to be healthful for the heart, body awareness, and the emotions.
So, increase body awareness and emotional regulation in college women with yoga.
"Change your posture and you change the way you breathe. Change your breathing and you change your nervous system. This is one of the great lessons of yoga: Everything is connected." – Timothy McCall
CMCS – Center for Mindfulness and Contemplative Studies
This and other Contemplative Studies posts are available on Twitter @MindfulResearch
Study Summary
Herbert C (2021) Can Yoga Boost Access to the Bodily and Emotional Self? Changes in Heart Rate Variability and in Affective Evaluation Before, During and After a Single Session of Yoga Exercise With and Without Instructions of Controlled Breathing and Mindful Body Awareness in Young Healthy Women. Front. Psychol. 12:731645. doi: 10.3389/fpsyg.2021.731645
Exercise is indispensable for a healthy lifestyle. Yoga exercise can have positive effects on well-being and on cardiac autonomic activity making it an ideal intervention for improving mind-body interactions and resilience to physical and mental stressors. Emotions trigger especially strong bodily and affective-cognitive responses because of their social relevance for the self and their biological relevance of mobilizing the organism for action. This study investigates whether changes in emotion processing related to self-other referential processing and changes in cardiac autonomic activity, reflected by heart rate variability (HRV), occur immediately after already a single session of yoga exercise when yoga postures are practiced with or without breathing- and mindful body awareness instructions. Women, all university students (N = 34, final sample: n = 30, n = 25 naïve to yoga practice) were randomly assigned to two experimental groups who performed the same yoga exercises with or without controlled breathing and mindfulness instructions. Emotional, self-other referential processing, awareness of bodily signals and HRV indicators were investigated before and after the exercise using standardized experimental tasks, standardized questionnaires, and mobile recording devices. Exercising for 30 minutes changed cardiac activity significantly. HRV measures showed adaptability of cardiac activity during the exercise as well as during the affective task post- to pre-exercise. Exercising with breathing instructions and mindful body awareness had no superior effects on cardiac, particularly parasympathetic activity, compared to practicing the same movements without such explicit instructions. Self-referential processing did not change; however, participants were faster and more accurate in their affective judgments of emotional stimuli [regardless of their reference (self/other)], and showed better awareness of bodily signals after compared to before the exercise session. The results support immediate, adaptive effects of yoga exercise on cardiac and affective-cognitive processing in an all-female healthy sample. Therefore, yoga exercise could be recommended as a physical activity for boosting cardiac and emotional resilience in this target group.
https://www.frontiersin.org/articles/10.3389/fpsyg.2021.731645/full?utm_source=F-AAE&utm_medium=EMLF&utm_campaign=MRK_1790561_a0P58000000G0YfEAK_Psycho_20211214_arts_A