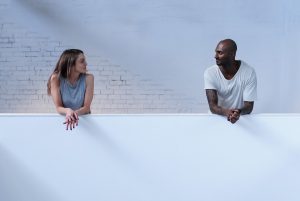 Mindfulness is Associated with Better Romantic Relationships
By John M. de Castro, Ph.D.
"Mindfulness comes from the Sanskrit words for "attend" and "stay." Simply put, a mindful relationship is one where you pay attention to the other person, staying or being present to their here and now without judgment." – Melinda Fouts
Relationships can be difficult as two individuals can and do frequently disagree or misunderstand one another. This is amplified in marriage where the couple interacts daily and frequently have to resolve difficult issues.
Attachment has been shown to affect the individual's well-being and their relationships to others. There are a variety of ways that individuals attach to others. They are secure, insecure, avoidant, ambivalent, fearful, preoccupied, and disorganized attachment styles. Secure attachment style is healthy and leads to positive development and satisfying relationships while all of the others are maladaptive and unhealthy. These unhealthy attachment styles tend to stress relationships
Mindfulness trainings have been shown to improve a variety of psychological issues including emotion regulation, stress responses, trauma, fear and worry, anxiety, and depression, and self-esteem. Mindfulness training has also been found to improve relationships and to be useful in treating sexual problems.  In addition, mindfulness has been found to be an antidote to unhealthy attachment styles. So, it makes sense to investigate the associations of mindfulness and attachment styles with the satisfactoriness of couples' relationships.
In today's Research News article "Partners' Relationship Mindfulness Promotes Better Daily Relationship Behaviours for Insecurely Attached Individuals." (See summary below or view the full text of the study at: https://www.ncbi.nlm.nih.gov/pmc/articles/PMC7579090/ )  Gazder and colleagues recruited romantic couples and had both members of the couples complete measures of relationship attachment style. They also maintained daily diaries for 14 days measuring relationship mindfulness and positive and negative relationship behaviors.
They found that the higher the levels of relationship mindfulness, the lower the levels of attachment avoidance and negative relationship behaviors and the higher the levels of positive relationship behaviors. High mindfulness was associated with higher levels of positive relationship behaviors and lower levels of negative relationship behaviors on the same day and on the next day. They also found that low mindfulness in insecurely attached individuals was associated with higher positive relationship behavior of their partners on the next day, suggesting making up on the day following.
These findings are correlational, so caution must be exercised in forming causal interpretations. Nevertheless, the results suggest that relationship mindfulness is important in encouraging positive behaviors and discouraging negative behaviors in the relationship. It also appears that insecure attachment is associated fewer positive behaviors and more negative behaviors in the relationship. But mindfulness is associated with less insecure attachment. Hence, mindfulness in romantic relationships promotes positive relationships while insecure attachment produces more problems in the relationship.
So, mindfulness is associated with better romantic relationships.
"When you are mindful of the love in your life you open yourself up to the opportunity for love to grow. And not just romantic love, but self-love, and loving friendships as well." – Mindful
CMCS – Center for Mindfulness and Contemplative Studies
This and other Contemplative Studies posts are also available on Google+ https://plus.google.com/106784388191201299496/posts and on Twitter @MindfulResearch
Study Summary
Gazder, T., & Stanton, S. (2020). Partners' Relationship Mindfulness Promotes Better Daily Relationship Behaviours for Insecurely Attached Individuals. International journal of environmental research and public health, 17(19), 7267. https://doi.org/10.3390/ijerph17197267
Abstract
Attachment anxiety and avoidance are generally associated with detrimental relationship processes, including more negative and fewer positive relationship behaviours. However, recent theoretical and empirical evidence has shown that positive factors can buffer insecure attachment. We hypothesised that relationship mindfulness (RM)—open or receptive attention to and awareness of what is taking place internally and externally in a current relationship—may promote better day-to-day behaviour for both anxious and avoidant individuals, as mindfulness improves awareness of automatic responses, emotion regulation, and empathy. In a dyadic daily experience study, we found that, while an individual's own daily RM did not buffer the effects of their own insecure attachment on same-day relationship behaviours, their partner's daily RM did, particularly for attachment avoidance. Our findings for next-day relationship behaviours, on the other hand, showed that lower (vs. higher) prior-day RM was associated with higher positive partner behaviours on the following day for avoidant individuals and those with anxious partners, showing this may be an attempt to "make up" for the previous day. These findings support the Attachment Security Enhancement Model and have implications for examining different forms of mindfulness over time and for mindfulness training.
https://www.ncbi.nlm.nih.gov/pmc/articles/PMC7579090/