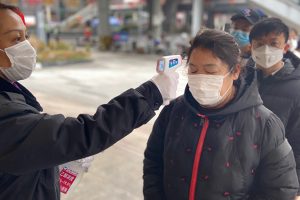 Improve Psychological Well-Being in Patients with Fever Undergoing Covid-19 Screening with Mindfulness
By John M. de Castro, Ph.D.
"Mindfulness-based approaches appear well-suited to deal with the challenges presented by the time of unpresented uncertainty, change, and loss, which can take many forms in the context of COVID-19 pandemic." – Elena Antonova
Mindfulness training has been shown to improve health and well-being in healthy individuals. It has also been found to be effective for a large array of medical and psychiatric conditions, either stand-alone or in combination with more traditional therapies. One of the primary effects of mindfulness that may be responsible for many of its benefits is that it improves the physiological and psychological responses to stress. The COVID-19 pandemic is extremely stressful particularly for patients running a fever and being screened for Covid-19.  So, mindfulness, because of its ability to improve stress responding, may be helpful in coping with the mental challenges of awaiting COVID-19 test results.
In today's Research News article "Using Mindfulness to Reduce Anxiety and Depression of Patients With Fever Undergoing Screening in an Isolation Ward During the COVID-19 Outbreak." (See summary below or view the full text of the study at: https://www.frontiersin.org/articles/10.3389/fpsyg.2021.664964/full?utm_source=F-AAE&utm_medium=EMLF&utm_campaign=MRK_1651992_69_Psycho_20210603_arts_A )  Liu and colleagues recruited adult patients who had a fever and were undergoing screening in a hospital for Covid-19. They were randomly assigned either to no-treatment or a very brief (25 minute) mindfulness instruction while awaiting test results. They were measured at the time of admissions and again just before test results for positive and negative emotions, distress, satisfaction with life, anger, anxiety, and depression.
They found that in comparison to baseline and the no-treatment controls, the participants who had received brief mindfulness instruction had significantly lower anger, distress, anxiety, depression, and need for help and higher satisfaction with life. Hence, the brief mindfulness instruction improved the mood and psychological well-being of these patients during a very stressful time of awaiting Covid-19 test results.
Mindfulness has been previously found to be effective in reducing anger, distress, anxiety, and depression, and increasing satisfaction with life. What the present study demonstrates is that these benefits can occur after a very brief instruction for patients in a very stressful situation. This suggests that brief mindfulness instruction should be incorporated into the routine treatment of patients under high short-term stress.
So, improve psychological well-being in patients with fever undergoing Covid-19 screening with mindfulness.
"mindfulness is an increasingly accessible intervention available world-wide that may reduce psychological distress during this isolating public health crisis." – Susan Farris
CMCS – Center for Mindfulness and Contemplative Studies
This and other Contemplative Studies posts are also available on Google+ https://plus.google.com/106784388191201299496/posts and on Twitter @MindfulResearch
Study Summary
Liu Y, Huyang S, Tan H, He Y, Zhou J, Li X, Ye M, Huang J and Wu D (2021) Using Mindfulness to Reduce Anxiety and Depression of Patients With Fever Undergoing Screening in an Isolation Ward During the COVID-19 Outbreak. Front. Psychol. 12:664964. doi: 10.3389/fpsyg.2021.664964
The coronavirus disease 2019 (COVID-19) continues to spread globally. This infectious disease affects people not only physically but also psychologically. Therefore, an effective psychological intervention program needs to be developed to improve the psychological condition of patients screened for fever during this period. This study aimed to investigate the effect of a brief mindfulness intervention on patients with suspected fever in a screening isolation ward awaiting results of the COVID-19 test. The Faces Scale and the Emotional Thermometer Tool were used to investigate 51 patients who were randomly divided into an intervention group and a control group. All patients completed self-rating questionnaires online at the time they entered the isolation ward and before they were informed of the results. The intervention group listened to the mindfulness audios through hospital broadcasts in the isolation ward before their lunch break and while they slept. Compared with the control group, the intervention group's life satisfaction score increased (F = 4.02, p = 0.051) and the emotional thermometer score decreased (F = 8.89, p = 0.005). The anxiety scores (F = 9.63, p = 0.003) and the needing help scores decreased significantly (F = 4.95, p = 0.031). Distress (F = 1.41, p = 0.241), depression (F = 1.93, p = 0.171), and anger (F = 3.14, p = 0.083) also decreased, but did not reach significance. Brief mindfulness interventions can alleviate negative emotions and improve the life satisfaction of patients in the isolation ward who were screened for COVID-19 during the waiting period.
https://www.frontiersin.org/articles/10.3389/fpsyg.2021.664964/full?utm_source=F-AAE&utm_medium=EMLF&utm_campaign=MRK_1651992_69_Psycho_20210603_arts_A