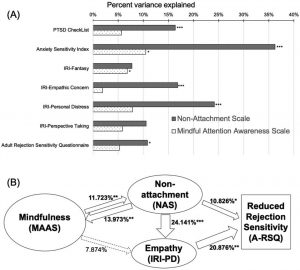 Improve Well-Being in Adults who Experienced Childhood Maltreatment with Mindfulness
By John M. de Castro, Ph.D.
"mindfulness-based interventions can be beneficial for childhood maltreatment survivors to alleviate psychological symptoms including stress, anxiety, recurrent depression, substance use, and post-traumatic stress." – Diane Joss
Childhood trauma can leave in its wake symptoms which can haunt the victims for the rest of their lives. These include persistent recurrent re-experiencing of the traumatic event, including flashbacks and nightmares, loss of interest in life, detachment from other people, increased depression, anxiety and emotional arousal, including outbursts of anger, difficulty concentration, and jumpiness, startling easily. Unfortunately, childhood maltreatment can continue to affect mental and physical health throughout the individual's life. How individuals cope with childhood maltreatment helps determine the effects of the maltreatment on their mental health.
It has been found that experiencing the feelings and thoughts produced by trauma completely, allows for better coping. This can be provided by mindfulness. Indeed, mindfulness has been found to be effective for relieving trauma symptoms. But it is not known how mindfulness works to impact the psychological well-being of adults who experienced childhood maltreatment.
In today's Research News article "Nonattachment Predicts Empathy, Rejection Sensitivity, and Symptom Reduction After a Mindfulness-Based Intervention Among Young Adults with a History of Childhood Maltreatment." (See summary below or view the full text of the study at: https://www.ncbi.nlm.nih.gov/pmc/articles/PMC7205188/ ) Joss and colleagues recruited patience with a history of childhood maltreatment including physical and emotional abuse or neglect, and sexual abuse, verbal abuse, witnessing violence between parents or physical abuse of siblings.
They were assigned to either a wait-list control condition or to receive mindfulness training. The training was modelled after the Mindfulness-Based Stress Reduction (MBSR) program and met once a week for eight weeks along with daily home practice and contained "breath awareness meditation, body scan meditation, mindful yoga, open awareness meditation, loving-kindness meditation, walking meditation, mountain meditation, mindful eating as well as noticing mindful moments in daily lives". They were measured before and after training for mindfulness, childhood trauma, adverse childhood experiences, anxiety sensitivity, PTSD symptoms, rejection sensitivity, nonattachment, and interpersonal reactivity.
They found that in comparison to baseline and the wait-list control group, the group that received mindfulness training had significantly higher levels of mindfulness and nonattachment and significantly lower levels of PTSD symptoms, rejection sensitivity, and interpersonal reactivity. In addition, the greater the attendance at the mindfulness training sessions the greater the increases in mindfulness and nonattachment and decreases in personal distress and anxiety sensitivity. Further they found that mindfulness was associated with reduced rejection sensitivity indirectly by being associated with higher levels of nonattachment and empathy which were in turn associated with lower levels of rejection sensitivity.
The results suggest that mindfulness training improves the psychological well-being of young adults who had experienced childhood maltreatment in a dose dependent way. Nonattachment is a "flexible way of relating to one's experiences without clinging to or suppressing them" and is increased by mindfulness training. In addition, empathy is "the capacity to understand others' perspectives and to feel and share others' feelings" and is increased by mindfulness training. These factors in turn appear to be important for the improvement in psychological well-being. In other words, mindfulness increases the ability to let go of experiences and not ruminate or worry about them and improves empathy and these factors improve the well-being of young adults who had experienced childhood maltreatment. All this suggests that mindfulness training should be recommended for people who experienced childhood maltreatment to reduce the impact of the trauma and improve psychological well-being.
So, improve well-being in adults who experienced childhood maltreatment with mindfulness.
"Mindfulness skills tend to be lower among adolescents and adults exposed to various forms of childhood maltreatment." – Alan R. King
CMCS – Center for Mindfulness and Contemplative Studies
This and other Contemplative Studies posts are available on Twitter @MindfulResearch
Study Summary
Joss, D., Lazar, S. W., & Teicher, M. H. (2020). Nonattachment Predicts Empathy, Rejection Sensitivity, and Symptom Reduction After a Mindfulness-Based Intervention Among Young Adults with a History of Childhood Maltreatment. Mindfulness, 11(4), 975–990. https://doi.org/10.1007/s12671-020-01322-9
Abstract
Objectives:
Individuals with a childhood maltreatment history tend to have various psychological symptoms and impaired social functioning. This study aimed to investigate the related therapeutic effects of a mindfulness-based intervention in this population.
Methods:
We analyzed self-report questionnaire scores of the Mindful Attention Awareness Scale (MAAS), Non-Attachment Scale (NAS), Adult Rejection Sensitivity Questionnaire (A-RSQ), Interpersonal Reactivity Index (IRI), PTSD CheckList (PCL), and Anxiety Sensitivity Index (ASI), from 16 (3 males) young adults (age range 22–29) with mild to moderate childhood maltreatment, compared to 18 matched participants (6 males) on a waiting list, during both pre- and post-intervention/waiting periods. Analyses were conducted with linear mixed effects models, partial correlation analyses and t-tests.
Results:
There were group by time interaction effects with the scores of MAAS, NAS, PCL, IRI-Fantasy, and A-RSQ (p < .05). The mindfulness group had significant increase in MAAS (17.325%) and NAS (8.957%) scores, as well as reduction in PCL (15.599%) and A-RSQ (23.189%) scores (p < .05). Changes in non-attachment, but not mindfulness, had significant contributions to the score changes of PCL (16.375%), ASI (36.244%), IRI-Personal Distress (24.141%), IRI-Empathic Concern (16.830%), and A-RSQ (10.826%) (p < .05). The number of intervention sessions attended was correlated with score changes of NAS (r = .955, p < .001), and ASI (r = −.887, p < .001), suggesting a dose-dependent effect.
Conclusions:
Findings from this pilot study suggest that the mindfulness-based intervention improved mindfulness, non-attachment and empathy, which contributed to reduced interpersonal distress, rejection sensitivity and other psychological symptoms.
https://www.ncbi.nlm.nih.gov/pmc/articles/PMC7205188/