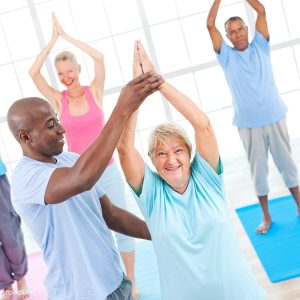 Improve the Physical and Psychological Health of Patients with Cardiac Arrhythmias with Yoga
By John M. de Castro, Ph.D.
"Exercise that revs up your heart rate isn't the only kind of physical activity that can help prevent or manage heart disease. The calming exercise of yoga is good for the heart, too." – Johns Hopkins Medicine
Cardiovascular disease is the number one killer, claiming more lives than all forms of cancer combined. Lifestyle changes have proved to be quite effective in reducing the risk of cardiovascular disease. These include quitting smoking, weight reduction, improved diet, physical activity, and reducing stresses. Contemplative practices, such as meditation, tai chi, and yoga, have also been shown to be helpful for heart health. These practices have also been shown to be helpful for producing the kinds of other lifestyle changes needed such as smoking cessation, weight reduction and stress reduction. Yoga is a mindfulness practice that has been shown to improve physical well-being and cardiovascular health.
"An arrhythmia is a problem with the rate or rhythm of the heartbeat. During an arrhythmia, the heart can beat too fast, too slowly, or with an irregular rhythm. When a heart beats too fast, the condition is called tachycardia. When a heart beats too slowly, the condition is called bradycardia." (NIH). Arrythmias if untreated could lead to heart failure, stroke, cardiac arrest and sudden infant death. So, it is very important to identify treatments for arrhythmias. Research on the ability of yoga practice to treat arrhythmias has been accumulating, So, it makes sense to step back and review what has been learned on the ability of yoga to treat heart arrhythmia.
In today's Research News article "A Review on Role of Yoga in the Management of Patients with Cardiac Arrhythmias." (See summary below or view the full text of the study at: https://www.ncbi.nlm.nih.gov/pmc/articles/PMC8023436/ )  Sharma and colleagues review and summarize the published research on the effects of yoga practice on heart arrhythmia and its symptoms. They found 6 published research studies.
They report that the published research studies found that yoga practice significantly reduced the number of both symptomatic and non-symptomatic atrial fibrillation events and ventricular repolarization dispersion indices. There were also significant decreases in resting heart rate and blood pressure. The patients' psychological well-being was also improved by yoga practice with significant decreases in depression and anxiety and significant increases in quality of life,
The results of this review indicates that yoga practice is a safe and effective treatment for patients with cardiac arrhythmias, improving both the physical and psychological manifestations of arrhythmias (paroxysmal atrial fibrillation, ventricular tachyarrhythmia, and palpitation). Although long-term follow-up was not included, the observed improvements produced by yoga practice would predict that there would be a lessened occurrence of cardiovascular disease and an increase in longevity.
So, improve the physical and psychological health of patients with cardiac arrhythmias with yoga.
"In the patients with cardiac arrhythmias, pranayama yoga therapy has been shown to reduce the ventricular repolarization dispersion thereby lowering the risk of developing malignant ventricular arrhythmias and sudden cardiac death. In heart failure patients, yoga therapy resulted in reduction in heart rate and blood pressure due to improved HRV, increased vagal tone and decreased sympathetic tone." – Krishna Akella
CMCS – Center for Mindfulness and Contemplative Studies
This and other Contemplative Studies posts are also available on Google+ https://plus.google.com/106784388191201299496/posts and on Twitter @MindfulResearch
Study Summary
Sharma, G., Mooventhan, A., Naik, G., & Nivethitha, L. (2021). A Review on Role of Yoga in the Management of Patients with Cardiac Arrhythmias. International journal of yoga, 14(1), 26–35. https://doi.org/10.4103/ijoy.IJOY_7_20
Abstract
Evidence suggests that yoga is safe and effective in improving various risk factors, quality of life (QoL), and psychological burden that is related to arrhythmia. However, this is the first-ever systematic review performed to report the role of yoga in arrhythmia. We have performed a literature search using Cochrane Library, Medline/PubMed, Web of Science Core Collection, and IndMED electronic databases up to 3, January 2018. Of 240 articles, 6 potentially eligible articles were identified and included in the review. Results showed that yoga could be considered an efficient adjuvant in reducing arrhythmia (paroxysmal atrial fibrillation, ventricular tachyarrhythmia, and palpitation) related health problems; blood pressure, heart rate, depression and anxiety scores; and in improving health-related QoL of arrhythmia patients. However, there is a lack of randomized controlled trials and a clear mechanism behind the effect of yoga; studies had relatively a small sample size and different yoga protocols.
https://www.ncbi.nlm.nih.gov/pmc/articles/PMC8023436/