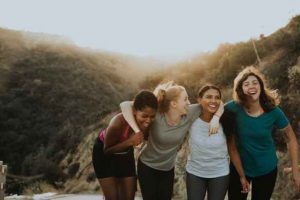 Increase Positive Psychological States with Mindfulness
By John M. de Castro, Ph.D.
"state mindfulness was associated with positive experiences across the three outcomes: higher levels of autonomy, more intense and frequent pleasant affect, and less intense and less frequent unpleasant affect." – Kirk Warren Brown
The primary focus of the majority of research on mindfulness has been on its ability to treat negative emotional states such as anxiety, depression, and perceived stress. As such, it has been found to be effective for a large array of medical and psychiatric conditions, either stand-alone or in combination with more traditional therapies. But mindfulness training has also been shown to improve health and well-being in healthy individuals. Indeed, it is possible that the effectiveness of mindfulness training in relieving mental and physical illness may result from its ability to improve positive psychological states. There is accumulating research. So, it makes sense to review and summarize what has been learned
In today's Research News article "Mindfulness-based positive psychology interventions: a systematic review." (See summary below or view the full text of the study at: https://www.ncbi.nlm.nih.gov/pmc/articles/PMC8344333/ ) Allen and colleagues review and summarize the published research studies of the effects of mindfulness-based interventions on positive psychological states. They identified 22 published research studies.
They report that the published research found that mindfulness-based interventions significantly increased eudaimonia, well-being, of children, adults, and couples. Mindfulness-based interventions were also found to significantly enhance hedonia, positive emotions (amusement, awe, contentment, joy, gratitude, hope, interest, love, and pride, collectively) and quality of life. They also report that mindfulness training produces significant increases in prosocial behavior, social competence, emotion regulation, flexibility, academic performance, delay of gratification, coping behavior, relaxation, self-compassion, and happiness.
Hence, the research published to date supports the conclusion that mindfulness-based interventions improve positive psychological states. So, these interventions are not only useful for the relief of negative psychological states in people who are suffering but can also enhance the psychological well-being of everyone.
So, increase positive psychological states with mindfulness.
"mindfulness is a fundamental part of a broad program of psycho-spiritual development, aiming to help people reach 'enlightenment'. . .  it may be conceived of as the superlative state of happiness, equanimity and freedom that a human being is capable of experiencing." – Itai Ivtzan
CMCS – Center for Mindfulness and Contemplative Studies
This and other Contemplative Studies posts are also available on Google+ https://plus.google.com/106784388191201299496/posts and on Twitter @MindfulResearch
Study Summary
Allen, J. G., Romate, J., & Rajkumar, E. (2021). Mindfulness-based positive psychology interventions: a systematic review. BMC psychology, 9(1), 116. https://doi.org/10.1186/s40359-021-00618-2
Abstract
Background
There are hundreds of mindfulness-based interventions in the form of structured and unstructured therapies, trainings, and meditation programs, mostly utilized in a clinical rather than a well-being perspective. The number of empirical studies on positive potentials of mindfulness is comparatively less, and their known status in academia is ambiguous. Hence, the current paper aimed to review the studies where mindfulness-based interventions had integrated positive psychology variables, in order to produce positive functioning.
Methods
Data were obtained from the databases of PubMed, Scopus, and PsycNet and manual search in Google Scholar. From the 3831 articles, irrelevant or inaccessible studies were eliminated, reducing the number of final articles chosen for review to 21. Interventions that contribute to enhancement of eudaimonia, hedonia, and other positive variables are discussed.
Results
Findings include the potential positive qualities of MBIs in producing specific positive outcomes within limited circumstances, and ascendancy of hedonia and other positive variables over eudaimonic enhancement.
Conclusion
In conclusion, exigency of modifications in the existing MBIs to bring about exclusively positive outcomes was identified, and observed the necessity of novel interventions for eudaimonic enhancement and elevation of hedonia in a comprehensive manner.