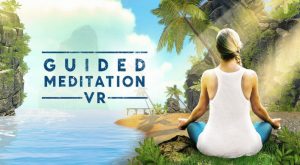 Decrease Anxiety and Improve Test Performance with Virtual Reality Meditation
By John M. de Castro, Ph.D.
"VR based meditation interventions have the potential to play an important role in anxiety management and stress reduction." – Jeff Tarrant
In the modern world education is a key for success. But there is a lot of pressure on university students to excel. The pressure can lead to anxiety which can impede the student's well-being and school performance. It is, for the most part, beyond the ability of the students to change the environment to reduce anxiety. There are, however, a number of psychological therapies for anxiety. Recently, it has been found that mindfulness training can be effective for anxiety disorders.
Technology has recently been applied to training in mindfulness. Indeed, mindfulness training carried out completely on-line has been shown to be effective for as number of conditions including anxiety. Virtual reality (VR) devices are improving and becoming readily available. Previously it has been shown the virtual reality (VR) can be helpful in treating phobias. and Borderline Personality Disorder (BPD). But, it is not known if VR can enhance the effectiveness of mindfulness training in the treatment of anxiety in college students.
In today's Research News article "The impact of virtual reality meditation on college students' exam performance." (See summary below or view the full text of the study at: https://www.ncbi.nlm.nih.gov/pmc/articles/PMC8520331/ ) Kaplan-Rakowski and colleagues recruited university students and randomly assigned them to receive a 15-minute meditation either with an "animated, slow-paced, calming visualizations of forest scenes" accompanied by music presented in virtual reality or on a video screen. They were measured before and after the meditation for anxiety. They also completed a 30-minute series of computer science tasks.
They found that in comparison to baseline both groups had decreased anxiety and improved performance on the computer science tasks, but the virtual reality group had significantly better test performance.
This study looked only at the immediate effects of a single 15-minute meditation in the laboratory. So, no conclusions can be reached on whether the benefits are sustained or what would be the effects of long-term meditation practice and whether these interventions would work in real-world applications. Nevertheless, the results are clear, brief meditation with videos produces immediate relief of anxiety and better test performance. In addition, adding virtual reality presentation to a brief meditation practice increases the improvement in test performance.
So, decrease anxiety and improve test performance with virtual reality meditation.
"I see virtual reality as a tool that helps me bridge the gap between that ideal and my reality. Some people might call it "cheating" at meditation. I simply call it relief." – Sarah Garone
CMCS – Center for Mindfulness and Contemplative Studies
This and other Contemplative Studies posts are also available on Google+ https://plus.google.com/106784388191201299496/posts and on Twitter @MindfulResearch
Study Summary
Kaplan-Rakowski, R., Johnson, K. R., & Wojdynski, T. (2021). The impact of virtual reality meditation on college students' exam performance. Smart Learning Environments, 8(1), 21. https://doi.org/10.1186/s40561-021-00166-7
Abstract
Advocates of meditation claim that it can improve various aspects of life, including health, attention, thinking, and learning. The purpose of this empirical, quantitative, between-subject study was twofold. First, it compared the effectiveness of meditation delivered through virtual reality versus video, as measured by students' test scores. Second, the study provided insights on the use of meditation, whether via virtual reality or video, as a way to positively affect well-being. T-test analysis showed virtual reality meditation to be significantly more beneficial than video meditation. Students reported that meditation techniques delivered using either medium to be helpful in decreasing their pre-exam anxiety. This study has practical implications and offers evidence on the beneficial impact of VR meditation on students' exam performance and anxiety levels.
https://www.ncbi.nlm.nih.gov/pmc/articles/PMC8520331/