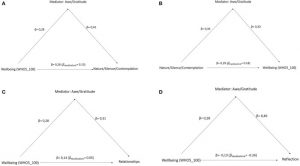 Emotionally Touching Moments of Wonderous Awe Promotes Wellbeing
By John M. de Castro, Ph.D.
"And if a person is religious, I think it's good, it helps you a bit. But if you're not, at least you can have the sense that there is a condition inside you which looks at the stars with amazement and awe." Maya Angelou
Religion and spirituality have been promulgated as solutions to the challenges of life. There have been a number of studies of the influence of religiosity and spirituality on the physical and psychological well-being of practitioners mostly showing positive benefits, with spirituality encouraging personal growth, well-being, and mental health. Spirituality can also promote the occurrence of wondering awe which are emotional reactions to touching experiences. Wondering awe can induce internal changes in the individual. So, it is important to examine the relationships of wondering awe, spirituality, and well-being.
In today's Research News article "Wondering Awe as a Perceptive Aspect of Spirituality and Its Relation to Indicators of Wellbeing: Frequency of Perception and Underlying Triggers." (See summary below or view the full text of the study at: https://www.frontiersin.org/articles/10.3389/fpsyg.2021.738770/full?utm_source=F-AAE&utm_medium=EMLF&utm_campaign=MRK_1750137_a0P58000000G0YfEAK_Psycho_20211012_arts_A ) Büssing and colleagues recruited adult participants online and had them complete measures of Awe and Gratitude, spiritual experiences, well-being, and frequency of meditation and prayer. A separate group of participants wrote descriptions of situations where they experienced moments of wondering awe.
They found that women had significantly more experiences of awe than the men and older participants had more than younger participants. Christians had higher scores than non-religious participants but less than other denominations. They also found that the greater the frequency of awe the higher the well-being of the participants and the greater experiences of the sacred in daily life. The participants with the highest frequencies of awe were older, had the greater frequencies of spiritual practices, and the highest well-being and were more likely to meditate than pray. The descriptions of experiences of awe and gratitude were used to identify the triggers that elicited the experiences, and these were nature, persons, unique moments, and aesthetics, beauty, and devotion.
These findings are correlative. So, no conclusions about causation can be definitively reached. But it is clear that these experiences of wonderous awe and gratitude most often occur in women, older individuals, and those with religious orientations and they were associated with the individual's well-being and experiences of the sacred. They were most often triggered by environmental conditions.
It is important to study these emotionally touching moments of awe and gratitude as they are associated with inner change in the individual. They can trigger new attitudes, insights, and behaviors. Importantly, they are associated with the person's overall well-being. Future research might attempt to trigger more experiences of wonderous awe by immersing participants in the situations that tend to elicit awe and gratitude and examine their impact on the individual's health, well-being, and spirituality.
So, emotionally touching moments of wonderous awe promotes wellbeing.
"We can all experience feelings of awe as we ponder how everything that we witness is created and aligned in such a way that our lives unfold the way they do." – K. Barrett
CMCS – Center for Mindfulness and Contemplative Studies
This and other Contemplative Studies posts are also available on Google+ https://plus.google.com/106784388191201299496/posts and on Twitter @MindfulResearch
Study Summary
Büssing A (2021) Wondering Awe as a Perceptive Aspect of Spirituality and Its Relation to Indicators of Wellbeing: Frequency of Perception and Underlying Triggers. Front. Psychol. 12:738770. doi: 10.3389/fpsyg.2021.738770
Background: Spirituality is a multidimensional construct which includes religious, existentialistic, and relational issues and has different layers such as faith as the core, related attitudes and conviction, and subsequent behaviors and practices. The perceptive aspects of spirituality such as wondering awe are of relevance for both, religious and non-religious persons. These perceptions were related to perceiving the Sacred in life, mindful awareness of nature, others and self, to compassion, meaning in life, and emotional wellbeing. As awe perceptions are foremost a matter of state, it was the aim (1) to empirically analyze the frequency of wondering awe perceptions (i.e., with respect to gender, age cohorts, religious or non-religious persons) and (2) to qualitatively analyze a range of triggers of awe perceptions.
Methods: Data from 7,928 participants were analyzed with respect to the frequency of Awe/Gratitude perceptions (GrAw-7 scale), while for the second part of the study responses of a heterogeneous group of 82 persons what caused them to perceive moments of wondering awe were analyzed with qualitative content analysis techniques.
Results: Persons who experience Awe/Gratitude to a low extend were the youngest and had lowest wellbeing and lowest meditation/praying engagement, while those with high GrAw-7 scores were the oldest, had the highest wellbeing, and were more often meditating or praying (p<0.001). Gender had a significant effect on these perceptions, too (Cohen's d=0.32). In the qualitative part, the triggers can be attributed to four main categories, Nature, Persons, Unique Moments, and Aesthetics, Beauty, and Devotion. Some of these triggers and related perceptions might be more a matter of admiration than wondering awe, while other perceptions could have more profound effects and may thus result in changes of a person's attitudes and behaviors.
Conclusion: Emotionally touching experiences of wondering awe may result in feelings of interconnectedness, prosocial behavior, mindful awareness, and contribute to a person's meaning in life and wellbeing and can also be a health-relevant resource. These perceptions can be seen as a perceptive aspect of spirituality, which is not exclusively experienced by religious people but also by non-religious persons.
https://www.frontiersin.org/articles/10.3389/fpsyg.2021.738770/full?utm_source=F-AAE&utm_medium=EMLF&utm_campaign=MRK_1750137_a0P58000000G0YfEAK_Psycho_20211012_arts_A