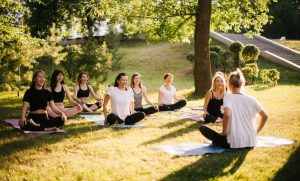 Improve Self-Compassion with Residential Mindfulness Programs Conducted Either Inside or Outdoors
By John M. de Castro, Ph.D.
"The power of nature to bring us immediately to the present must be primally wired into us." – Christopher Willard
Modern living is stressful, perhaps, in part because it has divorced us from the natural world that our species was immersed in throughout its evolutionary history. Modern environments may be damaging to our health and well-being simply because the species did not evolve to cope with them. This suggests that returning to nature, at least occasionally, may be beneficial. Indeed, researchers are beginning to study nature walks or what the Japanese call "Forest Bathing" and their effects on our mental and physical health.
Mindfulness practices have been found routinely to reduce the psychological and physiological responses to stress. People have long reported that walking in nature elevates their mood. It appears intuitively obvious that if it occurred in a beautiful natural place, it would greatly lift the spirits. But there is little systematic research regarding these effects. It's possible that being in nature might increase mindfulness' ability to improve mental and physical well-being.
In today's Research News article "A Short Mindfulness Retreat for Students to Reduce Stress and Promote Self-Compassion: Pilot Randomised Controlled Trial Exploring Both an Indoor and a Natural Outdoor Retreat Setting." (See summary below or view the full text of the study at: https://www.mdpi.com/2227-9032/9/7/910/htm ) Djernis and colleagues recruited moderately to highly stressed university students and randomly assigned them to a 5-day residential program of either mindfulness training indoors, outdoors, or a no treatment control. The mindfulness training was based upon Mindfulness-Based Stress Reduction program (MBSR) including meditation, yoga, body scan, and group discussion. The outdoor mindfulness training occurred in the university's therapy garden. They were measured before and after the 5-days of training and 3 months later for self-compassion, perceived stress, mindfulness, connectedness to nature, and breath counting.
They found that mindfulness was significantly increased in the mindfulness training groups while self-compassion was significantly increased only in the mindfulness training groups at follow up. The outdoor mindfulness group only had a significant increase in connectedness to nature compared to the control group. They did not find a significant effect of group on perceived stress.
These results were somewhat disappointing, but the groups were small (17-21 participants) and many trends and non-significant differences were present. This suggests that a larger randomized controlled trial should be implemented. Indeed, increases in self-compassion and decreases in perceived stress have been routinely observed in previous research studies. Nevertheless, they did find that a residential mindfulness program increases self-compassion in stressed college students. Many previous studies have and that moving the training outside improves the participants feeling of connection to nature.
So, improve self-compassion with residential mindfulness programs conducted either inside or outdoors.
"People have been discussing their profound experiences in nature for the last several 100 years—from Thoreau to John Muir to many other writers,. Now we are seeing changes in the brain and changes in the body that suggest we are physically and mentally more healthy when we are interacting with nature." – David Strayer
CMCS – Center for Mindfulness and Contemplative Studies
This and other Contemplative Studies posts are also available on Google+ https://plus.google.com/106784388191201299496/posts and on Twitter @MindfulResearch
Study Summary
Djernis, D.; O'Toole, M.S.; Fjorback, L.O.; Svenningsen, H.; Mehlsen, M.Y.; Stigsdotter, U.K.; Dahlgaard, J. A Short Mindfulness Retreat for Students to Reduce Stress and Promote Self-Compassion: Pilot Randomised Controlled Trial Exploring Both an Indoor and a Natural Outdoor Retreat Setting. Healthcare 2021, 9, 910. https:// doi.org/10.3390/healthcare9070910
Abstract
Here, we developed and examined a new way of disseminating mindfulness in nature to people without meditation experience, based on the finding that mindfulness conducted in natural settings may have added benefits. We evaluated a 5-day residential programme aiming to reduce stress and improve mental health outcomes. We compared an indoor and an outdoor version of the programme to a control group in a pilot randomised controlled trial (RCT). Sixty Danish university students experiencing moderate to high levels of stress were randomised into a residential mindfulness programme indoors (n = 20), in nature (n = 22), or a control group (n = 18). Participants completed the Perceived Stress Scale and the Self-Compassion Scale (primary outcomes) along with additional secondary outcome measures at the start and end of the program and 3 months after. Stress was decreased with small to medium effect sizes post-intervention, although not statistically significant. Self-compassion increased post-intervention, but effect sizes were small and not significant. At follow-up, changes in stress were not significant, however self-compassion increased for both interventions with medium-sized effects. For the intervention groups, medium- to large-sized positive effects on trait mindfulness after a behavioural task were found post-intervention, and small- to medium-sized effects in self-reported mindfulness were seen at follow-up. Connectedness to Nature was the only outcome measure with an incremental effect in nature, exceeding the control with a medium-sized effect at follow-up. All participants in the nature arm completed the intervention, and so did 97% of the participants in all three arms. Overall, the results encourage the conduct of a larger-scale RCT, but only after adjusting some elements of the programme to better fit and take advantage of the potential benefits of the natural environment.
https://www.mdpi.com/2227-9032/9/7/910/htm